Bitcoin Exchange Review: A Beginner's Guide to OKCoin
OKCoin is one of the first-ever Bitcoin exchanges in crypto. Since then, much has changed and all of it for the better.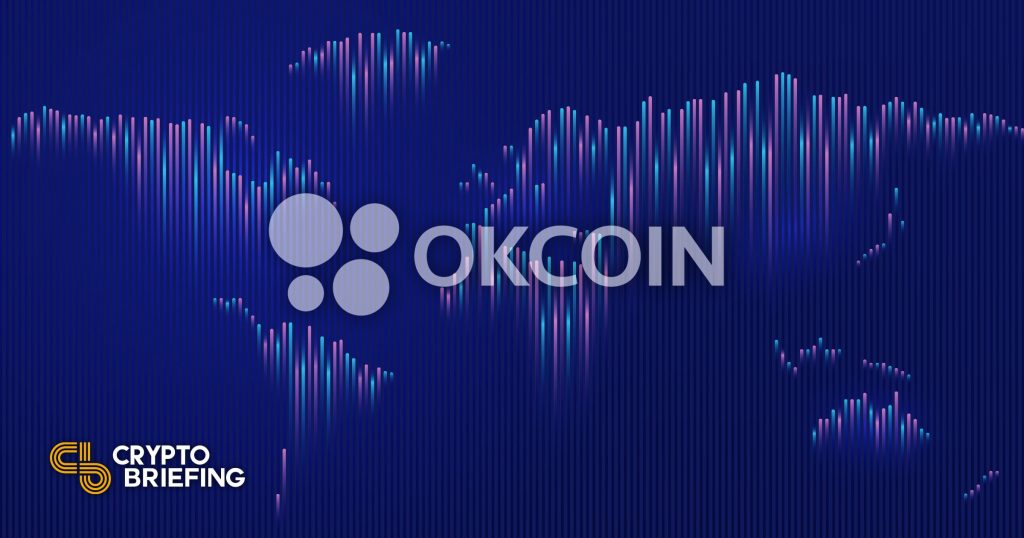 Key Takeaways
One of the earliest exchanges on the market, OKCoin has established itself as a premier cryptocurrency trading platform for retail and professional traders alike. 
Its latest Earn product provides users with a channel to earn double-digit interest on any idle stablecoins.
Low fees, competitive offerings, and a fully-licensed trading platform continue to make OKCoin a top choice for nearly a decade.
OKCoin is one of crypto's oldest and most established Bitcoin exchanges. Founded by Chinese entrepreneur Star Xu, the platform has expanded to include various altcoin markets, liquid trading pairs, lucrative interest-earning programs, and has made a name as a generous grant giver.
Since 2019, OKCoin has been one of the few exchanges that have helped fund various Bitcoin developers to continue their open source work. These grants have been dolled out to support privacy upgrades as well as scalability improvements.
Crypto Briefing will unpack all of the different features in the following guide, specifically the unique Earn offering.
The DeFi space is booming, but for those looking to avoid high fees, OKCoin may be a better alternative.
Trading and Fees on OKCoin
The exchange began as a convenient destination for traders to buy and sell Bitcoin. As the market evolved and more cryptocurrencies created, OKCoin has added more trading pairs and more advanced trading possibilities.
There are currently more than 30 different trading pairs on OKCoin available in 192 countries. Funding mechanisms and margin trading differ from country to country, so it's important to check this list for a specific country's details.
When funding, users must also be mindful of deposit and withdrawal fees.
OKCoin offers various ways to fund accounts, but users are also advised to refer to their personal bank's terms when dealing with cryptocurrencies.
Users may also use Visa-based credit and debit cards to fund their accounts. This channel takes a 2.99% transaction fee, and users must send a minimum of $50.
Once funded, the OKCoin trading interface makes it easy to execute various trades for its many trading pairs. The dashboard allows traders to quickly look up their preferred cryptocurrency, sort by latest price action, and enjoy at-a-glance views of orderbook action.
There is also full-screen charting and margin trading for Bitcoin, Ethereum, Litecoin, and Bitcoin Cash for more professional traders. Users can trade BTC and ETH at a 10x margin. For LTC and BCH, only 5x margin trading is available at the time of press.
Fees incurred from trading are proportional to the amount of crypto a user is trading. The higher volume a trader is moving, the lower the fee. There are ten tiers of fees. The most expensive, a 0.20% maker fee and a 0.10% taker fee, is applied to traders who trade less than $100,000.
After $10 million in trading volume (tier 5), all maker fees are removed. Taker fees from tier 5 to tier 10 begin at 0.10%, down to 0.02%. For more information on how fees are calculated, users are encouraged to visit this page.
Many of these fees and features are improved for traders who open an OKCoin Premier Account. OKCoin offers Premier trading accounts to professional traders and larger businesses. These accounts come with several advantages, including lower fees, instant funding access, and lucrative market-making bonuses.
Earn Interest on OKCoin
OKCoin isn't only a premier cryptocurrency exchange. It also doubles as a high-interest savings account to help traders generate passive income while waiting for opportunities in the market.
What's more, the exchange taps directly into native DeFi protocols like Compound, Curve, and even Yearn Finance. Few other platforms offer these kinds of integrations, showcasing OKCoin's dedication to the broader crypto ecosystem.
One thing to keep in mind is that these rates can change as per each protocol's demand. In integrating native DeFi protocols, OKCoin is not in control of the specific interest rates.
The Earn feature also offers experienced DeFi users an added bonus. The exchange subsidizes all gas fees, and there are no other exchange fees included.
For the uninitiated, when the Ethereum network becomes congested due to high activity, the cost to execute simple operations can be prohibitive. There have been many examples of this costly congestion, from the CryptoKitty craze in 2017 to the summer of 2020, during which DeFi boomed.
On both occasions, gas fees broke records, essentially rendering the network unusable for smaller traders. OKCoin resolves this pain point by lifting all gas costs no matter how congested the network becomes.
This advantage becomes much clearer through a convenient example.
Users interested in depositing their DAI stablecoin on Compound must pay two types of transaction. The first lets Compound access any DAI in a Web3 wallet like MetaMask. The second transaction involves the deposit cost of adding DAI to Compound. No matter the level of congestion on Ethereum, these two transactions will always cost some amount of money.
The total cost can range anywhere from $3 up to $30 for certain transactions.
By using OKCoin's Earn feature, users can forgo this cost altogether and keep their hard-earned money where it belongs: in their wallets.
Security and Compliance
OKCoin offers one of the most robust and secure platforms on the market.
Not only are funds kept safe, but user data is also inaccessible to prohibited third pirates. This is ensured via four specific protections.
The first is platform security and refers to constant surveillance of any unusual behavior that may affect OKCoin users. This could be withdrawal delays, network hiccups in the Ethereum blockchain, or oracle malfunctions for gathering price data. By keeping a close eye on any such instances and regularly consulting with third-party auditing firms, OKCoin prevents the malicious activity from ever entering the platform.
The second protection is access control. Following a rigorous KYC process before onboarding, OKCoin ensures that each transaction made on the exchange is authenticated. Users are asked to verify themselves before executing any buy orders, withdrawals, or accessing the Earn function.
The third protection is data security. With so much personal information stored on different crypto platforms, many of them become honeypots for attackers. One only needs to look to the recent past for examples of critical breaches too. Last summer, Ledger, a hardware wallet provider, was breached, leaking hundreds of thousands of user data. Fortunately, no funds were lost in the process, but that didn't prevent phishing attacks and even ransom threats for affected users.
OKCoin protects users from these kinds of attacks thanks to a multi-leveled encryption scheme. They write:
"We mask data during collection, use SSL encryption during transmission, protect your data storage with AES encryption, and use secure techniques when it's time to destruct data."
The final protection is the 95% cold storage arrangement. The team leaves 5% of total funds in a hot wallet to allow for market liquidity, but the rest is kept offline in a 3-of-5 multi-sig cold wallet.
Beyond user security, OKCoin also adheres to the highest standards of regulatory compliance.
The platform is a licensed money transmitter in the United States and is full-registered with the Financial Crimes Enforcement Network (FinCEN). Users living outside of the U.S. are encouraged to examine the full breadth of OKCoin's regulatory arrangements here.
Additional Exchange Features
There are several other unique features that OKCoin offers besides trading and interest-earning opportunities.
For that trading Bitcoin, for instance, the exchange recently integrated the Lightning Network. This reduces transaction costs to pennies, drops the withdrawal limits, and increases BTC trades' speed on the platform.
Another unique feature is that of recurring transactions, be it buy or sell orders. This means that users can automate any transaction for any eligible holdings, no matter the market conditions. Experienced investors use recurring buys, also known as dollar-cost averaging, to eliminate market volatility over a longer period of time.
The third feature shows why OKCoin is committed to serving a retail audience and its professional trading community. Through an integration with Unstoppable Domains, OKCoin turns difficult crypto addresses into human-readable words. Instead of the number and letter soup that is the industry standard, users can now type a simple name to access their funds.
These three integrations and OKCoin's catering to more professional traders make it a top trading venue. What's more, all of these integrations are on a single platform rather than split between two venues, such as what Coinbase offers with Coinbase Pro.
Final Thoughts: OKCoin Exchange Review
OKCoin emerged to cater to pioneering crypto traders in 2013. Eight years later, the platform continues to evolve and attract new and old users, thanks to low fees and innovative product offerings.
The platform's latest Earn product is one example of how OKCoin is adapting to a fast-changing market. The rise of DeFi cannot be ignored, nor can its high-interest benefits. Instead of merely providing users with a competing, centralized product, the exchange integrates various decentralized protocols. The move suggests a vision of a fully integrated ecosystem of companies and technologies.
The winners of such integrations are, of course, users.
Ultimately, OKCoin has morphed into a one-stop crypto platform for all trading profiles. The low fees are advantageous for low- and high-volume users alike. The Premier account allows more advanced traders a plethora of enticing advantages too.
When shopping around for a premium crypto exchange, OKCoin deserves your attention.
Disclosure: At the time of press, the author held BTC, ETH, POLS, WBTC, and 1INCH.