Bitcoin Futures Volumes Outperform Spot Markets on Binance
Leverage trading cited as a primary reason.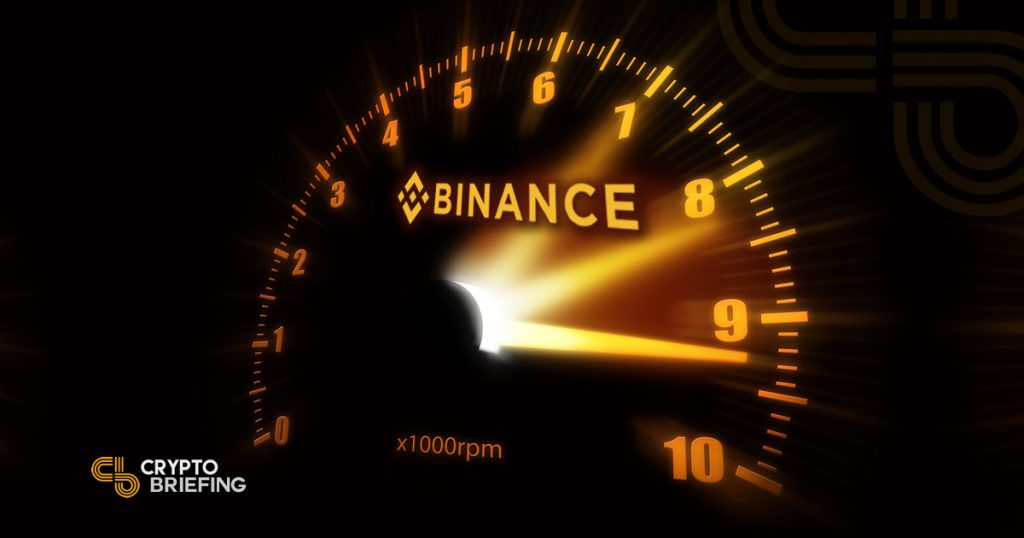 Cryptocurrency futures trading volumes have now outpaced spot markets on Binance, according to a report issued by the company.
Users Turn to Futures on Binance
The report, titled "Leverage and Derivatives: Overview of Binance Futures in 2019," details the success of the Binance Futures offering since it was launched in September last year. Futures now account for around 75% of the total Bitcoin (BTC) market volume traded on the exchange.
Binance was a relatively late entrant to the crypto-derivatives markets, at least compared to rival exchanges such as OKEx and Huobi, which started offering futures contracts from 2017 and 2018, respectively. By the time Binance entered, these two exchanges already accounted for 76 percent of all crypto-derivatives trading.
Nevertheless, in the four months since launching Binance futures, the trading giant has made significant headway in the crypto-derivatives space. The report claims that market share has grown from 2.5 percent in September to 13.7 percent in November.
However, the fact that derivatives trading now outperforms the spot markets by threefold is perhaps the most intriguing data presented in the report.
Charts show BTC futures dominate 75 percent of overall trading, while Ether (ETH) and Bitcoin Cash futures account for around 50 percent and 67 percent of their markets, respectively.
Not a Global Trend
In the broader cryptocurrency markets, trading volumes of crypto-derivatives have also increased rapidly over the past year or so, but not yet to the extent of outperforming the spot markets.
According to data aggregated by Skew, Jan. 8 was the highest-volume trading day for BTC futures in the past month, with trading volumes exceeding $22bn across all exchanges. On the same day in the spot markets, BTC trading volume didn't fall below $28bn, according to CoinMarketCap.
So why is futures trading on Binance apparently proving more attractive than spot trading?
One reason could be that Binance offers higher leverage than many other platforms. In October, Binance upped the ante against its rivals by introducing 125x leverage on its BTC contracts. At that time, BTC futures saw a steep increase from 50 percent to 70 percent of total volume traded.
A tweet shared by Skew earlier today appears to back this theory, indicating a steep drop in trading volumes on Bitflyer after the exchange reduced limits on leveraged trading in May last year. The move came as a result of pressure from Japan's FSA.
Volumes are mostly a function of leverage – see what Bitflyer's did last year when the FSA reduced max leverage from 15x to 4x on the 28th of May pic.twitter.com/eGa9VCFiKx

— skew (@skewdotcom) January 13, 2020
British regulators have also expressed concerns about the risk created via high leveraged trading. This resulted in Kraken Futures imposing a 2x leverage limit on retail traders located in the U.K.