Bitcoin Miners Forced to Sell as Crypto Market Stagnates 
Top mining companies have reported selling their Bitcoin holdings as profitability sinks to new yearly lows.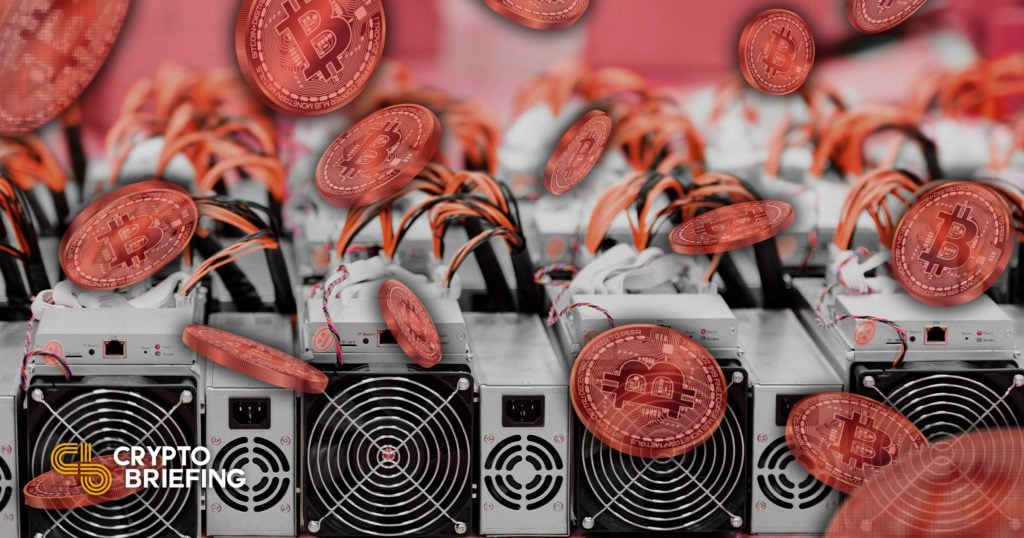 Key Takeaways
Bitcoin miners appear to be selling more coins amid the current market downturn.
The value of Bitcoin earned by miners and sent to exchanges has hit its highest level in three months.
Mining profitability has also plunged since the start of the year, dropping by around 50%.
The amount of Bitcoin transferred from mining companies to crypto exchanges has hit its highest levels since February.
Miners Under Pressure
Bitcoin miners appear to be capitulating.
Several metrics suggest Bitcoin mining companies are selling their coins to cover costs as the crypto market downturn continues. According to crypto data platform Coin Metrics, the value of Bitcoin earned by miners and sent to exchanges almost doubled in May to a local high of approximately $400 million. The recent increase marks the highest level of miner outflows to exchanges in over three months.
Increased outflows often indicate that miners are moving their coins to exchanges in order to sell them, but are not a direct measure of miners selling. Instead, miners could be transferring their Bitcoin to exchanges for other purposes, such as borrowing against them to cover operating costs.
However, financial disclosures from individual mining companies appear to support the idea that miners are indeed selling. Cathedra Bitcoin recently released its Q1 2022 financial results, revealing that the company had sold $8.7 million worth of Bitcoin in May to insulate itself from further price declines. One of the world's largest publicly traded Bitcoin miners, Riot Blockchain, also reported selling half its April production, totaling $9.4 million.
Another issue weighing on Bitcoin miners is decreased profitability. According to data from BitInfoCharts, the mining profitability ratio has plunged since the start of the year, dropping by around 50%. As miners now make less from their operations, it could be forcing companies to eat into their reserves to cover costs.

While miner profitability has dropped, it appears that the Bitcoin total network hash rate is also starting to decline. This metric has since cooled off after peaking at 251.8 Exahash at the beginning of May to just over 218.5 Exahash at press time. A decline in hash rate usually results in a drop in mining difficulty after the next bi-monthly adjustment. This will make mining blocks on the Bitcoin network slightly easier and provide a small windfall for miners who can keep their mining operations running profitably.
To add to the bad news for crypto miners, the New York State Senate recently passed a two-year moratorium on Bitcoin mining operations. This means that any mining operation not running solely on renewable energy will be forced to turn off its machines or relocate until 2024. Current estimates suggest that New York hosts around one-fifth of the U.S.'s total Bitcoin mining hash rate.
Despite mounting regulatory and market pressures, the Bitcoin mining industry remains focused on the longer-term outlook. In April, Electric car manufacturer Tesla teamed up with Blockstream to build a solar array to mine Bitcoin. Elsewhere, ExxonMobil Corp., the largest oil producer in the United States, is piloting a program to use oil well flare gas to power Proof-of-Work mining.
While many individual Bitcoin mining companies have been forced to sell their coins, the industry as a whole appears to be growing as fast as ever. However, the situation could quickly change if the current market slump drags on further.
Disclosure: At the time of writing this piece, the author owned ETH and several other cryptocurrencies.