Bitcoin Rebounds on Elon Musk Tweet, Taproot
Bitcoin jumped 10% Sunday through Monday. The market tuned bullish after an Elon Musk tweet about clean energy mining and confirmation of the protocol's Taproot update.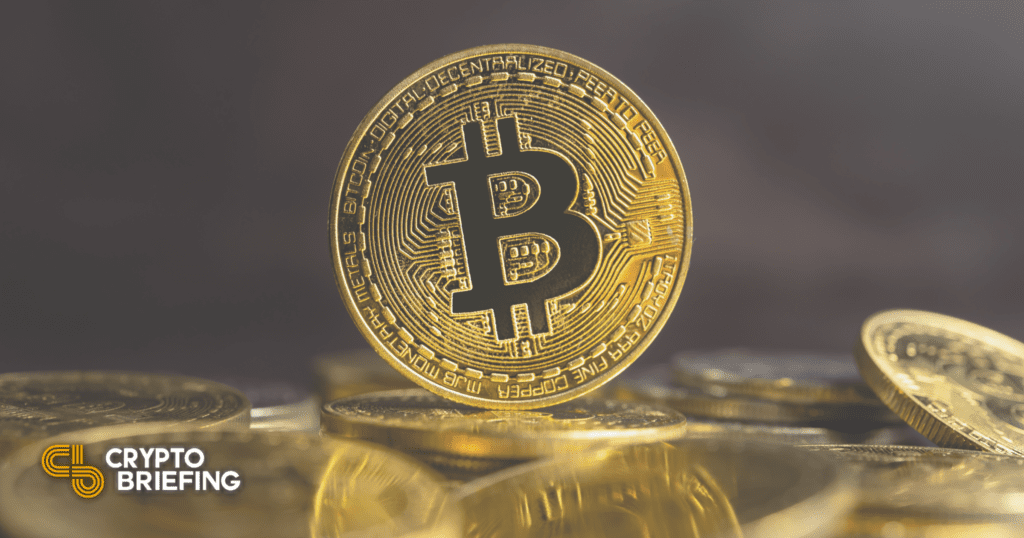 Key Takeaways
Bitcoin saw a 10% rebound Sunday through Monday, bringing the asset back to the crucial $40,000 psychological resistance.
Elon Musk tweeted that Tesla plans to accept Bitcoin again once mining becomes greener Sunday, which partly fueled the rise.
Sentiment was also high after Bitcoin approved its Taproot update this weekend. Taproot will add privacy, efficiency, and smart contract functionality.
Bitcoin jumped over 10% to almost $40,000 after an Elon Musk tweet and confirmation of the blockchain's Taproot update brought positive sentiment to the market.
Bitcoin Ascends
Bitcoin is flirting with $40,000 again after the leading cryptocurrency received two pieces of positive news over the weekend.
The asset was hovering around $36,000 Sunday afternoon and trended up throughout the day. It's trading above $39,000 Monday after rising more than 10%.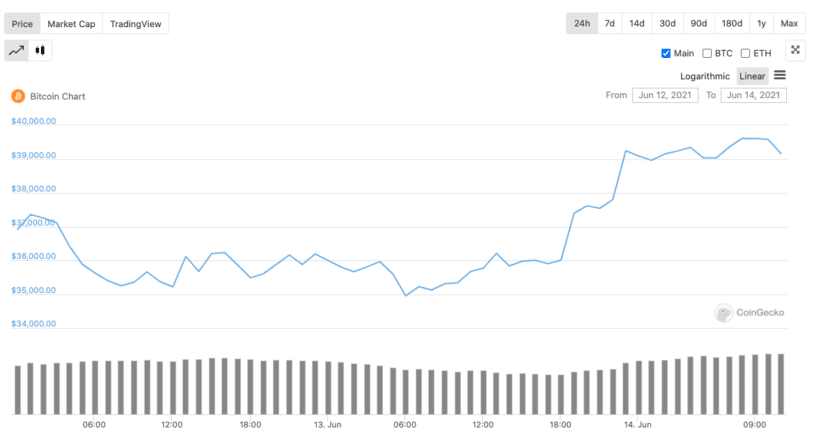 Tesla founder Elon Musk helped the rise by posting a tweet in response to a Cointelegraph post suggesting that he had manipulated the price of Bitcoin. Musk has earned a reputation for his crypto-related Twitter posts, which have caused shifts in the market in recent months. One of the most dramatic movements occurred when he confirmed that Tesla would stop receiving Bitcoin payments, citing environmental concerns. Bitcoin tumbled soon after he made the announcement. The billionaire responded to Cointelegraph's post by describing the allegations as "inaccurate." He added that Tesla had only sold 10% of its Bitcoin holdings to test liquidity, repeating a claim he'd made in late April. He added that Tesla would accept Bitcoin again once clean energy accounted for around half of the world's Bitcoin mining. "When there's confirmation of reasonable (~50%) clean energy usage by miners with positive future trend, Tesla will resume allowing Bitcoin transactions," he said.
This is inaccurate. Tesla only sold ~10% of holdings to confirm BTC could be liquidated easily without moving market.

When there's confirmation of reasonable (~50%) clean energy usage by miners with positive future trend, Tesla will resume allowing Bitcoin transactions.

— Elon Musk (@elonmusk) June 13, 2021
While the tweet was a major catalyst for the price hike, other good news of a more technical nature also contributed to the run-up. The first Bitcoin update in four years, dubbed Taproot, was approved by a majority of miners around the world Saturday. The update will bring more privacy and efficiency to the Bitcoin network while opening the door for smart contracts to be built on Bitcoin. It's scheduled to ship in November.
Bitcoin's rebound coincides with a significant bounce on the Bitcoin dominance chart which had been trending down since March.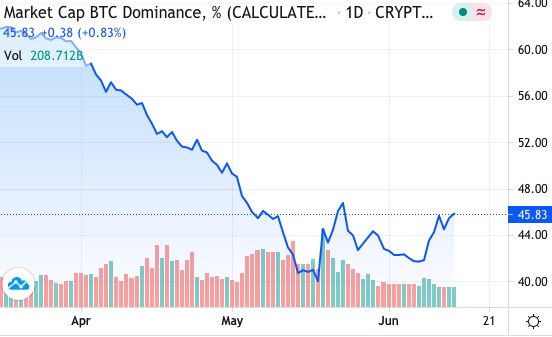 While Bitcoin has rallied around 10% in the last 24 hours, Ethereum only managed 5%, and the total market cap of cryptocurrencies is up 7%.
Disclaimer: The author held ETH and several other cryptocurrencies at the time of writing.