Bitcoin Rich List: 1,000+ BTC Wallets Are The New Normal
Concentration at the top, while retail grows slowly?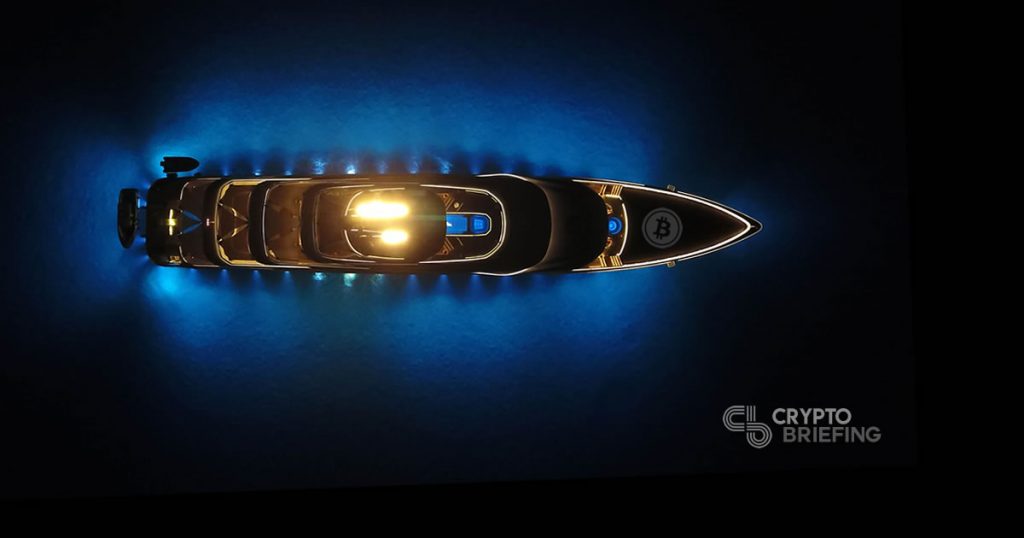 A tweet from Glassnode has highlighted that the number of Bitcoin wallets holding more than 1,000 BTC has increased by more than 500 since last year, and now stands at almost 2,100 separate wallets. As shown in the chart below, more bitcoins are now locked in the 1,000 BTC to 10,000 BTC bracket than any other 'order of magnitude' classification.
And the total supply of bitcoins locked in wallets that contain over 1,000 BTC has increased steadily as well, from 6,919,950 in September 2018, to 7,184,501 in January 2019, and to 7,530,446 today.
Number of #Bitcoin addresses holding more than 1000 $BTC 👀 pic.twitter.com/SGdBXrob5e

— glassnode (@glassnode) October 11, 2019
In many ways the chart raises more questions than it answers. What is the reason for this increase? Why does it happen in large, almost vertical spikes?
---
Making sense of it all
Looking at the bigger picture across this period can be useful to understand what is happening here.
The chart below takes snapshots of the distribution of bitcoins in September 2018; January 2019; and now. The chart shows the total amount of BTC held in each balance category.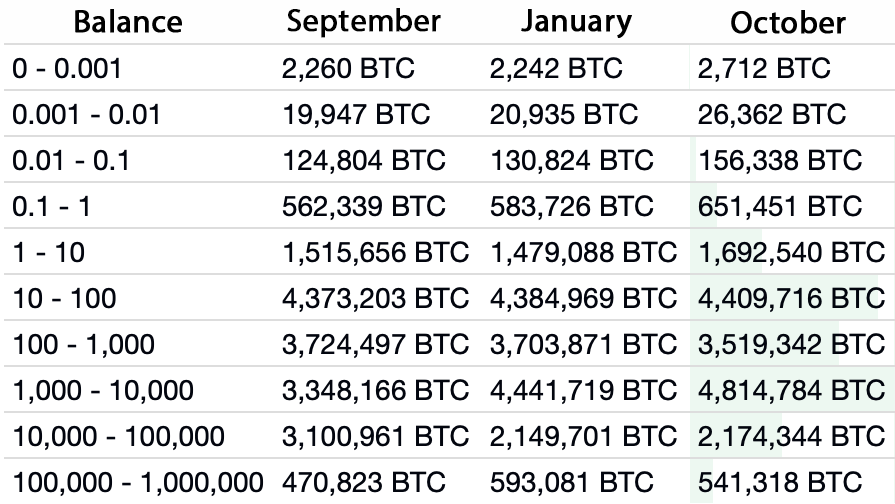 The table highlights that the first major spike between September and January may be attributed to diversification of wallet addresses: 1M BTC flowed from large 10,000+ wallet balances to the smaller 1,000+ BTC range.
The reason for this may be purely of a practical nature, similar to compartmentalization in submarines – losing access to one wallet will not compromise the entirety of one's wealth (or user funds for exchanges).
The difference between January and October is not as striking, with the 400,000 BTC difference at the 1,000-10,000 level only finding limited correlation to a 200,000 BTC outflow from the preceding bracket. The math checks out only when one considers that ~500,000 BTC were mined in that time period.
Specific causes can only be speculated upon at these large scales. One possible cause is the increase of institutional interest in the space, and the accompanying custody solutions.
Back in the Summer, Coinbase reached more than $7bn in Assets Under Custody. Bakkt's custody solution was also launched in the meantime, while growing institutional appetite created a market for these solutions. This may help explain the increase in the 1,000+ range as the other brackets remained relatively unchanged.
But retail investors are also increasing their stake. Growth in the lowest brackets can be seen across the entire time frame, while more than 200,000 BTC were added in the 1-10 BTC bracket in 2019.
Finally, the highest bracket is smaller than one may think. The 540,000 BTC are entirely composed of exchange cold wallets from the top-4.