Bitcoin Surges on Stock Market Optimism for Coronavirus Stimulus
Bitcoin is showing up the stock market with 24% gains on the week. Though, recent gains appear closely linked with performance in the broader market.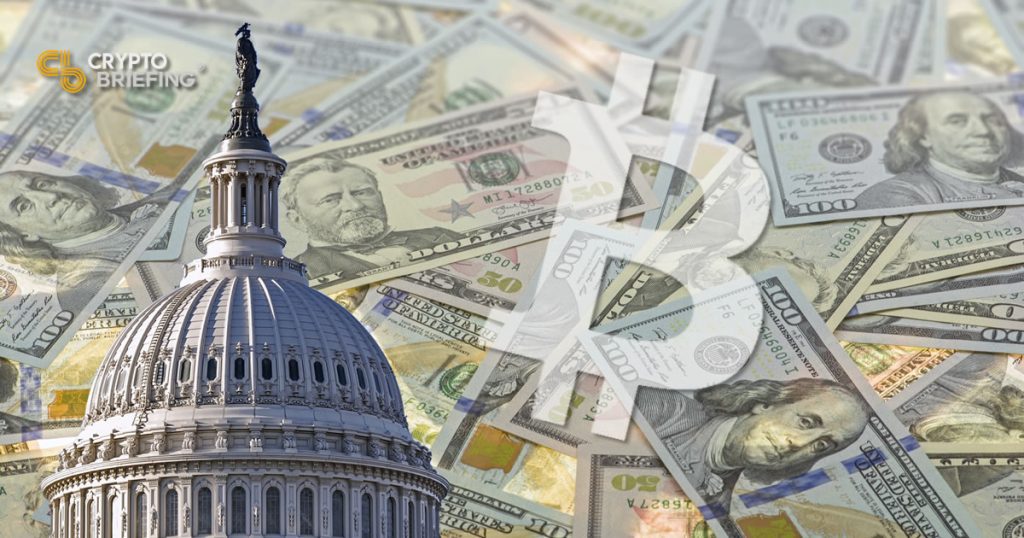 Key Takeaways
Bitcoin is up 11% (+$600) as the S&P 500 and the Dow post strong 4%+ gains after hours on promises of federal stimulus.
Gains in the stock market could be attributed to optimism that Congress will pass a multi-trillion dollar COVID-19 relief bill.
Data shows that Bitcoin is still strongly correlated to the broader market while traditional safe havens like gold continue to demonstrate their lack of correlation.
Bitcoin surges 11% as the stock market jumps on the back of optimism from Coronavirus-related stimulus. The move pushed BTC above $6,500.
Bitcoin is up over $600 on the back of a market-wide improvement in the stock market. After hours, the S&P 500 is up 4.6% over the last 24-hours. The Dow Jones Industrial Average is up a similar 4.9%.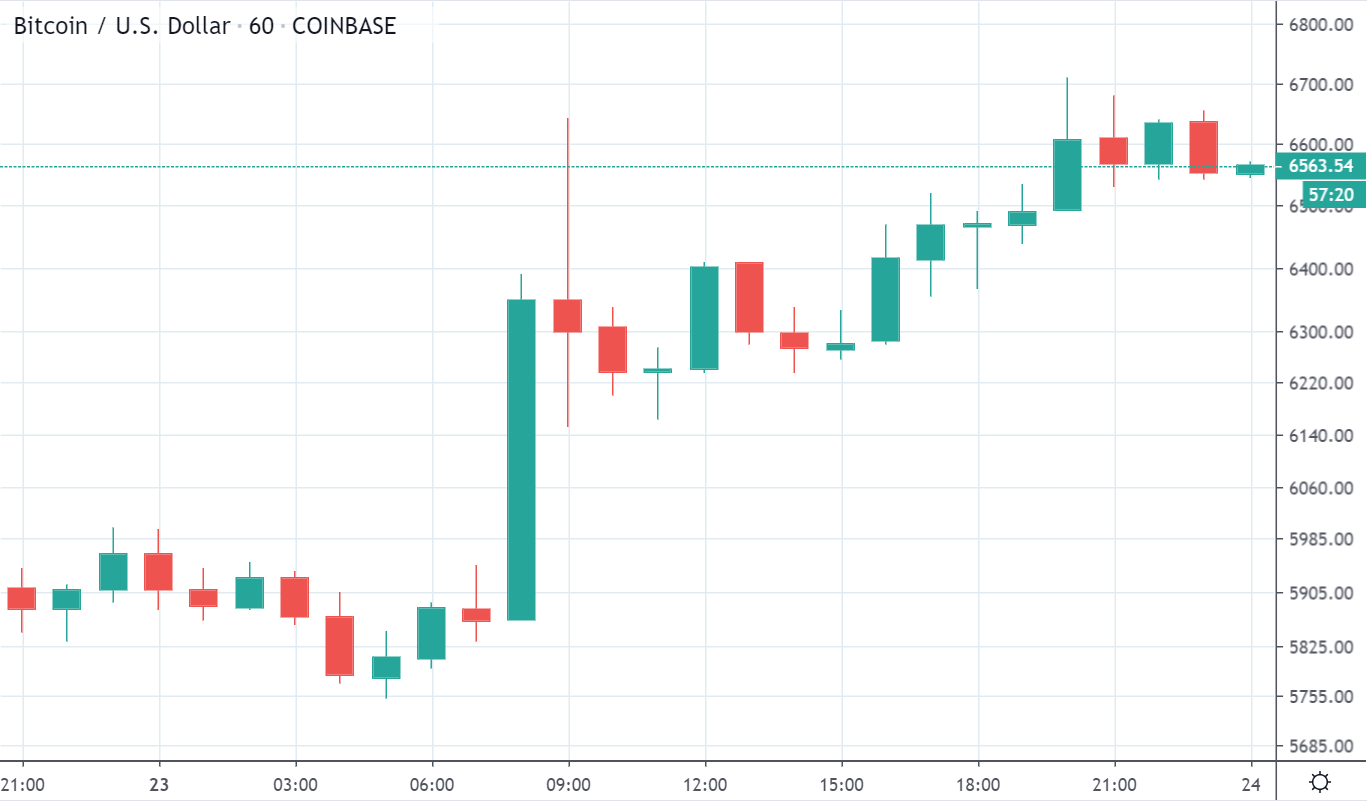 Stock Market Shows Optimism
U.S. stocks slumped yesterday after a near $2 trillion stimulus bill failed to pass the Senate for the second day in a row. Democrats objected to the bill, calling it a bailout fund "with no strings attached," reported CNBC.
Under the bill, the Federal Reserve could leverage funds to offer more than $4 trillion in support to American businesses. And, in its current form, the bill would offer $500 billion for distressed businesses, with $58 billion allocated to the airline industry alone.
Democrats countered with two bills of their own, which proposed monthly payments of $2,000 for adults and $1,000 for minors in light of the Coronavirus crisis. It also included a new central bank digital currency, "digital dollars."
Yet, despite the deadlock, the markets seem to predict that Republicans and Democrats will reach an agreement based on recent gains.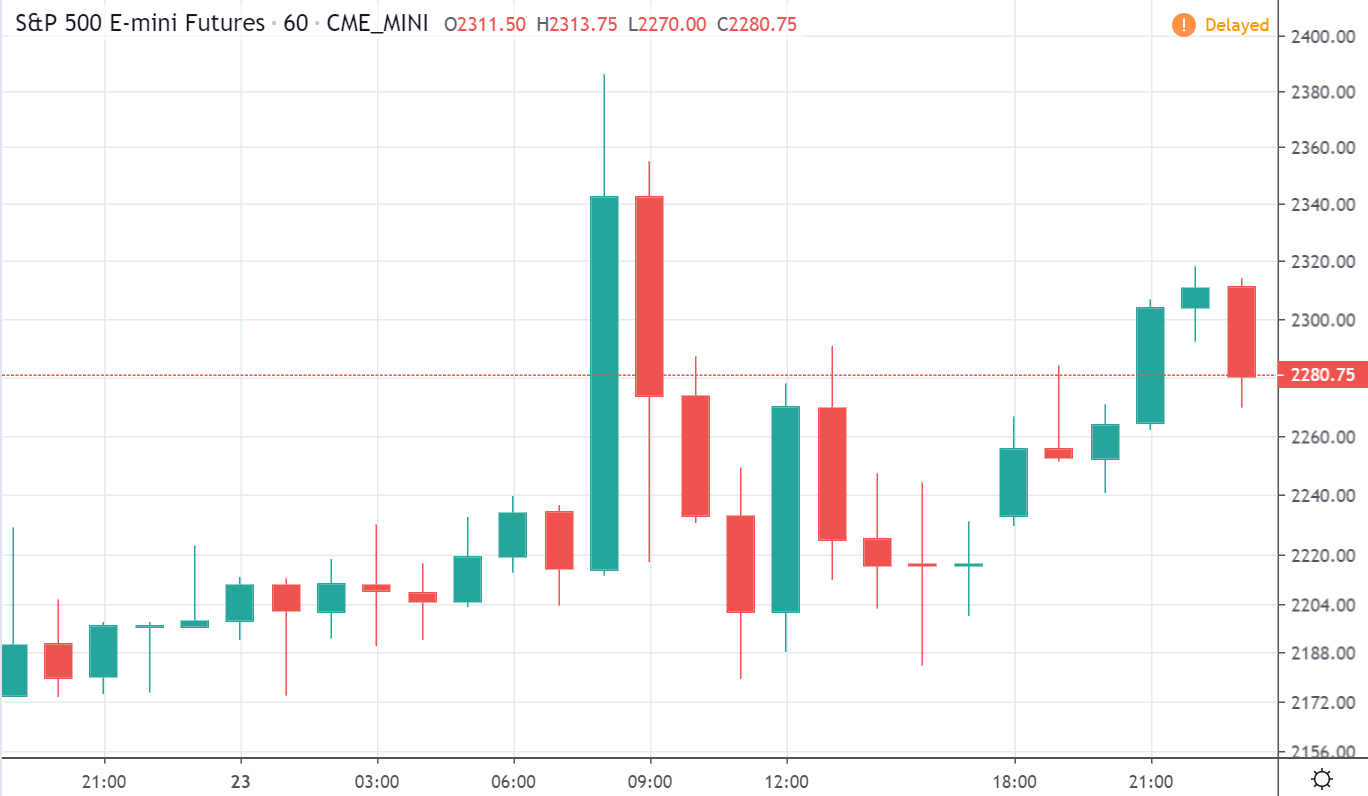 Worldwide, the number of confirmed novel Coronavirus cases surpassed 380,000, more than double that of last week. The United States alone reported 46,000 cases and 610 deaths linked to the virus, with similar growth in cases expected in the week to come as the nationwide shortage of testing softens.
Yet, even with the exponential growth in cases, it may also suggest that the markets predict that the U.S. will be able to mitigate grim estimates of upwards of a million deaths domestically.
Bitcoin Pumps with Market
Meanwhile, Bitcoin is continuing its trend of unprecedented correlation with the stock market. Though slightly less correlated than it had been since March 12, Bitcoin still shows a correlation coefficient of over 50% on a scale between -100% and 100%.
As such, traders should expect gains and losses roughly mirroring the stock market. However, given BTC's higher risk profile, these swings will be magnified. As a consequence, it isn't abnormal to expect a 3% move in stock markets to be correlated to a 9% move in Bitcoin.
Is Bitcoin a Safe Haven?
At the moment, Bitcoin is outperforming gold and stocks over a 5-day period.
On Mar. 12, markets globally experienced a chilling contraction, with many indexes dropping 7% or more. No asset was spared, with assets including gold, oil, and Bitcoin suffering staggering drops. Falling prices were a result of a liquidity crunch, with institutions rushing to dollars to unwind risky positions.
However, after the liquidity crisis, "safe haven" assets like Bitcoin and gold are outperforming the stock market.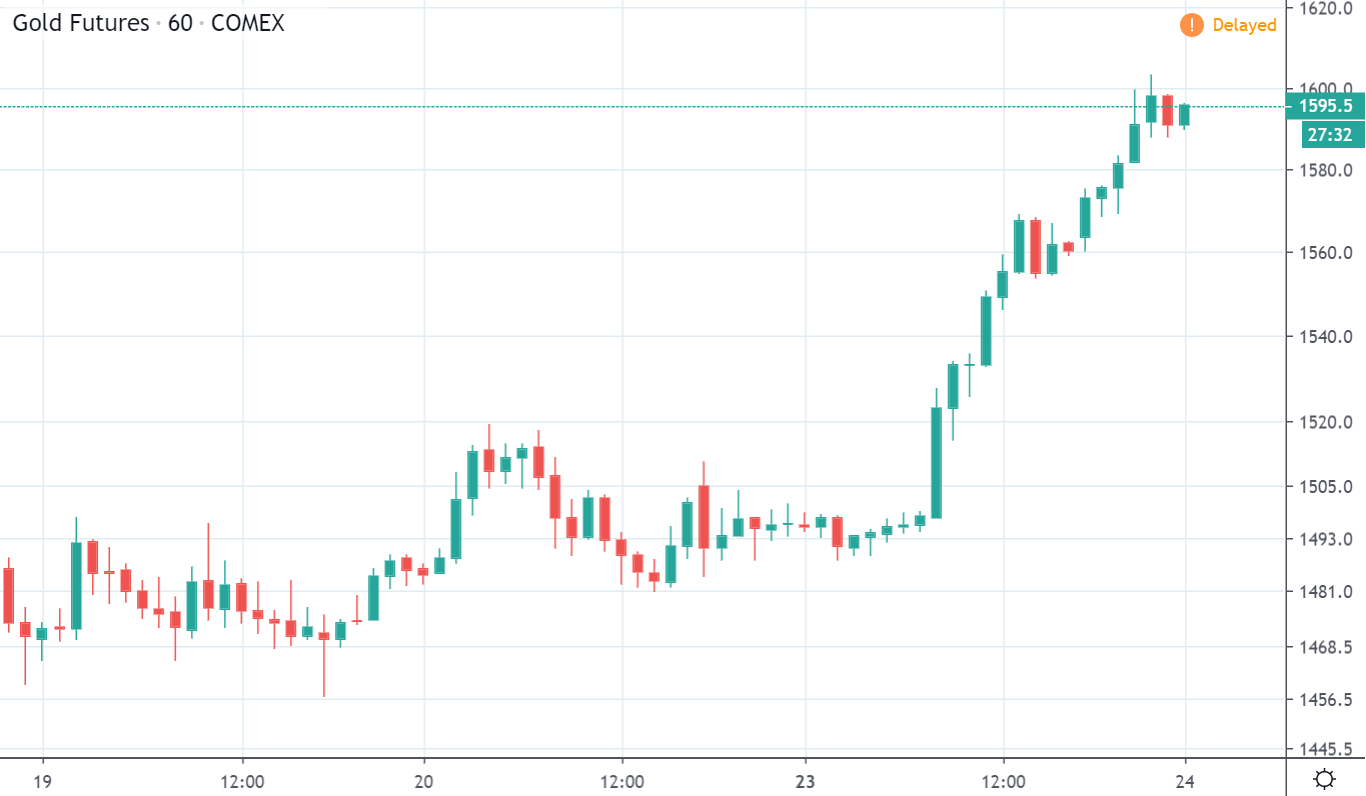 Over the last 5 days gold is up 8.5%—outstanding gains relative to its risk profile. Gold was trading at $1,596 per ounce at press time. And, as would be expected of a safe haven, gold is showing an inverse relationship with the broader market.
Meanwhile, Bitcoin is up a whopping 24% over the same 5-day timeframe, punching from $5,180 to $6,460. The S&P 500 was down 4.3% over the period.
However, traders should exercise caution before placing their bets. Instead of showing an uncorrelated or inverse relationship with the market, as expected of a safe haven, Bitcoin is showing a relatively strong correlation. This means that with greater returns comes greater downside risk.
Nevertheless, proponents are optimistic that Bitcoin will outperform the stock market and behave more like a safe haven as the COVID-19 crisis continues. Some argued that Bitcoin's surge up from the low $5,000s demonstrates such a status.
Though, others still attribute the recovery not to its status as a safe haven but to overselling during the Mar. 12 dump. Bitcoin's performance over the next few months will render the verdict.