Bitcoin Teeters As Crypto Drops $20bn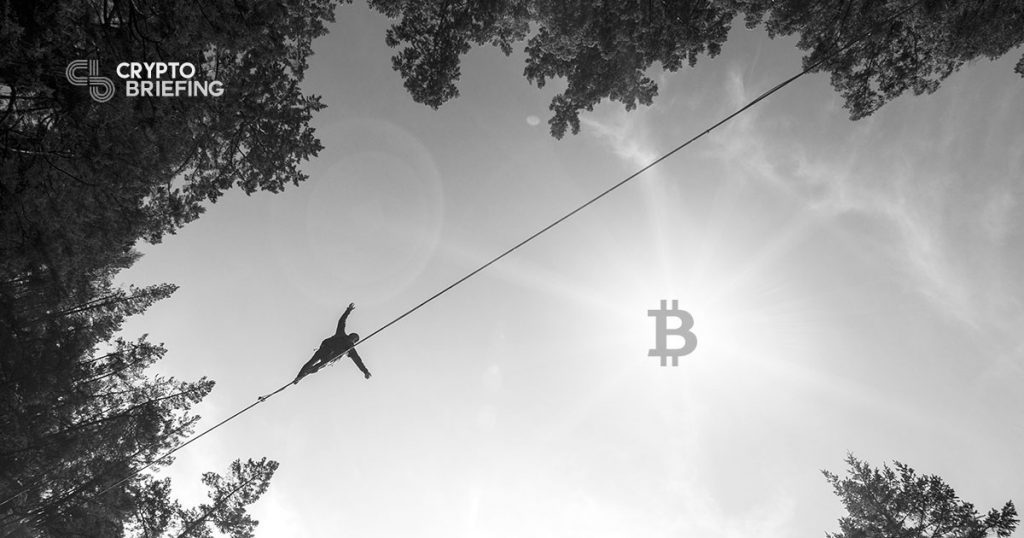 The cryptocurrency market has undergone a significant correction in a few hours, with coins across the board – including Bitcoin (BTC) – experiencing steep drops in prices.
The market has shed more than $20bn since 12:00 BST. As the graph below shows, crypto's total value had climbed steadily over the last couple of days, increasing by around $40bn from $320bn early on Sunday morning to just under $360bn by midday today.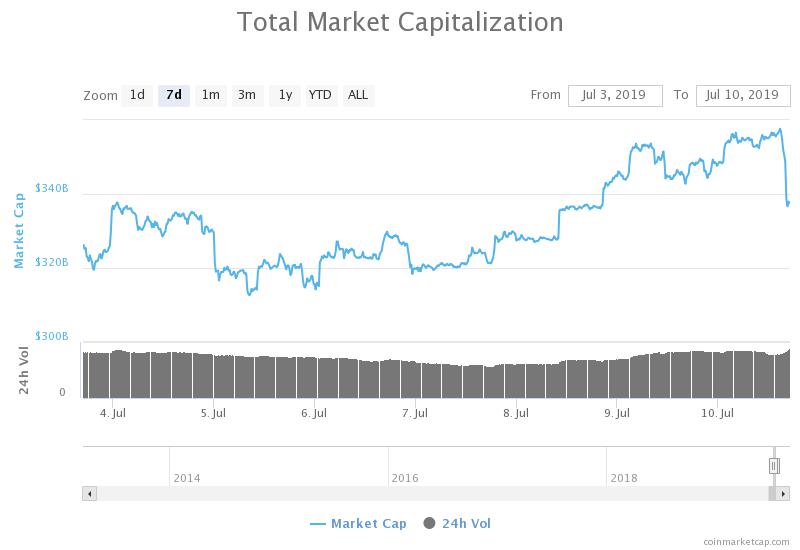 Although altcoins had begun to slide earlier today, it seemed Bitcoin would remain a noticeable outlier. But it has shed nearly $1,000 after it briefly breaking past the $13,000 barrier – a key resistance level – earlier today. Existing BTC investors could well be taking advantage of higher prices in order to sell parts of their holdings, similar to what happened earlier this month.
Travis Kling, founder and Chief Investment Officer over at Ikigai Asset Management, suggested institutions and funds may be selling significant parts of their holdings after taking advantage of lower market prices in the last quarter.
"There have been three instances now over the past couple months where a VWAP bid [buying below the intraday trading benchmark] showed up in size", explained Kling. These were all in the run-up to key events such as Consensus and Libra, as well as when BTC rebounded off its $9,800 support line.
Technical analysis already hinted the ETH price was due for a significant change, as Crypto Briefing reported earlier today, as it moved in an increasingly tighter range. As expected, the price dropped precipitously after it fell below the $300 support level.
Sentiment for leading altcoins is sliding downwards, according to data analytics site TheTIE, which gauges conversations on social media. Large-cap alts such as Ether (ETH), XRP, Bitcoin Cash (BCH) and Litecoin (LTC) have all moved into the red, while stablecoin Tether (USDT) – a popular means to preserve value during bear markets – has suddenly become the most popular asset in the top-ten.
"The Bitcoin market is one that is still largely driven by speculation and hype. In the crypto market in particular, that hype tends to be self-perpetuating," explained Kevin Murcko, the CEO at cryptocurrency exchange CoinMetro.
Immature markets that have yet to establish key metrics for trends are heavily influenced by sentiment, something which can change as fast as the wind. Even though some basic infrastructure is being added, Murcko believes sentiment is what's causing the parabolic price action that so often characterizes crypto.
All too often coins that suddenly rocket up in value very quickly, can drop by just as much until it reaches a stable price range. Quite simply, it's the story of crypto's life.