Will Bitmain Stage a 51% Attack on the BTC Network?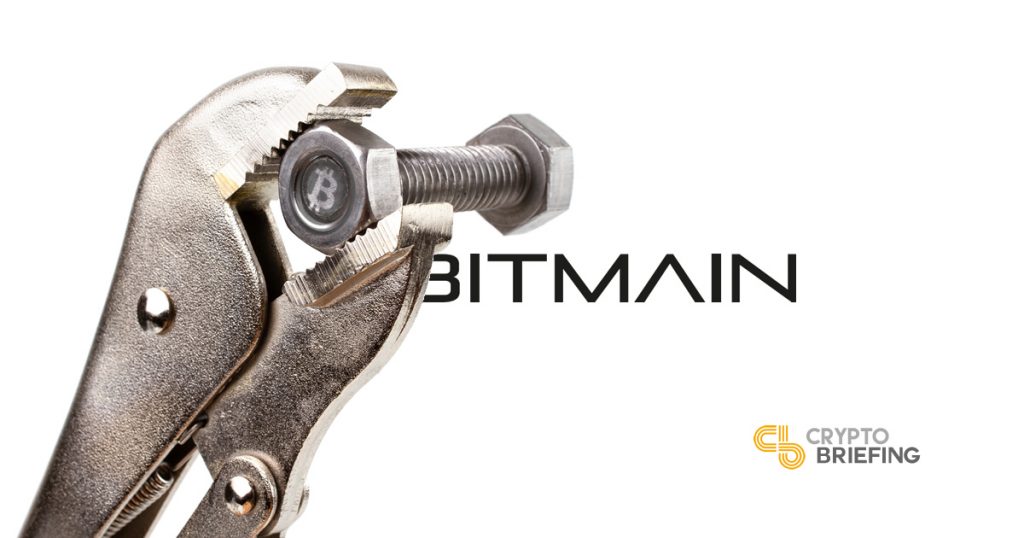 The Chinese mining company Bitmain now controls over 40% of the BTC hashing power. This means that the company is approaching the hashing power required to control the Bitcoin network and – if it pleased – stage a 51% attack.
According to data collected by Coin Dance the two mining pools owned by Bitmain, BTC.com and Antpool, have had a combined hashrate of 42% of the Bitcoin network over the past seven days.
Unlike most other mining pools or companies, Bitmain makes and uses its own mining equipment. Its range of ASIC rigs, designed with hash rates of over a million a second, leaves most CPU and GPU mining equipment in the dust.
The Beijing-based company has built up a reputation for secrecy, and reportedly made $3-4bn in profits last year. By comparison, the American GPU-chip manufacturer Nvidia made profits of $3bn and Canaan Inc., one of its closest competitors in the manufacturing of mining equipment, made a twelfth of what Bitmain did.
---
If Bitmain Took Control of BTC, Would It Stage a 51% Attack?
Although the coin's value has slipped from its $20,000 high back in December, at a current market price of over $6,000, Bitcoin is still the most prized network for a rogue miner to attack.
If Bitmain did attack the BTC network, the company would rake in a substantial amount of funds in the short-term. However, as soon as it became clear that the network was under attack, there would almost certainly be a sudden loss of confidence and panic selling. In the two confirmed instances when the Verge network was attacked, XVG plunged, it's total value falling by $300m the first time, and by over $200m the next.
Even when Verge announced, both times, that the attack had been successfully resolved, the network failed to recoup most of its pre-attack value. Since the second assault in mid-May, Verge has continued to slide in value: down by 56%, according to CoinMarketCap.
If the same were to happen to the BTC network, history suggests that many would exit their positions rapidly, leading to the price of Bitcoin diving. Bitmain would technically control Bitcoin, but the long-term health of the asset could be irreparably damaged.
---
An age-old argument in defense of the Proof-of-Work consensus protocol is that the high-upfront costs in buying and running the required number of mining rigs would set a company back so much as to make an attack completely economically unviable.
The same argument holds true, if not truer, for Bitmain than most other mining parties. Considering the company's stake in the future of BTC mining, a 51% attack would be tantamount to business suicide as it would likely lose one of its primary revenue streams as the price of BTC collapsed.
Although arguments bandied about the cryptosphere that Jihan Wu might compromise BTC to support the rival Bitcoin Cash network, these rumors likely represent a paranoid conspiracy-theory mentality. Not only would miners switch off from BTC, but all other networks which run off the SHA-256 would also indirectly be compromised and subject to attack.
At present, 60% of the company is controlled by Mr. Wu and his partner, Micree Zhan, giving them effective free reign over Bitmain's direction and actions.
But as was reported earlier this month, Bitmain may be going public, as Mr. Wu suggested that the company could look at holding an IPO either in Hong Kong or possibly in the US as it looked to raise funds for its new venture into Artificial Intelligence.
If the company goes mainstream, not only will its books have to go public, but Bitmain will also have to be held accountable to its shareholders who may raise objections if the company began a campaign of network domination.
---
The question on whether a consensus attack could actually happen on the BTC network shifted from a hypothetical one quite some time ago. Way back in 2014, the now-defunct GHash mining pool actually did pass the 51% mark but in that case, asked miners to move some of their hashing power onto other pools.
Antpool has recently started a promotion offering zero-fees to new miners joining its platform, with BTC is one of the coins included as part of its promotional offering, and at the time of writing the company has yet to release any official word or reply to requests for comment.
It's possible that Bitmain simply doesn't think 42% isn't enough… but the community will have to wait and watch as the company inches towards control of Bitcoin.
Ironically, the future of a project designed to decentralize finance could be left in the hands of two men.
Disclaimer: The author is invested in BTC, which is mentioned in this article.