Block.one Starts Own Voting Proxy, Throws 10% of EOS Supply Behind It
EOS's parent company will vote for block producers using its huge reserve of 100 million EOS. The company claims that it will use these tokens to give users more say over its voting choices.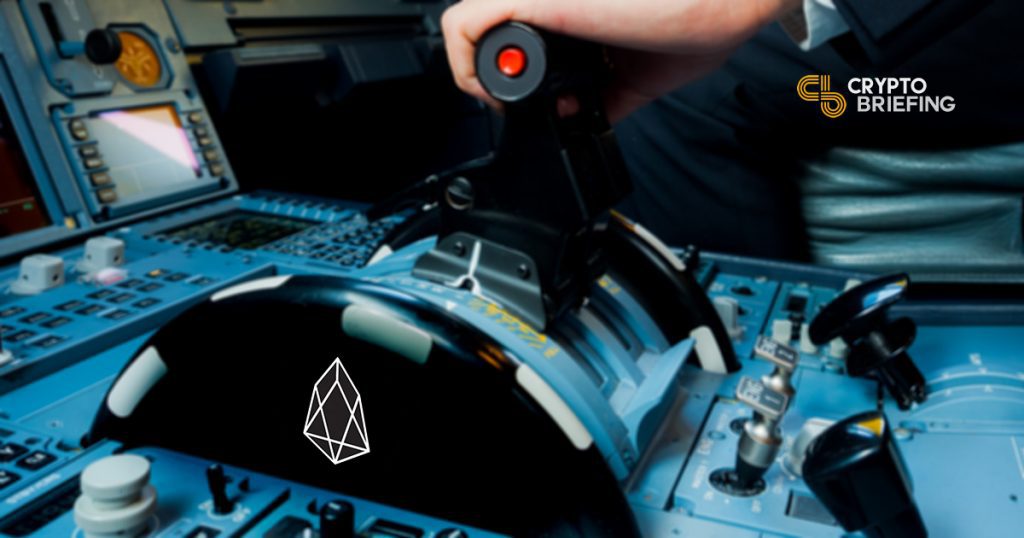 Key Takeaways
Block.one's EOS vote proxy, sub2.b1, went live today
This allows EOS's parent company to directly vote for block producers
Block.one has become increasingly involved in EOS's governance
Block.one, the parent company behind the EOS blockchain, is throwing 10% of the EOS supply behind its own voting proxy, further centralizing on-chain governance.
Biggest Proxy on EOS
Block.one's new proxy "sub2.b1" means that it can vote for specific block producers who are elected to power and govern the EOS blockchain. It also means that users can support their voting choices directly.
Block.one has allocated 85 million EOS ($259 million) to its proxy. These tokens represent 10% of the entire token supply and almost all of Block.one's 100 million EOS holdings. The decision makes sub2.b1 the largest voting proxy on the network.
Despite the proxy's large balance, Block.one has not selected which block producers it plans to vote for, and only a paltry six accounts have chosen to use sub2.b1 as their vote proxy.
Centralization or Compromise?
Block.one's new voting proxy means that the company has more control over EOS voting than it previously did. Its new proxy could take away voters from smaller, community-run proxies, such as those run by Colin Talks Crypto and Brock Pierce.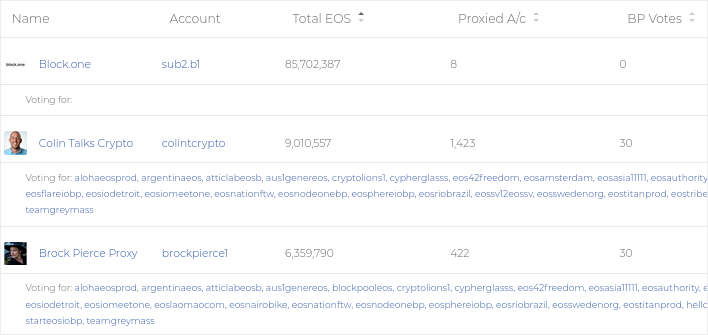 Given that Block.one voted for block producers before today its new vote proxy arguably gives some control back to the community, according to Block.one CEO Brendan Blumer. That is, the EOS community now has some input as to whether it supports the company's voting decisions. Yet, it still raises questions about the community's role in directing the EOS blockchain's governance.
Block.one also aims to solve problems of corruption. In the past, vote collusion and "sockpuppet" accounts allowed corrupt actors to become block producers and gain greater control over the network. Block.one says it will vote for organizations with a known identity and a history of contributions to EOS—ensuring that reputable block producers get to run the blockchain.
Block.one's Governance Role Grows
Block.one's involvement in its blockchain's governance has grown steadily over the past two years. The company first announced its plans to vote for block producers in May 2018, and it actually began to vote for those block producers in May 2020. Block.one also began to vote for upgrades to the EOS blockchain in November 2019.
Block.one's growing control contradicts its goal of further decentralizing the EOS network, especially given its growing involvement.
We are excited to begin voting today for Block Producers on the EOS Public Blockchain. 56 candidates with infrastructure across 21 countries will meet our initial voting criteria, and we will be voting for them on a rotational basis over the next 6 weeks.

— EOSIO (@EOSIO) May 29, 2020
Block.one later acquired the block producer EOS New York in March 2020. However, this acquisition ended EOS New York's role as a block producer, meaning that that Block.one did not gain any control over the blockchain's governance through that acquisition.
Brendan Blumer has also advocated changes to EOS's current voting model, suggesting that a "one token, one vote" model will solve block producer corruption. It's still unclear how the company will implement his plan and address ongoing centralization concerns.