Blockchain In the Automotive Sector: Who's Driving Adoption?
Multiple applications across multiple manufacturers.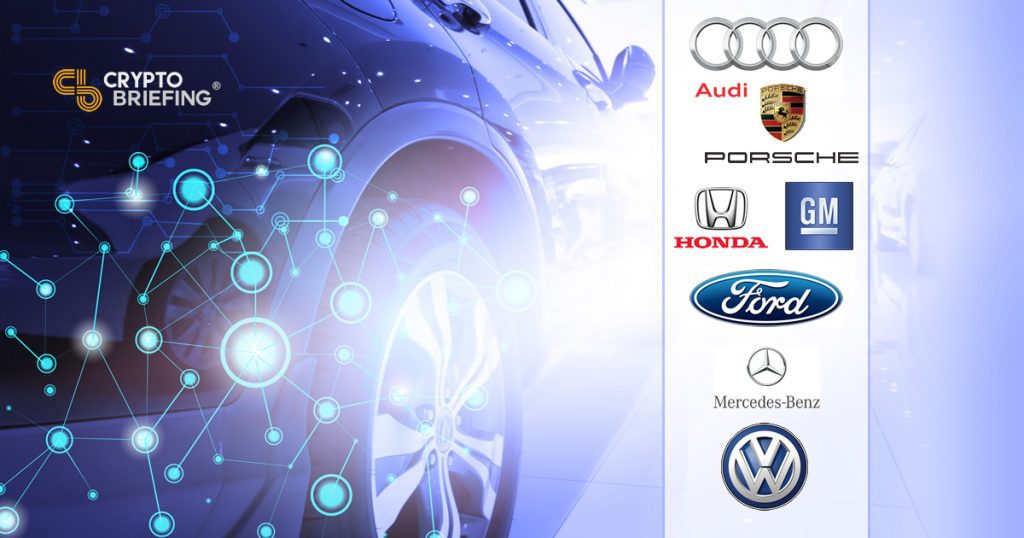 Bblockchain tech is rapidly gaining ground in the automotive sector. Thanks to its practically limitless applications, auto companies have been using the blockchain to handle data and transactions, to integrate themselves with the sharing economy, and to manage their supply chains.
Together, these possibilities have led major automotive companies to explore how blockchain tech can meet their needs, and they have produced countless innovations in the process. Here are some of the biggest names in the auto sector and the ways in which they are using blockchain technology to break new ground.
---
The MOBI Collective
The Mobility Open Blockchain Initiative (or MOBI for short) is a coalition that is made up of several major auto companies. BMW, Ford, General Motors, and Renault have all joined the coalition, and so have a number of major blockchain companies, including ConsenSys, IOTA, Hyperledger, R3, VeChain, and Tezos.
MOBI has many different members, and its goals are fairly broad, so it doesn't always produce concrete products. Instead, MOBI is primarily working to introduce blockchain standards for the entire auto industry, ensuring that its members are all on the same page when it comes to innovation.
---
Honda and GM: Smart Grid
Recently, Honda and General Motors began a joint effort that will connect electric vehicles to the blockchain. In essence, Honda and GM are exploring ways to handle power consumption data on the blockchain, and this effort will primarily involve stabilizing power supplies for smart grids.
Honda and GM's research will also explore the possibility of an energy sharing program, meaning that owners of electric vehicles may soon be able to earn revenue by exchanging electricity with a smart grid. This research is being carried out in alliance with the MOBI Collective.
---
General Motors: Data Patent
General Motors has also been exploring blockchain technology on its own. In November, GM filed a patent that proposes a blockchain-based method of managing autonomous vehicle data. The proposed system basically gives self-driving cars access to route navigation data and the ability to automatically pay for services.
In addition to filing this patent, General Motors has also made a major blockchain investment. This month, it invested $23 million in Spring Labs, a blockchain startup that provides identity verification and fraud prevention services. The two companies also entered a partnership this year, which was announced in February.
---
Volkswagen: Digital CarPass
IOTA is heavily involved in the automotive industry, and Volkswagen is one major company that has been working with the IOTA team. Last year, Volkswagen discussed plans to connect its in-car computers to the IOTA Tangle, which would allow the company to perform over-the-air software upgrades and other tasks.
Volkswagen followed up on this in September by formally announcing Digital CarPass, an IOTA-based system that allows users to track their mileage and evaluate vehicle performance. CarPass was originally scheduled to go live in early 2019, but that date has now passed, and Volkswagen has not issued any updates.
---
Audi: E-Mobility Project
Audi is another company that has partnered with the IOTA Foundation. Last year, the two groups joined forces to build a mobility system on the IOTA Tangle. "Mobility" does not have a precise definition, and it covers most types of vehicle connectivity, so the exact nature of this partnership is difficult to pin down.
IOTA's official announcement about the results of the partnership has not revealed many details, either. "The end result is focused on enabling trust in e-mobility," Alisa Maas of IOTA has noted. "It is not yet clear where the path finally goes." IOTA has made it clear that the partnership was successful, though.
---
Ford: Ethical Cobalt Sourcing
Ford is another company that has been working with blockchain technology, and in this case, it is seeking to manage its battery supply chain. Currently, Ford is using the blockchain to ensure that the cobalt in its batteries comes from ethical providers—that is, mining operations that do not rely on child labor.
In order to accomplish this, Ford is using two related blockchain platforms: the IBM Blockchain platform and Hyperledger Fabric. Basically, these platforms provide Ford with an auditable and verifiable data trail. By using these platforms, Ford is able to ensure that its cobalt providers are following appropriate industry standards.
---
BMW: VerifyCar System
BMW has been building a close relationship with VeChain, which is a blockchain platform with a focus on supply chain management. At this year's VeChain Summit, BMW announced that VeChain had completed the BMW Startup Garage program – beyond testing, they've now entered a client-based relationship.
During the summit, BMW also announced VerifyCar, an upcoming VeChain-based car ownership passport that documents vehicle mileage and maintenance history and records it on the blockchain. The system is mainly intended to prevent odometer manipulation, which is a common form of sales fraud in Germany.
---
Porsche: XAIN Partnership
In February, Porsche announced its plans to partner with the machine learning startup XAIN. The two companies intend to introduce blockchain data transactions into Porsche's vehicles, which would, for example, allow vehicle owners to remotely lock and unlock their vehicle via a mobile app.
Porsche also intends to expand its blockchain efforts by using the technology to create new business models. Porsche plans to use the blockchain to keep encrypted data logs, which it believes will be useful in coordinating route learning in self-driving cars without sacrificing owner privacy.
---
Toyota: MIT Collaboration
In 2017, Toyota began collaborating with the MIT Media Lab to produce new blockchain applications. These efforts are mainly focused in three areas: data sharing, car-sharing transactions, and usage-based insurance. The partnership is still active, and recently, it produced a new paper on autonomous vehicle navigation.
Toyota has also been investigating blockchain tech with other partners. Recently, the company began to test a blockchain-based electricity system in cooperation with UTokyo and Trende. This shared power grid will allow users to buy and sell energy, and it will be integrated with both buildings and electric vehicles.
---
Mercedes-Benz: Sustainable Supply Chain
In February, Mercedes-Benz announced a blockchain initiative that will allow it to manage its component supply chain and ensure that it is obtaining its raw materials from sustainable and ethical sources. This endeavor is similar to Ford's efforts to integrate blockchain tech with its own supply chain.
Privacy is a key issue: Mercedes-Benz plans to use blockchain encryption to ensure that all of its supplier contracts are handled with full confidentiality. To accomplish this goal, the company has been working with Icertis, a software company that focuses on enterprise contract management.
---
Driving Blockchain Adoption In Vehicles
There are plenty of applications for blockchain tech in the automotive industry, but there are a few overarching trends. First of all, companies can use the blockchain to manage data in a secure, auditable, and verifiable manner. This is very important in areas such as insurance, supply chain management, and data management.
Secondly, the blockchain allows companies to efficiently conduct transactions and data transfers, allowing them to create game-changing products with mass appeal.
Together, these possibilities have led many major auto companies to start to take advantage of blockchain tech—and other companies are sure to follow suit in the future.