Byte Me: Binance Boots BCN From Crypto Exchange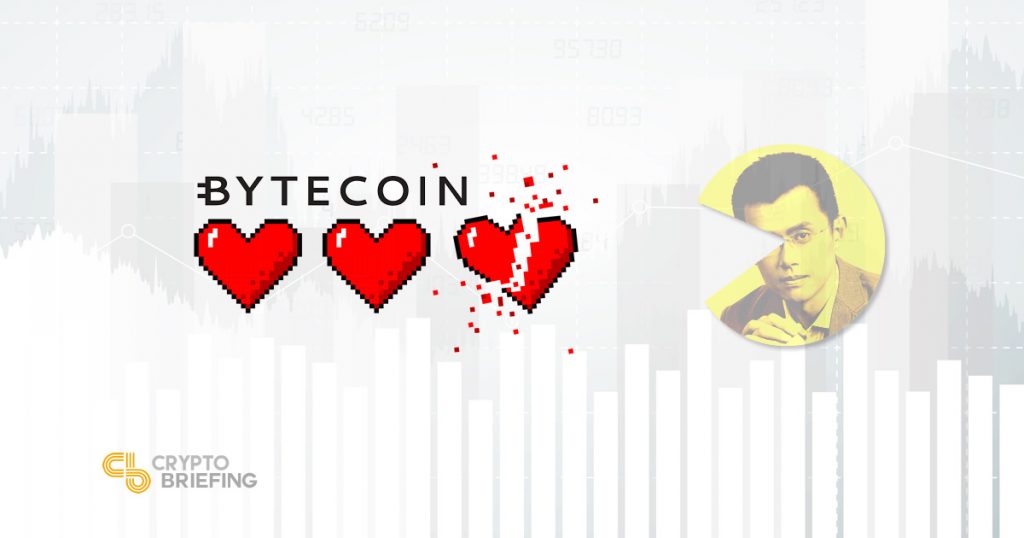 If you want to attract an elite crowd, you have to kick out the riff-raff. That seems to be how Changpeng Zhao is running the club lately; the world's largest cryptocurrency exchange by trading volume announced today that it is crossing four cryptocurrencies off the guest list: Bytecoin (BCN), ChatCoin (CHAT), Iconomi (ICN), and Triggers (TRIG).
Trading will end in three days, and hodlers will have just over a month to withdraw their assets from the exchange.
"In order to protect our users," Binance explained in its support page, "the Binance team conducts comprehensive and periodic reviews of each digital asset listed on our platform to ensure projects maintain a high standard of quality."
If a project does not inspire confidence, the team continued, "it will be subject to further review and potentially delisted."
The post listed "some factors" that Binance takes into consideration, including:
Quality and level of development activity
Network / smart contract stability
Level of public communication and activity
Responsiveness to our periodic due diligence
Evidence of unethical / fraudulent conduct
Contribution to a healthy and sustainable crypto ecosystem
The news came as a shock for investors in Bytecoin, the privacy coin from which Monero forked in 2014. Unlike the other three delistees, Bytecoin isn't just some ERC-20: it is the thirtieth largest cryptocurrency by market capitalization and has an active (but dwindling) community.
Bytecoin prices soared 32-fold after the coin was first listed on Binance five months ago, and the influx of new miners and traffic caused the blockchain to freeze.
The announcement was downplayed by Bytecoin administrators. "We are in the process of active communication with the Binance representatives about the delisting situation," wrote /u/BCN_official in the Bytecoin subreddit. "Bytecoin should proceed its trading on Binance without any issues, and we are trying to come to an agreement as soon as possible."
Asked why Bytecoin was listed in the first place, Changpeng Zhao tweeted:
https://twitter.com/cz_binance/status/1049568380557000705
Prices plummeted after the delisting was announced, and Bytecoin lost 22% of its value within an hour after the announcement. But BCN wasn't alone in the crater; Triggers fell by 38% and ChatCoin by 24%. ICN only fell by around 10%, although this was part of a year-long downward slide.
---
A New Way of Doing Business?
The expulsion may be a sign that centralized exchanges are trying to change the way they do business. Until recently, new coin listing fees were considered a lucrative perk for crypto exchanges, an underhanded arrangement that caused John McAfee to declare war on centralized exchanges, and Vitalik Buterin to recommend them to eternal torment. Although Binance is neither the only (nor the guiltiest) exchange, it has been accused of asking for as much as 400 BTC for a listing.
However, the exchange now appears to be turning some new leaves. Yesterday Crypto Briefing reported on Changpeng Zhao's decision to donate all listing fees to charity, a decision which took the Binance CEO all of three days to execute. By booting its lower-quality projects, and tossing profits into the poor-box, this may be Binance's way of showing that the exchange is moving from the listing business to the trading business.
The news came shortly after Coinbase announced new listing policies, with no fees. If more exchanges follow suit, the abandonment of listing fees may become an industry-wide trend.
But the decision is not likely to endear Binance to some investors, at least in the short term. Hodlers will have just over a month to withdraw their coins from one of the most lucrative exchanges, and there aren't a lot of places to sell TRIG and CHAT.
Of course there are long-term benefits to eliminating low-cap products, which often turn into fare for pump-and-dump schemes. CZ is not likely to make friends among smaller projects, but he might be aiming at a more exclusive set.
The author is invested in digital currencies, but not those mentioned in this article.