Carbon Money Abandons EOS After Halting Stablecoin Product
Carbon will turn its focus to its on-boarding service.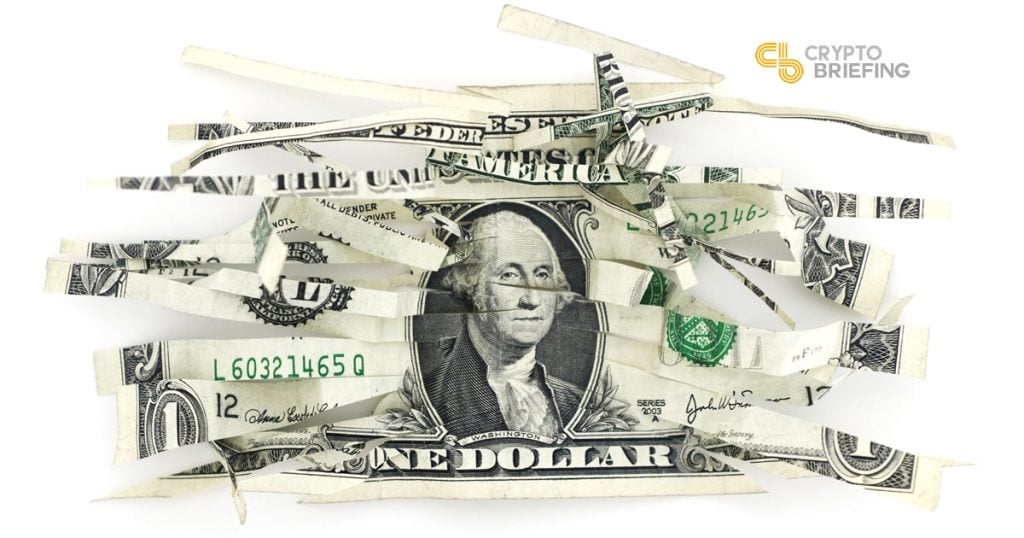 Carbon Money has announced that the project is leaving the stablecoin space. The team said that they would instead be pursuing their "better-performing credit/debit card on-ramp."
Some, particularly those from the EOS community, were caught off guard by the move.
So Long Stablecoins
Carbon entered the crypto space in 2018 via its collateralized U.S. dollar stablecoin (CUSD). Made up of former Hashgraph, ConsenSys, and Uber employees, the company sought to provide a much-needed service to the volatile crypto markets.
The stablecoin kept its peg based on market demand, according to an announcement from April 2018. During times of contraction, and supply outpaced demand, "market participants who [removed] their coins from circulation" were rewarded with new coins once supply was added back into the system.
CarbonUSD was also one of the first crypto projects to leverage Hashgraph's "blockchain alternative" technology. The latest announcement confirms that Carbon will no longer be working on its stablecoin product, however. The project's site informs users that the project has been halted "due to profitability and developer capacity problems."
The CTO of Carbon, Dan Shiferaw, confirmed the news via Telegram, stating that the company would no longer enable further stablecoin deposits. He told Crypto Briefing that their "credit/debit card onramp was performing much better" and that the company "wanted to focus [its] product team."
Users holding CUSD can burn any of their holdings via the Carbon dashboard.
Carbon will now focus on building out its onramp. Shiferaw wrote to Crypto Briefing on Telegram that the company would "integrate new tokens, get new partners live, [and add] U.S. support."
Although the pivot comes as a surprise to many, Carbon's CEO, Sam Trautwein, indicated that the stablecoin product was just an enabler of a different objective.
He told Crypto Briefing that:
"Generally we've been working on payments for about a year now. The main reason we rolled out fiat-backed stablecoins was to provide an easy way to onramp into specific ecosystems over ACH using Plaid."
Trautwein added that Carbon wants to make on-boarding to crypto as smooth as possible. The company aims to achieve this via its service called Fiber.
It allows any website that has integrated the API to purchase cryptocurrencies with American Express, Visa, MasterCard, and Apple Pay.
What About EOS?
On Jan. 25, two days before the team announced its stablecoin departure, EOS enthusiasts present in Carbon's Telegram channel began reporting withdrawal issues.
One user, Joseph Figueroa of Acueos, a money market on the EOS blockchain, wrote:
"Can someone from the Carbon team provide insight into when we'll be able to transfer CUSD on the EOS blockchain again? When I try to do so I get the message below. However, there is no info on the referenced web site:

——————-

Transaction failed – assertion failure with message: CUSD transfer action has been temporarily disabled, please wait for official news from https://www.carbon.money."
Others joined in the confusion stating that they too were having difficulties accessing any CUSD held on EOS.
Carbon announced that it would be "We are deprecating our CUSD stablecoins on EOS" shortly after.
The company then enabled a swapping mechanism to help return funds to these users. To get their money back, users needed to send their CUSD to one of Carbon's accounts. In return, they received USDT at a 1:1 ratio.
Many from the Carbon team admitted the process was clunky, but Trautwein wrote on Telegram that "the public outcry surprised" them. He added that he and his team "erroneously thought no one was using it. The market cap was only $30k, [of which half] was held by either the company or affiliates."
Despite the confusion, he also affirmed that if Carbon finds a suitable partner in the EOS ecosystem, they would be happy to collaborate.
In the meantime, the main focus is to "solve the most challenging problem in crypto: compliantly and seamlessly on-boarding users."