CFTC: Taking It Slow With Ethereum Futures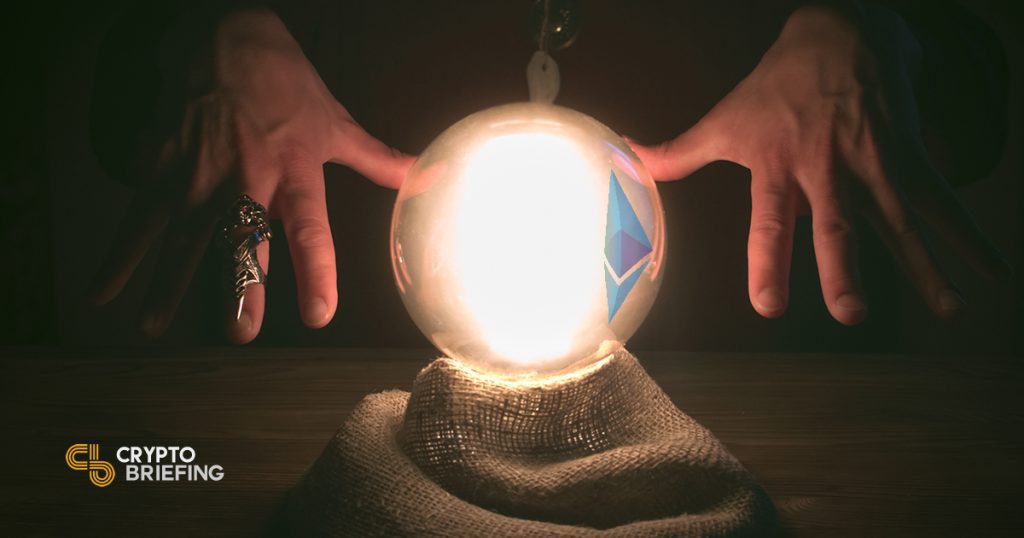 It's been a year since the CFTC gave a regulatory green light for bitcoin futures and ether futures could be next. But this time around, the agency is taking its time, as evidenced by a recent request for input on the third biggest cryptocurrency based on market cap to learn what sets it apart from bitcoin. Regulators are exploring new derivatives contracts after the SEC suggested that they would not seek enforcement against Ethereum.
Kevin Murcko, who is at the helm of crypto exchange CoinMetro, stated:
It was only a matter of time before the CFTC made its own judgement as it has jurisdiction over both futures and commodities – the only two options under which crypto assets, not akin to securities, can be classified.
Some say the CFTC rushed in with BTC futures and others believe they moved too slowly. But, what appears to be a more cautious approach to ETH futures could be a blessing in disguise for the Ethereum community.
The CFTC's decision to approve an easy bitcoin shorting mechanism was followed by a highly volatile BTC price and massive declines. While bitcoin futures are helping to create a more mature market, there has been a short-term shakeout that has come as a surprise.
Whether or not the ETH price could withstand the same type of derivatives-infused shorting coupled with the volatility that expiration dates introduce, however, is another question. Despite the fact that the ETH price could use a catalyst or two right now, the CFTC, which oversees the commodity futures market, may be doing Ethereum a favor by taking its sweet time.
Since BTC futures launched on the Cboe and CME a year ago, it's been nothing but trouble for the bitcoin price. The regulated derivatives contracts make it easier for institutions to trade bitcoin, but that includes taking both long and short positions.
The Federal Bank of San Francisco believes there is a link, publishing an economic letter earlier this year that stated: "[The] launch of bitcoin futures allowed pessimists to enter the market, which contributed to the reversal of the bitcoin price dynamics."
Meanwhile, a recent report by Cindicator suggests otherwise. Researchers compared trading volumes in the OTC market with crypto exchanges and bitcoin futures, determining: "Bitcoins are traded mostly on crypto exchanges and futures prices have a minor impact on price development."
The Cindicator team took it a step further by examining the bitcoin price around futures expiration dates considering "arbitrageurs trying to gain from differences between futures and spot prices that can be produced by lower liquidity and/or differing demand-supply dynamics of futures and spot investors in the short term."
Ultimately their research determined that there is "no solid basis" for the notion that bitcoin price trade movements are buttressed by futures expiration, but they admit it's worth exploring again once futures volume more closely resembles that of the OTC market.
CoinMetro's Murcko believes the CFTC's request for more information is a positive sign for Ethereum.
The long-term impact of this consultation, for the entire crypto market, is positive too. Grey markets often struggle to expand, so proper frameworks and classifications from the CFTC will help to bring institutional money to the table and enable traditional fiat gateways, which can expand the retail side of the market and facilitate mainstream adoption of crypto.
CFTC Observes Dissension In The Ethereum Community
In its request for public comments and feedback on "Ether and its use on the Ethereum Network," the CFTC is giving the ETH community two months to respond, so there won't be any new crypto futures products in' Christmas stockings this year. Regulators have some issues to sort out, not the least of which is the potential for disagreements in the ether community surrounding the shift to a proof-of-stake consensus.
A group of developers has assured regulators in a prepared response that "wanting to stay on proof of work is not something actively discussed." In fact, the Constantinople upgrade now has a date of January 2019, which has removed some of the uncertainty surrounding the hard fork and given the community reason to band together.
The CFTC also wants to know about any "intermediary conduct that has occurred in the international Ether derivative markets that raise market risks or challenges." Ethereum developers didn't hold back, pointing to the BitMEX exchange, whose CEO hasn't been especially kind to ETH, and which is behind an ETHUSD perpetual swap product for taking long or short positions in ETH. The devs responded:
The off-shore exchange BitMex, incorporated in the Seychelles, has engaged in market manipulation through its proprietary trading desk that has direct advantages over customer traders.
The next event for bitcoin futures trading will begin when the regulated Bakkt exchange launches, currently expected in early 2019. Bakkt already revealed that it will consider "additional contracts as the landscape evolves," and ETH futures would be a logical next step. By then, perhaps the bull market that is unfolding among developers will have found its way into asset prices.
The author is invested in ETH.