Chainlink Demand May Surge with Potential MakerDAO Integration
Chainlink's utility may expand as DeFi stablecoin project MakerDAO gets recommendations to add LINK as collateral.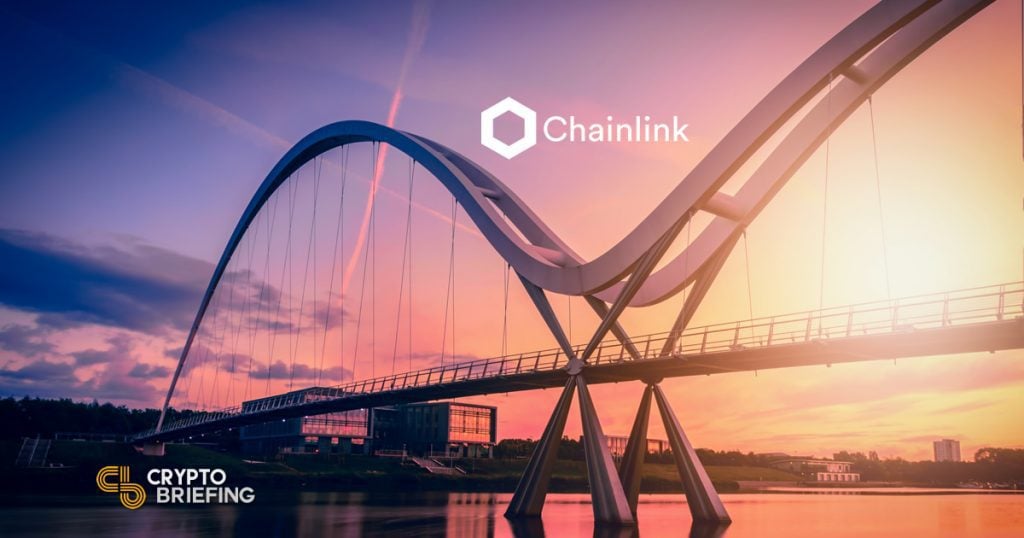 Key Takeaways
The lack of Dai liquidity over the past month could see the integration of Chainlink as new collateral in the MakerDAO ecosystem.
The decentralized oracle token may help increase Dai supply and strengthen its stability.
The implementation could see demand for LINK increase, subsequently, pushing its price up.
MakerDAO is getting recommendations to incorporate Chainlink as collateral, which could prove advantageous for LINK's price.
Improving DAI's Liquidity With Chainlink
Over the past month, DAI has been trading between 200 and 300 bps above its peg ratio. The lack of stability poses a significant threat to MakerDAO, potentially pushing DeFi to other decentralized stablecoins, like Terra or Ampleforth. This jeopardizes Dai liquidity across major exchanges.
"Just 10 days ago, we saw CDP 3931 purchase ~5MM DAI, pushing DAI prices to over $1.04. The fact that a top 10 CDP holder was willing to pay 4% above the peg to exit the system is a negative signal," said ParaFi Capital.
An illiquid Dai could have serious implications for the entire DeFi ecosystem, given that it increases the odds for another mass collateral liquidation. Such an unfortunate event has happened before when borrowers on Maker with open CDPs and Vaults were caught on the wrong side of their collateral requirements.
During the Mar. 12 market carnage, for instance, millions of dollars worth of collateral were auctioned off for $0 while the price of MKR dropped 58% that day alone, creating a major deficit in MakerDAO's balance sheet.
As result, ParaFi Capital is proposing to on board Chainlink as new collateral given its "market cap, liquidity profile, and appetite for speculation." LINK could help increase Dai supply and strengthen its stability, according to the alternative investment firm.
Although the Maker community will have the last word regarding the proposed solution, its implementation is expected to have the same success that Aave has had since launch. Since then, roughly $20 million worth of LINK have been supplied to this lending protocol as collateral.
A similar increase in demand for Chainlink upon its introduction to MakerDAO could see its price spike. This scenario aligns with the outlook provided by different on-chain metrics.
LINK's Network Expands
The decentralized oracle token has seen its network growth increase by an average of 1,400 new addresses per day over the last week. Meanwhile, the number of addresses going to zero hovers around 1,150.
This is a clear sign that LINK has potential for a further bullish advance, according to Brian Quinlivan, Market and Social Media Director at Santiment.
"[We can] see that a rising network growth leads to a rising price of any project over time, in most cases. On the flip side, declining network growth for a long enough stretch can usually indicate a future slumping price with the lack of newly created addresses constantly in-flowing the coin or token," explained Quinlivan.

If Chainlink is indeed poised for an upswing, it must first move past the resistance wall that sits between $3.6 and $3.8. IntoTheBlock's "In/Out of the Money Around Price" (IOMAP) model estimates, which shows nearly 5,500 addresses bought over 11 million LINK around this price level.
Breaking though this supply barrier could see this crypto surge to the next major resistance level that sits around $4.

Nonetheless, if the bears step in they may find strong support ahead. The IOMAP reveals that 9,600 addresses bought more than 45 million LINK between $3.2 and $3.5. This demand area could prevent Chainlink from a steeper decline.
Moving Forward
Since Black Thursday, Chainlink has been able to recover sharply, with its price increasing over 150%. While on-chain metrics reveal that demand for the oracle network is increasing, the utility of this token has proven to be key for the success of many crypto firms.
Celsius Network, for example, recently announced the integration of Chainlink to fence in decentralized price feeds while bZx used it to kill their dependence on a single oracle provider.
Now, ParaFi Capital is proposing to utilize LINK as new collateral for the MakerDAO ecosystem. This implementation could increase the demand for this altcoin, subsequently, pushing its price further up.
Disclosure: Ampleforth is a sponsor of Crypto Briefing.
For more key market trends, subscribe to our YouTube channel and get weekly updates from our lead bitcoin analyst Nathan Batchelor.