ChainLink (LINK) Token Progress Report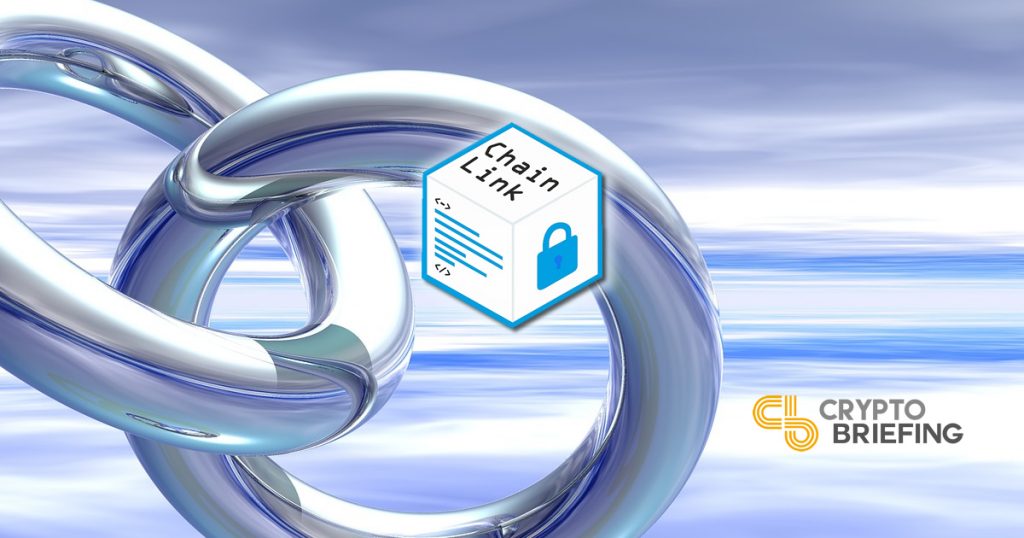 ChainLink is billed as a natural evolution in the world of smart contracts. A smart contract allows parties to do far more than a simple transaction – they can program a set of conditions on the blockchain to allow for a trustless transaction.
But are these conditions being met when external resources are involved, as they are in the majority of real-world scenarios? The contract doesn't know! Enter ChainLink, a connection to external data for smart contracts.
The LINK Product
ChainLink aspires to be the bridge between the blockchain world and current business systems. This bridge is known as an oracle (not to be confused with the Oracle brand of databases). Without an oracle for smart contracts, a business would have to completely retool themselves into a blockchain-based operation in order to be compatible with blockchain. Perhaps they will ultimately end up there, but that journey is long and arduous – and possibly unnecessary.
ChainLink is also working on a decentralized network of oracles. If a smart contract required external data, acquiring it from a singular source returns us to the perils of centralization – a singular point which can be compromised.
Their solution is a decentralized network of oracles. A smart contract can specify the oracles to obtain the requested information. For example, a smart contract based on a sports bet would require results about the winner. Using multiple sources and achieving consensus will help prevent dishonest activity.
For further protection against an attack where one party of the contract owns many oracles (Sybil attack), they are employing a technology called Intel Software Guard Extensions (SGX). Intel SGX creates an "enclave" where protected areas of memory do not allow changes, thus keeping the oracle honest even if operated by an owner with conflict of interest in a smart contract.
Where does the token fit in? Oracle operators are compensated in LINK tokens. This is a massive use case if their technology is adopted, especially in situations where a smart contract requires multiple oracles.
ChainLink Market Strategy & Competition
The parent company, SmartContract.com, started in 2014 but this domain name was registered in 2008, before BitCoin! The team has been working on this product for a few years; they are not some shell of a company thrown together around an idea for an ICO money-grab.
Though the team is small, their technical prowess is truly outstanding. Their white paper is a true technical white paper and not a picture book of graphics pandering to a mass of uninformed investors.
Overall, the marketing is poor. They may be following a "let the product speak for itself" or "build a product, not hype" approach (Raiden, anyone?). Communication and transparency is low. Their most recent tweet is a month old (Feb 23rd) and a link to an article on Medium written in December of 2017.
Though they started strong out of the gate with first-mover status, competition is a real threat. Their most formidable competitor is SophiaTX where others with similar scopes are OracleChain (for the EOS blockchain) and Hyperledger.
ChainLink Roadmap: Partners & Progress
First of all, there is no roadmap.
Going back to the fall of 2017 (ICO) – ChainLink gained huge momentum and excitement from the crypto investing community.
The ChainLink team, through competitive bidding, won a partnership to develop a Proof of Concept (PoC) with SWIFT, the largest global provider for secure financial messaging (transactions). When banks need to process an international wire transfer, they use the SWIFT system. Obviously, as SWIFT is the largest bank wire system, they contain partnerships with the top banks in the world. Their partnership is vital for their future success.
ZeppelinOS, a major platform for smart contract services, announced their partnership on December 18th 2017. The ChainLink twitter kindly posted a link to the ZeppelinOS website with the announcement.
On February 19th, they released news of the "initial implementation of the ChainLink Node in Golang". Three developers appear to be actively working on it through GitHub. One of the developers is Steve Ellis and the others are not the CEO, Sergey Nazarov. That implies the team is larger than what listed on the website… thankfully. It is not clear exactly what this testnet is capable of. Various sources suggest the mainnet, will be launched in Q2 2018.
LINK Price & Market Cap
The LINK token ICO completed on September 19th 2017 with a final token price of $0.091 USD. The current token price (at 2pm UTC on bloody Sunday, March 18th 2018) is $0.29 USD yielding an ROI of 318% for ICO investors. The current market cap is ~$104M USD. Price correlation with BTC and ETH is strong implying that the token value is mostly riding along with the overall market.
ChainLink Verdict
With the abysmal marketing, it's no surprise that their token price is bleeding out along with all the other altcoins. Our history has shown that technological superiority does not always guarantee success in the real world; marketing could go a long way to cement their position as the leader in the oracle field.
A significant risk for ChainLink investors is their dependence on both the CEO and the SWIFT partnership. If any unfortunate uncontrollable event happens to either, this project could implode.
Therefore, I will not be taking a large position in this token. Despite the fact that as this project is an essential component of the smart contract infrastructure, and the potential for ROI is tremendous, the fundamentals that many investors seek – especially risk mitigation and strong marketing – are either invisible or non-existent.
And even with a (deservedly) devoted community, and real technology, the company isn't doing enough to advance its cause in an increasingly-competitive space.
Date today: 2pm UTC, March 18th, 2018
ICO Completion Date: September 19th, 2017
ICO final coin price: $0.091 USD
Current price: 0.37 USD (4700 Satoshi)
Low/High (6mo): 0.13 USD / 1.41 USD
Maximum ROI based on final ICO price / highest possible sale price: 1,550%
Current ROI based on final ICO price / current price: 318%
Current Market Cap: ~104M USD