Hoskinson: SEC Will Crackdown on EOS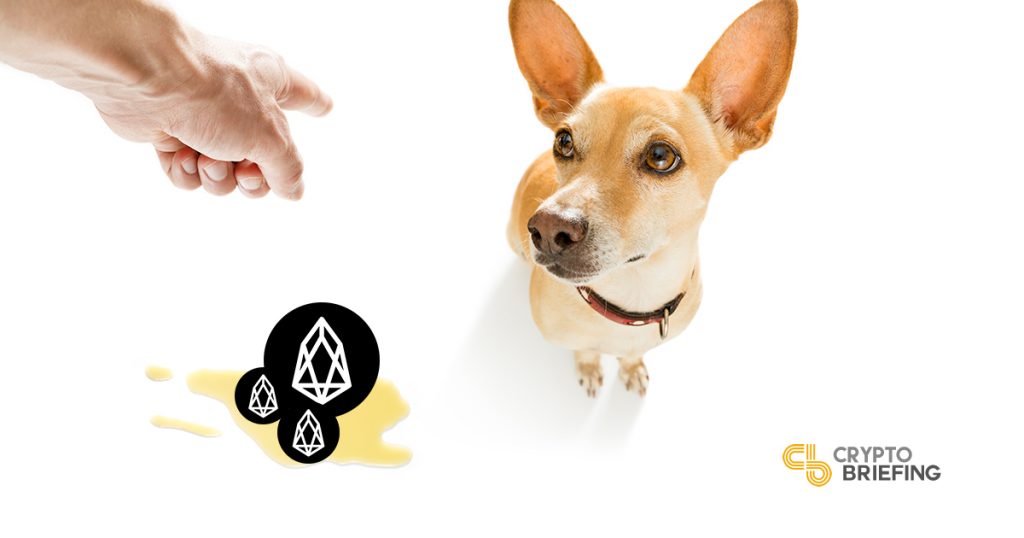 The public face of Cardano (ADA), Charles Hoskinson, believes the chief developer of the EOS platform will face a significant backlash from regulators – particularly the US' Securities and Exchange Commission – over their $4bn ICO, which he described as "egregious."
Hoskinson predicted that the SEC will likely bring punitive measures against Block.One for the way it ran the EOS Initial Coin Offering. The IOHK leader explained that EOS' tokensale falls well within the regulator's remit to take action against any financial activity which harms US retail investors. Speaking at a press conference in Edinburgh, he said: "I can't imagine how they're [Block.One] not going to have some sort of issue with the SEC."
The EOS ICO had many fundamental faults, making it an obvious target, Hoskinson said, calling attention to the amount it raised over the course of a year as well as its "utter lack of respect" for investors. By absolving themselves of fiduciary responsibilities, Hoskinson said, the SEC "needed" to take action.
"It was egregious to the core," Hoskinson added.
---
EOS ICO
Blockchain startups raised more than $5bn through ICOs last year, with some projects hitting their hard cap within minutes of opening the sale. EOS, which hosted a year-long crowdsale, managed to raise more than $4bn. Having finally ended on June 1st this year, it is the largest ICO in history.
But EOS was plagued with problems in the six months after the ICO. There was a chaotic mainnet launch, delayed repeatedly over a couple of days. Later that same month, hackers managed to steal Block.One's address and send phishing emails to EOS users. In November, the platform came under renewed criticism for reversing an already confirmed transaction.
Both EOS and Cardano are blockchain platforms, designed to provide a base-layer for developers to build features and decentralized applications – dApps – that can be used by everyday users.
Cardano, which relies on a process of academic peer-review, has had its own issues. There was a public spat in October between IOHK and the Cardano Foundation, which culminated in IOHK assuming temporary control over the Foundation. Hoskinson told Crypto Briefing that it had been a hindrance to the project's development, in the short term.
The Cardano ICO managed to raise $63m by the time it closed at the end of 2016. But Hoskinson doesn't think IOHK will face any problems with the SEC. Funds were predominantly raised from Chinese, South Korean and Japanese investors, in accordance with local financial regulations. Crucially, it concluded seven months before the SEC published their DAO report, which specifically warned industry members that ICOs would be treated as securities sales.
---
Charles Hoskinson: The SEC is coming
Hoskinson thinks the SEC is already preparing. Financial restrictions mean regulators will have to prioritize which projects they target. The sheer size of the crowd sale makes EOS a clear candidate for regulatory action.
Although American citizens were barred from participating in the ICO, EOS tokens could easily be bought in secondary markets without KYC. Block.One may still be under the SEC's jurisdiction.
The two ICO projects – Paragon and AirToken– ordered to reimburse investors in November were "low hanging fruit," Hoskinson said. He believes that they provide easy examples of case law, that act as precedent if regulators crackdown on EOS and Block.One. This will speed up the process and hopefully minimize lengthy court action. Hoskinson added that EOS' creators won't go down without a fight, and money raised from the crowd sale might even go towards funding the court action.
For four billion dollars, let's hope EOS' legal defense is more successful than its Mainnet launch.
Disclaimer: The author is not invested in any cryptocurrency or token mentioned in this article, but holds investments in other digital assets.