CoinGeek Mining: BCH ASICs About Principles, Not Profits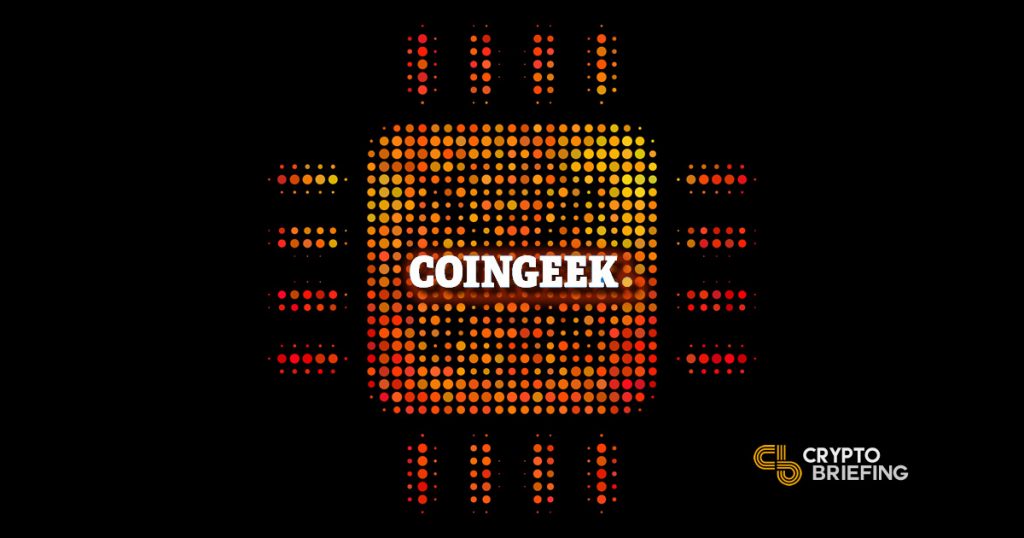 The CoinGeek mining pool claims it has no plans to use its dominant presence on the Bitcoin Cash (BCH) network for personal gain; following a partnership with the Canadian mining hardware developer, Squire.
Announced last week, CoinGeek said it had entered into a distributor agreement with Squire; this will give CoinGeek the exclusive right to market the company's ASIC chips and sell them across the world under the CoinGeek brand.
CoinGeek relaunched last year as a news source and mining pool primarily focused on Bitcoin Cash, promoted by Calvin Ayre, who made billions in online gambling in the 2000s.
"We see BCH as the only viable digital currency and are investing heavily in making it the coin that does everything," said Ayre, in an email to Crypto Briefing. "CoinGeek are going to be selling the ASIC chips and mining rigs because we are confident other miners will want to join in so our BCH business is more multi-faceted than just a mining venture. The rigs will be available towards the end of the year."
Ayre has used CoinGeek to advocate BCH adoption since the hardfork last year, claiming it adheres closest to Satoshi Nakomoto's whitepaper. Confusingly, CoinGeek refers to Bitcoin Cash as 'Bitcoin' but retains the ticker, 'BCH'.
---
CoinGeek Mining
Squire received $25m in a private placement funding at the end of last week; funds will be used to develop new ASIC chips and mining rigs for Bitcoin Cash. The company will also develop chips for other Proof-of-Work (PoW) coins, using Segregated Witness (SegWit).
Founded in May 2017, Squire also develops data mining infrastructure as well as systems technology. CoinGeek claim the new chips will have a superior hash rate compared to mining equipment available on the market and use less power than rigs currently on the market.
Cheap renewable energy and a safe regulatory climate have made Canada a center for large-scale mining operations. The Canadian mining company Vogogo bought the equivalent of 0.5% of the BTC network's hashing power in a single purchase back in early July, buying 14,000 Bitmain ASICs for $46m.
Data collected by Coin Dance shows CoinGeek is the single largest mining pool on the Bitcoin Cash protocol: the company made up 23% of the network's hashing power over the last seven days. The independent Chinese mining pool ViaBTC briefly surpassed CoinGeek as the largest pool last week but has since fallen back: it made up 6% of the networks hash power at press time.
Asked whether he wanted CoinGeek to become the dominant mining pool for Bitcoin Cash – similar to Bitmain on the BTC network – Ayre said the main priority was to support the Satoshi Vision as well as the Miner's Choice Initiative. Signed with the blockchain research firm nChain back in June, it promotes accessible mining, such as by keeping mining fees to a minimum.
"If that [BCH dominance] was the aim, then we're already there as the biggest miner of BCH but it's a far bigger vision than personal gain," Ayres said. "We want to call on all other miners to also support Satoshi Vision which is, obviously, built with Miners' Choice functionality."
Ayre insists the ASIC CoinGeek mining chips are about the principles that led to the creation of Bitcoin back in 2009. The hardware will be showcased in London this November but a price has yet to be confirmed: a small profit margin will probably not go amiss.
The author is invested in BTC, which is mentioned in this article.