Why Does Crypto.Com Have Two Tokens?
Crypto.com looks ideally placed to drive crypto use. Are looks deceiving?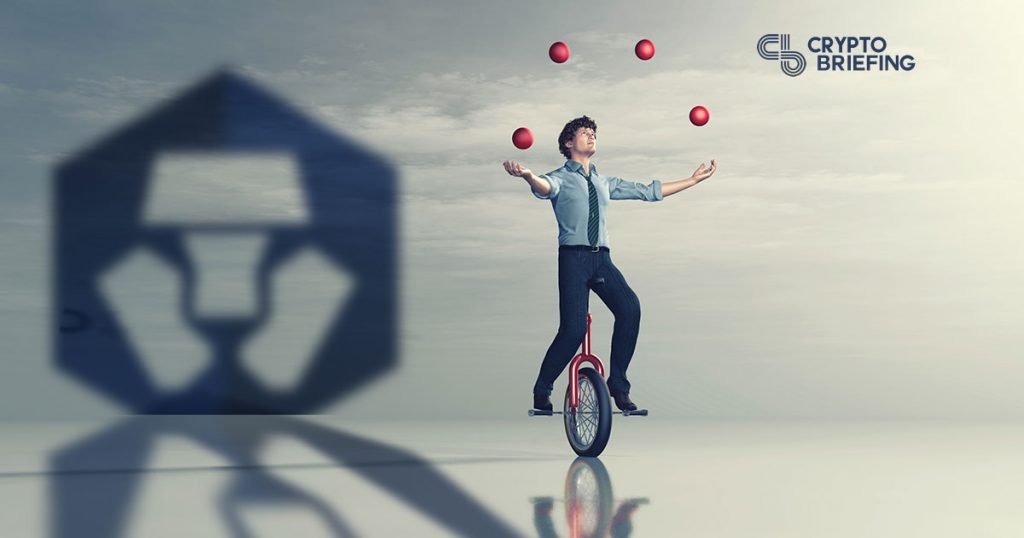 Crypto.com Chain is a mobile wallet, accompanied by a payments card. When the project launched in 2017, it seemed an ideal way to increase the mainstream adoption.
The project seems to be doing everything it can to bring crypto into everyday use. With Visa-branded credit cards, a mobile app where users can buy, sell, and spend crypto, and a $10 million URL, the project formerly known as Monaco Coin regards itself as:
But underneath the hood, those ease-of-use properties disappear into the confusing machinery of a two-token structure. Now the 28th top-ranked project by market cap after a recent pump, it's worth taking a deeper dive into Crypto.com Chain.
---
The Cover
The Crypto.com mobile app allows everyday users to buy, sell, and send crypto. The much-vaunted Visa-branded card – called the MCO card – was two years in the making, and now allows users to shop using funds in their wallet via Visa's network. The MCO credit card offers almost unheard-of perks, including discounts at Netflix, Airbnb, and Expedia.
Make the MCO Visa Card your go-to travel card with our enhanced rewards & benefits! Now up to 5% card cashback, free Spotify, Netflix and 10% rebate on Expedia & Airbnb. Full details here – https://t.co/JST21TGgjB #MCOontheGO pic.twitter.com/iFKIIzsfxE

— Crypto.com (@cryptocom) February 19, 2019
Crypto.com had a busy April, adding seven tokens to the wallet and making a sizeable donation to the Binance Charity Foundation. Its CRO token – Crypto.com Chain – was also added to Kucoin, DDEX, and Kyber Network. Previously, it had been confined to some exchanges in Asia, where it is becoming popular.
This week Crypto.com added BNB to its expanding line-up of cryptocurrencies. Its cards finally launched in the U.S. in July after being available only in Singapore, and the project plans to expand to Korea by the end of the year.
There seems to be few better ways to enthuse crypto users than utilizing an existing payments network, allowing shoppers to use crypto as easily as a Visa card. But mass adoption might not be as close as hodlers might hope.
---
The Book
Crypto.com started as Monaco Coin (MCO), which raised $26 million in ether in a 2017 ICO. Hodlers can stake MCO tokens to enjoy benefits when using their cards. The more you stake, the greater the discounts.
That's where the simplicity ends. The project has two tokens. CRO tokens, the native token of the Crypto.com blockchain, have a total supply of 100 billion. Only four percent, or four billion coins, have been released. The remaining CRO tokens are being slowly released over time.
The ERC-20 MCO token is a Top 100 project by market cap in its own right. By holding MCOs (with a market cap around $60 million at press time), users receive credit cards with benefits and were supposed to earn airdropped CRO tokens, which currently have a market cap around $400 million. There are also a few other benefits to MCO tokens, like voting on listings for the crypto.com app and lower fees on some services.
About 170 million CRO tokens were airdropped to MCO hodlers each month, depending on the MCO balance in their Crypto.com wallet over the previous twelve months. CRO holdings are then locked up for a year before they can be sold. CRO airdrops ceased when the project foresaw problems with regulators as it got nearer the U.S. launch of its credit cards.
Confused? The design appears to promote hodling, rather than spending. But it's not clear how that furthers the main project of encouraging and enabling users to spend cryptocurrencies. And with the CRO airdrops now out of the picture, the benefits of owning MCO are confined to receiving a credit card. At the top end, you would need to stake around $200,000 worth of MCO tokens to qualify for the Obsidian Black card.
If that sounds like a combination of mission creep and walking back critical elements in the structure, there are more twists ahead. To facilitate the "world's transition to cryptocurrency," Crypto.com is now offering eight percent interest on users' BNB holdings as well as "automated quant trading" on the mobile wallet. Quant, or quantitative trading is a sophisticated trading method increasingly favored by Wall Street, using mathematical models to generate a quantitative analysis.
---
From Inception To Today… Christopher Nolan Would Have Been Proud of the Effects
The Crypto.com Chain project is a long reach for a company that wants to bring crypto to the masses. Crypto.com Chain has one clear message:
Having two tokens on two blockchains (one of which cannot be spent for twelve months), and an as-yet-unclear relationship between them seems to be a roundabout way of accomplishing that mission. July meetings in Seoul with 'Spunky' and 'Brain of God' have done little to clarify the team's objective.
---
An earlier version of this article incorrectly stated that CRO airdrops were ongoing. The final airdrop was on June 25th, 2019.