Crypto Market Cap Hits New Highs Above $775 Billion
The total value of the cryptocurrency market has surpassed three-quarters of $1 trillion.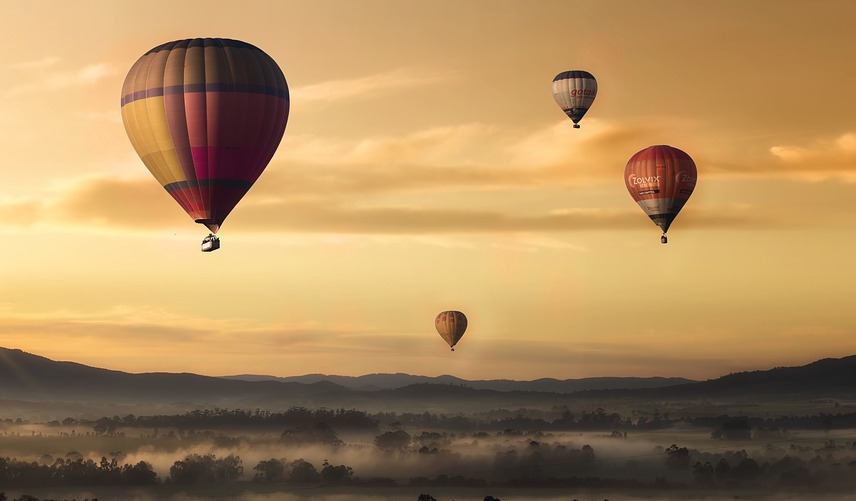 Key Takeaways
The value of the entire cryptocurrency market has reached a new all-time high above $775 billion.
Bitcoin dominates the market, with 71% of its value.
Experts believe 2021 will be a good year for Bitcoin.
The total value of the cryptocurrency market has surpassed its all-time high, largely driven by rising Bitcoin prices.
Bitcoin Drives Bull Market
On Dec. 31, 2020, the total value of all cryptocurrencies combined reached $775 billion.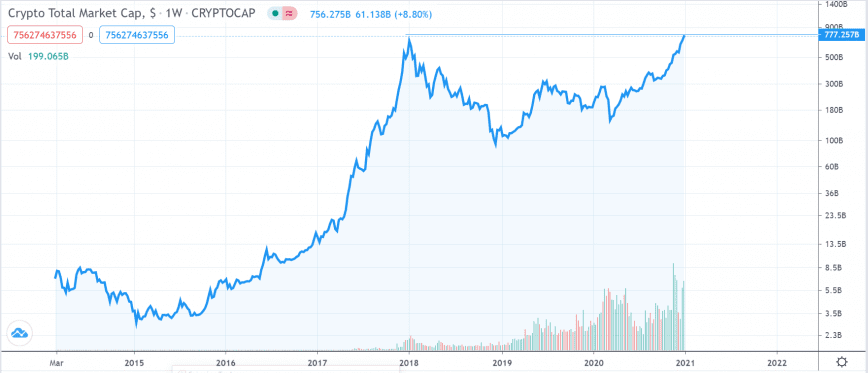 Much of that value comes from Bitcoin's rising price, which is inching towards $30,000. Currently, Bitcoin dominates the crypto industry with a 71.4% market share and a market cap of $550 billion.
Meanwhile, Ethereum's market cap provides another 11% of the market cap. All other cryptocurrencies account for the remaining 17.6% of the market capitalization.
Previous all-time highs did not feature the same distribution; in fact, the distribution was once the opposite of what it is today. When the cryptocurrency market breached $750 billion in the first week of January 2018, Bitcoin's dominance was at an all-time low of 35%.
Bitcoin's rising dominance is largely due to the U.S. Securities and Exchange Commission's strict enforcement of securities law. Those regulatory efforts curbed the creation of new ICO tokens, which drove altcoin investors back to established coins like Bitcoin.
Bitcoin Predictions for 2021
On Jan. 1, 2020, Bitcoin's price was approximately $7100. Since then, Bitcoin's price has increased by roughly 300% to $29,100.
Some experts have made predictions about where Bitcoin will go next year. Tom Lee, Managing Partner and Head of Research at Fundstrat, has predicted that "2021 is going to be a lot like 2017, which means Bitcoin should do even better in 2021 than it did in 2020." He says that Bitcoin could provide returns above 300%.
Bitcoin could triple in 2021, according to Tom Lee of @fundstrat. He unpacks his top picks for the new year and why he believes epicenter stocks will surge. pic.twitter.com/NXs3GvugLL

— CNBC's Fast Money (@CNBCFastMoney) December 30, 2020
Elsewhere, blockchain analyst Willy Woo has suggested that capital inflow into Bitcoin this year was unprecedented, resembling April 2017 levels, after which Bitcoin's price surged 1400% by year-end. Woo expects a similar bull run in the future.
There are plenty of reasons for the crypto market's bull run, starting with inflationary fears in a pandemic-ridden global economy. At the same time, governments around the world have increased the market's appetite for risk through massive monetary stimulus.
Bitcoin, as a limited-supply uncorrelated asset, lies in the sweet spot between gold and equities.
At the time of writing this author held Bitcoin and less than $15 of altcoins.