Crypto Regulation Vs. Innovation: Who's Winning the Match-up?
ICOs are declining, but US regulators aren't letting up.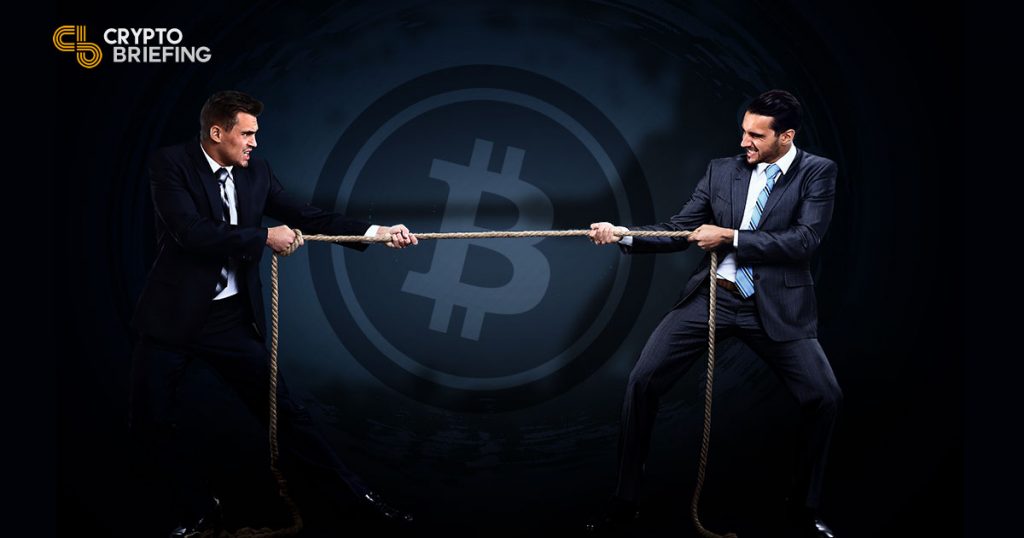 Can regulators and crypto projects work out their differences to create safe environments for digital asset trading? Or are they destined to forever butt heads?
In an ideal world, there are no winners or losers. It's the continued conversation between crypto leaders and regulators that will ultimately drive innovation.
---
Why Are Regulators Focused On Crypto?
The history of crypto fundraising is a tumultuous one. The 'Wild West' of initial coin offerings (ICOs) needed guardrails to protect investors against scams and weak projects out to make a quick buck.
Security Token Offerings (STOs) were born from a need to meet regulatory requirements, but many crypto purists argue that security tokens are antithetical to the spirit of decentralization that makes blockchain projects unique in the first place.
When the SEC came out with their "Framework for 'Investment Contract' Analysis of Digital Assets" in April, many in the crypto community took issue with the broad definition which the SEC applied to securities, which left little room for true utility tokens. Recent comments by SEC personnel regarding Initial Exchange Offerings (IEOs) suggest that another battlefield between regulators and crypto innovators may be emerging.
---
IEOs Spark Back-and-Forth Between Regulators and Crypto Projects
Most recently, IEOs arose from the need for a fundraising mechanism that doesn't conflict with guidelines from regulatory bodies against ICOs. Indeed, unless the SEC can agree on a middle ground that makes room for true utility tokens and associated fundraising, many crypto projects will be forced to move offshore.
In January 2019, Binance unveiled what would become the first IEO for BitTorrent on its Launchpad. Since a project promoting its own token is more likely to come under fire from regulators, the solution initiated by IEOs was for exchanges to take on all promotion and marketing pertaining to a token sale.
No doubt there are problems with some IEO models, including complaints from some projects about a lack of transparency in how funds are being used during the sale. Additionally, some believe that IEOs don't offer investors much more protection against pump-and-dump schemes than ICOs do.
The SEC's Valerie Szczepanik expressed concern at this year's Consensus 2019 conference that exchanges operating "token sales for a fee likely meet the legal definition of securities dealers if the issuer or any of the buyers are based in the U.S."
Though Szczepanik neglected to call out specific exchanges, CoinDesk has reported that Binance, OKEx, Bittrex, and KuCoin are making millions by providing this service to token projects. Binance, for example, is known to have raised $7.4 million for facilitating the public sale of TRON's BitTorrent tokens. Such massive raises are what drew the SEC's attention to ICOs back in 2017.
---
Could the SEC's Opinion of Crypto Projects be Changing?
As it stands now, most token projects must include a disclaimer that residents of the United States are barred from participating in their raises. Of course, the United States is a massive market, so the crypto community as a whole is certainly hoping for informed changes on the part of the US agency.
Lately, the SEC has made some movements towards recognizing legitimate cases for utility tokens. For example, blockchain gaming startup Pocketful of Quarters (PoQ) recently received a no-action letter from the SEC, which approved the issue of tokens on the Ethereum blockchain without registering as a security. The SEC's commissioner Hester Peirce is reportedly "interested in building a non-exclusive safe harbor allowing issuers to offer tokens under an alternative regime with robust requirements," according to a report by Cointelegraph.
Such a statement coming from a representative of the SEC offers hope to blockchain entrepreneurs and token startups hoping to count Americans among their investors.
If the current unfriendly atmosphere is not adjusted, the United States will lose in the innovation battle that is being driven by crypto and blockchain projects. Circle CEO Jeremy Allaire told Bloomberg that the "ongoing tendencies for crypto market participants to move abroad" could be a significant force influencing policy adjustments in Washington, D.C.
---
The Real Driving Forces
In addition to the offshore movement of blockchain innovators and talent, growing institutional interest in token projects may also contribute to regulatory changes that may be more friendly towards blockchain projects.
Especially in the wake of the U.S.-China trade war, skepticism of traditional fiat-driven instruments is growing and traders are turning to crypto for answers. But for crypto to achieve the mass adoption for which enthusiasts hope, continued education and conversation between regulators and crypto project leaders is essential.
---
The author is the Founder and CEO of Anchor. Crypto Briefing does not accept any payment or financial benefit from expert guest authors.
If you are a blockchain expert with an interest in sharing your knowledge and experience, please contact our Managing Editor, Jon Rice, via email at editor AT cryptobriefing.com