Daily Briefing: Dog Coins, Again
What is Dogechain, and should you use it? Tim Craig investigates.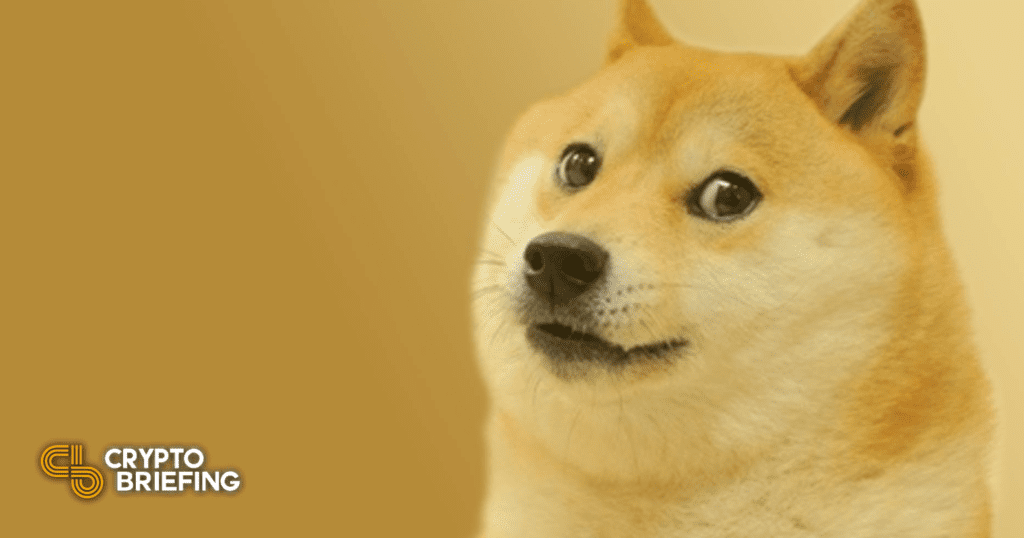 Key Takeaways
An Ethereum-compatible smart contract network called Dogechain is soaring this week.
Its rise shows that speculative mania hasn't fully died out.
While there are opportunities to bank big returns on Dogechain, users should be aware of the risks.
Dogechain has exploded over the past few days.
The Dogechain Surge
When I bought my first Bitcoin in early 2021, I remember being hypnotized by scrolling through the endless list of cryptocurrencies available. At the time, I had no idea what most of them did or why they existed, but the names, logos, and branding often made them seem like serious, reputable projects (even if I later discovered many were not). However, one coin stood out from the rest in how it didn't even try to take itself seriously—Dogecoin.
Started as a joke project way back in 2013, for much of its existence Dogecoin was viewed as having very little value. At one point, a Reddit integration allowed DOGE tipping on comments, and elsewhere online early crypto adopters would regularly fling thousands of DOGE at each other as a comical gesture of gratitude. Of course, that all changed when the likes of Elon Musk got behind DOGE last year, and what was once just a worthless meme coin became an "investment" that was making people millions overnight.
Fast forward to today, and although the Dogecoin hype has subsided, several other adjacent projects have proven the mania that fueled the initial DOGE rally is still alive and well. We've seen spin-offs like Shiba Inu and Samoyedcoin mint new cohorts of millionaires, a fractionalized Doge NFT print multiples overnight, and now, a new Dogecoin-themed blockchain has reignited the degen gambler spirit that originally put Dogecoin on the map—and the charts.
Marketed as a "Layer 2 for Dogecoin," Dogechain is an Ethereum-compatible smart contract network built using Polygon Edge. Because Dogechain has the capacity to support smart contracts, it's experienced an explosion of derivative tokens, DeFi protocols, and automated market makers just days after its launch. In the spirit of Dogecoin, almost all of these protocols have equally silly names such as "Dogeshrek" and "Kibbleswap."
The game here is very similar to the food-themed token mania of "DeFi summer" in 2020. Provide liquidity early and profit from trading fees, but make sure to get out before it all comes crashing down. The phrase "Ponzi scheme" gets thrown around a lot in crypto, but here it's completely warranted. Dogechain is essentially a decentralized casino on steroids—one look at the chain's trending coins page on DEX Screener shows astronomical returns of over 25,000% on tokens like "LuckyDoge" and "Akita Inu." But for every winner, there's a near-endless graveyard of dead projects, either from the developers pulling the rug or interest moving onto the next hot token at breakneck speed.
Regardless of whether dog coin gambling is your thing, I think there are two key takeaways from Dogechain's success. Firstly, never underestimate the power of a good meme. Dogecoin appeared dead after it crashed from its all-time highs in May last year, but new developments still have the power to reignite the meme mania. Being early to the latest meme-backed movements is often lucrative so keep your eyes peeled for the next one.
Secondly, people will always want to gamble. Whether it's free mint NFTs or Dogechain tokens, there will always be an appetite for high-risk, high-return "investments." It might seem cynical, but all else aside, the Ethereum network, its associated sidechains, and Layer 2 networks are almost guaranteed a steady stream of users looking to gamble on the latest moonshots. And just like the Klondike Gold Rush, those who made the most money were the ones selling the shovels.
Thanks for stopping by, everyone. Whether you're looking to strike gold on Dogechain or planning to play it safe and sell shovels, good luck out there.
Disclosure: At the time of writing this piece, the author owned ETH and several other cryptocurrencies.