What Is Diem? Introduction to the Facebook-Backed Stablecoin
All there is to know about Diem, formerly known as Libra.
Key Takeaways
The Facebook-backed Diem Association has plans to introduce a stablecoin in 2021.
Diem aims to provide a dollar-pegged cryptocurrency, a high-throughput blockchain, and a digital wallet.
If the effort succeeds, Diem will be the first cryptocurrency backed by a big five tech company.
The Facebook-backed Diem Association has finalized plans to launch its Diem cryptocurrency in early 2021. Here's all there is to know.
What Is Diem?
Diem is a stablecoin similar to Tether (USDT) and other price-pegged cryptocurrencies. It runs on the Diem project's own Diem blockchain, and the coin is held in a wallet, called Novi.
Naturally, Diem will be used for payments. However, the Diem blockchain will also be programmable, much like Ethereum, so that developers can create custom apps. Diem uses a custom smart contract language called Move that uses a logical constraint called "static typing" to guarantee its security.
The Diem blockchain is powered by validator nodes, which are run by members of the Diem Association. These nodes confirm transactions and validate blocks. This diagram outlines the process:
Efficiency is an important part of the Diem blockchain. Diem's testnet has been criticized for handling between 6 and 24 transactions per second, far less than non-blockchain payment networks like Visa and Mastercard. But in practice, Diem's blockchain may be faster, as it aims to support 1000 transactions per second.
On top of this, Diem is promising near-zero transaction fees. On Diem, interest is paid to validators that comes from reserve assets. That means Diem does not need to take a 1%-3% cut of each transaction to make money, as payment companies currently do.
History of Diem
Diem has been under development for nearly two years in various forms. These are the most important milestones in its history.
Early History
In May 2018, Facebook messaging Vice President David Marcus was appointed to a new blockchain division within the company. Marcus previously was president of PayPal and a director on the board of Coinbase. These facts led many commentators to predict that Facebook was planning a crypto-based payments platform.
Further clues emerged as Facebook hired more crypto developers, who eventually leaked details to the press. The Wall Street Journal was one of the first to report on the company's plans.
At that time, Facebook's crypto product was supposedly intended for use via WhatsApp in India as a remittances tool. That plan has apparently been abandoned in favor of broader goals.
Official Announcement
In June 2019, the Facebook-backed Libra Association officially announced Libra and revealed the structure of the project in detail.
The Libra Association announced that the blockchain would be powered by a consortium of 27 major companies operating independently of Facebook. Meanwhile, Facebook would profit from those plans by building the Calibra wallet for the cryptocurrency (now called Novi) and by having a single governance vote.
Though the Association remains active, not all of its original members remain involved. By the end of 2019, several members of the Libra Association left the project, including Visa, Mastercard, PayPal, eBay, and Stripe, as well as Mercado Pago and Booking Holdings. That forced the project to rebuild its Libra Association with the remaining members and new additions.
The project also faced numerous regulatory roadblocks at the time of its announcement, including pushback from the U.S. Senate and several European regulators. Libra's 2020 launch date came and went, and the project remained mostly silent throughout 2020.
The Diem Rebrand
In December 2020, Libra returned with a new name, Diem, and announced plans to go live in early 2021.
The project is currently working with the Swiss Financial Market Supervisory Authority (FINMA) to gain a payments license, which will allow it to operate in some regions.
The rebrand also involves a change in Diem's team. The project has hired several key figures to lead the project. New members include Microsoft and VMware veteran Dahlia Malkhi, former HSBC executive Christy Clark, and former U.S. Attorney Steve Bunnell.
Diem believes the experience and background of its new members will help the project enter a new phase, achieve independence from other organizations, and face regulatory challenges.
Diem's consortium structure is still intact, minus the members who left last year. The current list of Diem Association members as of December 2020 is shown below: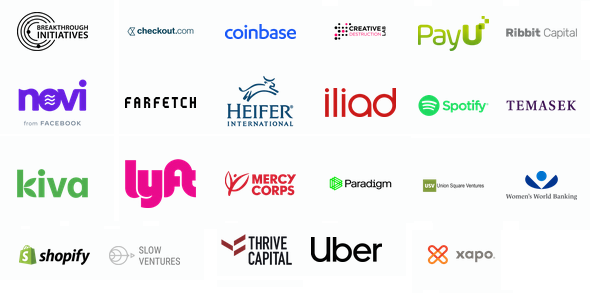 In May 2021, the Diem Association confirmed that Diem would exclusively serve as a U.S. stablecoin. In August 21, David Marcus announced that the Novi wallet had gained approval in most U.S. states.
Diem's Token Economics
Diem is a stablecoin. Much like Tether and other stablecoins, it will be backed by traditional assets. Early reports suggested that Diem will be backed by government securities and various international fiat currencies. More recent reports from Fortune suggest that the coin will exclusively be backed by and pegged to the U.S. dollar.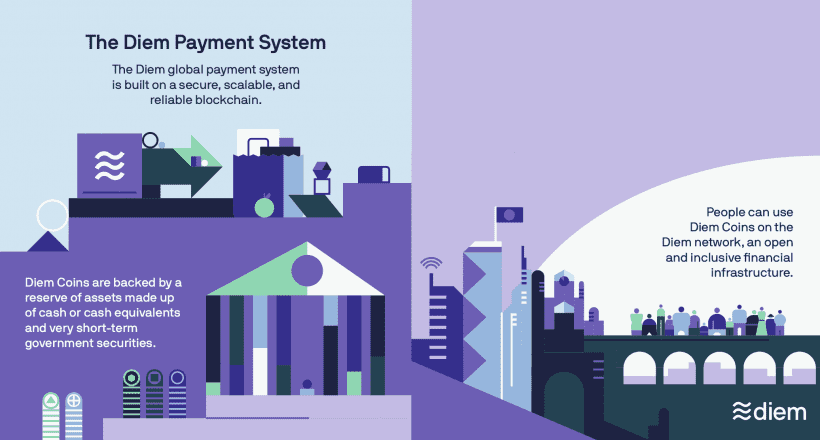 This model implies that Diem's market cap and circulating supply will not be fixed. The Diem association will be able to mint and destroy tokens as money is taken in and out of Diem's collateral reserve.
This makes it impossible to say how much Diem will be in circulation when the coin goes live next year.
It is possible to make a conservative estimate, though. If just 5% of Facebook's 2.7 billion users buy $50 worth of the coin, Diem's market cap would be $6.7 billion—enough to put Diem among the top five cryptocurrencies as of Dec. 17, 2020.
Commercial & Exchange Support
Whether that estimate is accurate also depends on which exchanges support Diem. If a larger number of exchanges support Diem trading, it is likely that a greater number users will buy the coin. On the other hand, if the coin is exclusively available through the Diem app, it is unlikely to attract the wider crypto community.
The project's white paper suggests that it is "working with a competitive group of exchanges" so that users can buy and sell coins freely. Though no major exchange has announced explicit support as of December 2020, it is likely that Coinbase and Xapo, which belong to the Diem Association, will offer some support.
Real-world applications for Diem are also unclear. No major company has announced support for Diem transaction. But, once again, it is likely that some members of the Diem Association will accept the coin. That opens the possibility of household names such as Shopify, Spotify, and Uber taking Diem payments eventually.
Facebook has not said whether the coin will be used on its website, mobile app, or subsidiary products.
Is Diem Centralized?
The Diem blockchain is powered by a group of validators, who are selected to confirm transactions according to Diem's LibraBFT consensus protocol. This ensures that no single participant (including Facebook and Novi) has too much power over Libra.
Nevertheless, the blockchain is undeniably controlled by a small group of validators. Though Diem promises global financial inclusion, it will have to comply with regulations. That means that the Diem Association will likely be able to blacklist addresses and block transactions that violate those regulations.
If so, Libra's design arguably goes against the original intent of blockchain technology, as Bitcoin was originally designed to provide absolute financial freedom and unstoppable transactions.
Will Diem Succeed?
Diem has been heavily criticized since the first rumors about it emerged. The project's design, though seemingly functional and possibly efficient, is not entirely different from what other blockchain projects are pursuing. Furthermore, Diem's centralization will likely cause division within the crypto community.
However, Facebook is an extremely powerful brand, and that connection could help Diem succeed. Diem's consortium structure and its famous participants will be valuable when it comes to exchange listings and commercial adoption.
At the time of writing this author held less than $30 of Bitcoin, Ethereum, and altcoins.
This article was updated on Dec. 30, 2020, to include corrections from the Diem Association.