DxChain ICO Review and DX Token Analysis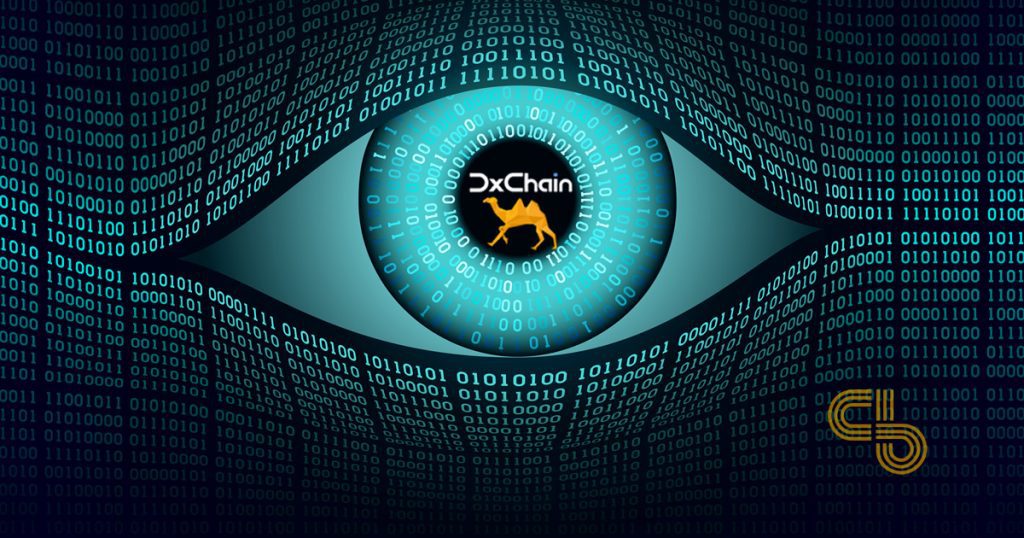 DxChain ICO Overview
The DxChain ICO and DX token sale are raising funds toward a decentralized platform for big data, powered by a compute-centric blockchain protocol. Through a purpose-built, multi-chain architecture, DxChain provides a comprehensive solution for data acquisition, computation and storage, with an emphasis on privacy and security.
The platform integrates components of Hadoop, such as high-level language support for data analysis and a framework for machine learning, combining proven data processing tools with the benefits of blockchain.
DxChain ICO Value Proposition
DxChain proposes a decentralized platform for big data as a solution to the issue of data monopolization by large enterprises. Huge volumes of data and services are currently controlled by only a handful of corporations. For smaller entities, accessing and analyzing large data sets holds enormous potential but remains both technologically and financially prohibitive. DxChain is designed to provide a decentralized solution to this issue with a multi-chain architecture that handles data acquisition, computation and storage on a single network.
As part of the network infrastructure, DxChain will incorporate decentralized components of Hadoop, a leading open-source utility suite for distributed computing. A tokenized reward mechanism for sharing data will offer access to untapped sources of data, incorporating features such as anonymous sharing and encryption to reinforce user security on the network.
DxChain envisages a myriad of use cases for the platform, including a data exchange market, analytics service network, and foundation for the development of dApps.
DxChain incorporates a "chains-on-chain" architecture comprised of a master chain and two side chains; namely, the Computing Side Chain (CSC) and Data Side Chain (DSC). The CSC and DSC communicate with the master chain via smart contracts. Even though the chains are interconnected through smart contracts and microservices, each side chain operates its own consensus mechanism. Below is a diagram of the network.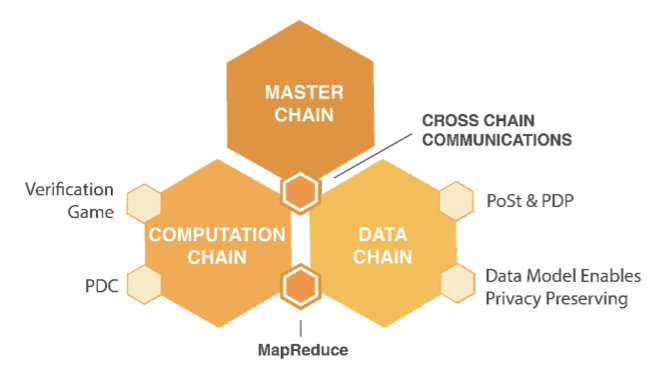 Diagram of DxChain Network
The Master Chain serves as an Ethereum-compatible, immutable ledger to record asset-related transactions on the network. After data processing tasks are completed, transaction, state and receipt information is stored on the Master Chain via an accounts-based model.
The Data Side Chain (DSC) facilitates the transfer and storage of data via a decentralized p2p network such as IPFS. Data is broken down into pieces and stored on the p2p file network, while corresponding metadata and a hash of each fragment are recorded on chain. A virtual logic layer called the DxChain Storage Layer sits between the DSC and p2p distributed storage to facilitate the distribution of storage tasks, data transfer and verification. The DSC utilizes a Proof of Spacetime (PoST) consensus mechanism.
The Computing Side Chain (CSC) provides an environment for organizing and distributing parallel computing tasks between users and nodes on the network. When a user makes a computation request, it is propagated through the network to miners. Upon completion, the result is sent to the CSC for verification. Verification relies on one of two mechanisms depending on the task: verification game (between nodes who stake tokens) or Provable Data Computation (PDS). The CSC then saves a time-bound log of the task and results.
---
DX is the native protocol token of DxChain, serving as a unit of exchange for transactions, storage and computation. DX provides the reward mechanism for nodes that offer resources or validation services on the network. DX will initially be released as an ERC20 token until launch of the mainnet.
DxChain ICO Team
The DxChain team is comprised of 12 members. Profiles of the 3 Co-founders are provided below. Complete information on the whole team and advisory board is available here.

Allan Zhang (Co-founder) has over a decade of experience in cybersecurity. Allan spent the first 4 years of his career as a Software Engineer at Lucent Technology. For the following 8 years, Allan served as a Senior Security and Vulnerability Research Engineer with nCircle, TELUS, and Palo Alto Networks, before moving on to found his own startup. In 2013, Allan established Trustlook AI Cybersecurity, launching a line of malware threat protection products for mobile and IoT devices. He has served as the CEO of Trustlook for the past 5 years.

Wei Wang (Co-founder and Chief Scientist) is the former Principal Scientist for Blockchain Database Research at AT&T, where he spent 1.5 years focused on integration of privacy preserving computation and deep learning with blockchain. Prior to joining AT&T, Wei Wang spent 2 years as the Principal Scientist of Big Data and Parallel Computing at Hortonworks, building and designing a big data platform based on Hadoop. Wei Wang has an additional 2 years of experience as a Data Scientist with Apixio and is a certified Apache Hadoop 2.0 Developer. He holds an MS from Columbia University.

James Li (Co-Founder) spent over a year as the Manager of the Mobile Department at Trustlook before joining DxChain full time. He has over 12 years of experience at nCircle Network Security as a Principal Security Engineer. Prior to that, James spent 5 years as a Senior Software Developer at Lucent Technologies.

On the advising end, DxChain is receiving support from seasoned blockchain advisors Kevin Hsu, Founder of BlockVC, and Leo Wang, Founding Partner of PreAngel.

DxChain ICO Strengths and Opportunities
DxChain recently debuted a demo of their Alpha MVP, called Rocky Mountains, which can be viewed here. As an initial MVP demo of DxChain, Rocky Mountains demonstrates storage and retrieval of files on a 5 node network. The demo also introduces the mining and storage functionality of nodes, and the successful upload and download of a test file.
With a testnet release scheduled for Q3 2018 and mainnet in Q1 2019, the debut of the Alpha MVP before the public sale provides an important indication of the team's ability to follow through on their commitments.

The first enterprise partnership that will leverage DxChain is with Trustlook, Allan Zhang's own company. Founded in 2013, Trustlook produces AI-based cybersecurity products to protect against malware. Enterprise users of Trustlook products include Huawei, Oppo and Qualcomm. The partnership is significant in that Trustlook provides the built-in virus scan engine for Huawei mobile phones currently in use on hundreds of millions of devices. A cursory glance at Google Play shows beyond the built-in engine on Huawei devices, Trustlook's mobile security app has 10 million+ installs.
To test the product in a real use case scenario, DxChain plan to launch a dApp via Trustlook rewarding users for sharing behavioral data, which will in turn be analyzed and utilized by partner companies. The partnership with Trustlook provides a channel to streamline acquisition of users via an existing, successful product- a crucial element most competing projects lack.
DxChain has also established a partnership with QuarkChain. DxChain plan to provide data computation and storage functions to QuarkChain. In turn, QuarkChain will assist with improving the performance of the data and computation chains on the DxChain network through sharding. The two projects also plan to collaborate on building a shared ecosystem of partners and users.
Contribution from the QuarkChain team toward development of DxChain represents another positive indicator for the tech progress, as the high-throughput capacity of QuarkChain has already been successfully demonstrated and independently verified.
DxChain ICO Weaknesses and Threats
With three separate core functions built into one platform, DxChain faces competition in the transaction, distributed computing and data storage markets. The distributed computing space is rife with contenders such as Golem, iExec, and Sonm.
Decentralized file storage presents a similar situation; Filecoin, Storj and Arweave represent just a few of the many players vying for dominance in the space.
In the protocol realm, the partnership with QuarkChain is highly strategic, as DxChain will benefit from the success of a project that would otherwise make for more competition.
While the project is up against some of the biggest players in the decentralized computing and storage markets, the value proposition of a comprehensive big data platform could prove crucial to adoption. DxChain offers a full suite of data processing features that would otherwise require the use of disparate blockchains. Leveraging this factor toward the goal of user adoption will be vital for the long-term success of the project.
Targeting adoption from the individual up to the enterprise, the success of the DxChain ICO will also rely heavily on a go-to-market strategy involving partnerships beyond Co-founder Allan Zhang's own company. Building a thriving and sustainable ecosystem from the ground up will ultimately depend on a strong user base at both the supply and demand ends. We will be closely monitoring progress indicators to this effect as the project progresses.
The Verdict on the DxChain ICO
The DxChain ICO offers an all-in-one, decentralized platform that targets three areas where the big data industry is ripe for disruption.
The novel concept, solid track record of the team and timely release of the Alpha MVP before the public sale make the DxChain ICO a standout project.
As a Top 10% rated ICO, we will look to make a small bet on the DxChain ICO.
Learn more about the DxChain ICO from our Telegram Community by clicking here.
---
We have rated hundreds of projects to unearth ICOs in which members of our team intend to invest.
We won't often go into further depth on projects that we don't consider as candidates for our investments after the initial rating process, which is why you will usually see our stamp on our detailed ICO reviews – they are the best we have found. However, on occasion, we might also rate a well-hyped project that does not meet our personal investing criteria. Please see our detailed disclaimer to the right (on desktops) or below (on other devices).
The Crypto Briefing Top 10 stamp is awarded to ICO projects that we rate in the top 10% of all projects.
DXCHAIN ICO REVIEW SCORES
SUMMARY
The DxChain ICO is unusual for many reasons – our recent MultiVAC review demonstrated the growing confidence in the ability of blockchain tech to make an impact on an entire business, not just one siloed aspect of an enterprise – and here we see a similar level of ambition. Perhaps this will become the norm. It's also unusual because it has strong, thoughtful partnerships in place, AND an Alpha MVP. As public awareness of the power of Big Data (and its misuse) grows, it represents a huge target – perhaps too big to miss – in which case DxChain could be in the right place at the right time.
Founding Team……………………….8.5
Product…………………………………..6.6
Token Utility…………………………..9.0
Market…………………………………..8.5
Competition…………………………..5.0
Timing……………………………………8.5
Progress To Date……………………8.1
Community Support & Hype…..7.6
Price & Token Distribution……..7.8
Communication……………………..8.9
FINAL SCORE……………………….7.8
UPSIDES
Team has prior knowledge of blockchain dev and relevant industry experience

Two partnerships that bring high value at initial stage of project

Novel approach to decentralizing big data industry
DOWNSIDES
Competition in each target market is high

Comprehensive GTM strategy still unclear
Today's Date: 7/22/18
Project Name: DxChain
Website: https://www.dxchain.com/
White Paper: https://docsend.com/view/8w3fman
Crowdsale Hard Cap: $21.5 Million
Total Supply: 100,000,000,000
Token Distribution: 22% to investors, 48% to ecosystem, mining and community, 10% marketing and business partners, 10% to team, 10% to foundation
Price per Token: 1 DX = $0.0014
Maximum Market Cap (at crowdsale price): $97 Million
ICO Review Disclaimer
The team at Crypto Briefing analyzes an initial coin offering (ICO) against ten criteria, as shown above. These criteria are not, however, weighted evenly – our proprietary rating system attributes different degrees of importance to each of the criteria, based on our experience of how directly they can lead to the success of the ICO in question, and its investors.
Crypto Briefing provides general information about cryptocurrency news, ICOs, and blockchain technology. The information on this website (including any websites or files that may be linked or otherwise accessed through this website) is provided solely as general information to the public. We do not give personalized investment advice or other financial advice.
Decentral Media LLC, the publisher of Crypto Briefing, is not an investment advisor and does not offer or provide investment advice or other financial advice. Accordingly, nothing on this website constitutes, or should be relied on as, investment advice or financial advice of any kind. Specifically, none of the information on this website constitutes, or should be relied on as, a suggestion, offer, or other solicitation to engage in, or refrain from engaging in, any purchase, sale, or any other any investment-related activity with respect to any ICO or other transaction.
The information on or accessed through this website is obtained from independent sources we believe to be accurate and reliable, but Decentral Media LLC makes no representation or warranty as to the timeliness, completeness, or accuracy of any information on or accessed through this website. Decentral Media LLC expressly disclaims any and all responsibility from any loss or damage of any kind whatsoever arising directly or indirectly from reliance on any information on or accessed through this website, any error, omission, or inaccuracy in any such information, or any action or inaction resulting therefrom.
Cryptocurrencies and blockchain are emerging technologies that carry inherent risks of high volatility, and ICOs can be highly speculative and offer few – if any – guarantees. You should never make an investment decision on an ICO or other investment based solely on the information on this website, and you should never interpret or otherwise rely on any of the information on this website as investment advice. We strongly recommend that you consult a licensed investment advisor or other qualified financial professional of your choosing if you are seeking investment advice on an ICO or other investment.
See full terms and conditions for more.
Founding Team
This category accounts for the leaders, developers, and advisors.
Poor quality, weak, or inexperienced leadership can doom a project from the outset. Advisors who serve only to pad their own resumes and who have ill-defined roles can be concerning. But great leadership, with relevant industry experience and contacts, can make the difference between a successful and profitable ICO, and a flub.
If you don't have a team willing and able to build the thing, it won't matter who is at the helm. Good talent is hard to find. Developer profiles should be scrutinized to ensure that they have a proven history of working in a field where they should be able to succeed.
Product
What is the technology behind this ICO, what product are they creating, and is it new, innovative, different – and needed?
The IOTA project is a spectacular example of engineers run amok. The technology described or in use must be maintainable, achievable, and realistic, otherwise the risk of it never coming into existence is incredibly high.
Token Utility
Tokens which have no actual use case are probably the worst off, although speculation can still make them have some form of value.
The best tokens we review are the ones that have a forced use case – you must have this token to play in some game that you will probably desire to play in. The very best utility tokens are the ones which put the token holder in the position of supplying tokens to businesses who would be able to effectively make use of the platforms in question.
Market
There doesn't have to be a market in order for an ICO to score well in this category – but if it intends to create one, the argument has to be extremely compelling.
If there is an existing market, questions here involve whether it is ripe for disruption, whether the technology enables something better, cheaper, or faster (for example) than existing solutions, and whether the market is historically amenable to new ideas.
Competition
Most ideas have several implementations. If there are others in the same field, the analyst needs to ensure that the others don't have obvious advantages over the company in question.
Moreover, this is the place where the analyst should identify any potential weaknesses in the company's position moving forward. For instance, a fundamental weakness in the STORJ system is that the token is not required for purchasing storage.
Timing
With many ICO ideas, the timing may be too late or too early. It's important for the analyst to consider how much demand there is for the product in question. While the IPO boom funded a lot of great ideas that eventually did come to fruition, a good analyst would recognize when an idea is too early, too late, or just right.
Progress To Date
Some of the least compelling ICO propositions are those that claim their founders will achieve some far-off goal, sometime in the future, just so long as they have your cash with which to do it.
More interesting (usually) is the ICO that seeks to further some progress along the path to success, and which has a clearly-identified roadmap with achievable and reasonable milestones along the way. Founders who are already partially-invested in their products are generally more invested in their futures.
Community Support & Hype
Having a strong community is one of the fundamental building blocks of any strong blockchain project. It is important that the project demonstrates early on that it is able to generate and build a strong and empowered support base.
The ICO marketplace is becoming more crowded and more competitive. While in the past it was enough to merely announce an offering, today's successful ICO's work hard to build awareness and excitement around their offering.
Price & Token Distribution
One of the biggest factors weighing any analysis is price. The lower the price the more there is to gain. But too low of a price may result in an under capitalized project. It is therefore important to evaluate price relative to the individual project, its maturity and the market it is going after.
The total supply of tokens should also be justified by the needs of the project. Issuing a billion tokens for no reason will do nobody any good.
Communication
Communication is key. The success of a project is strongly tied to the project leaders' ability to communicate their goals and achievements.
Things don't always go as planned but addressing issues and keeping the community and investors in the loop can make or break a project.