FC Barcelona Wants to Create Its Own Cryptocurrency
The club's president also stated plans for a "Barça Metaverse" and an NFT collection.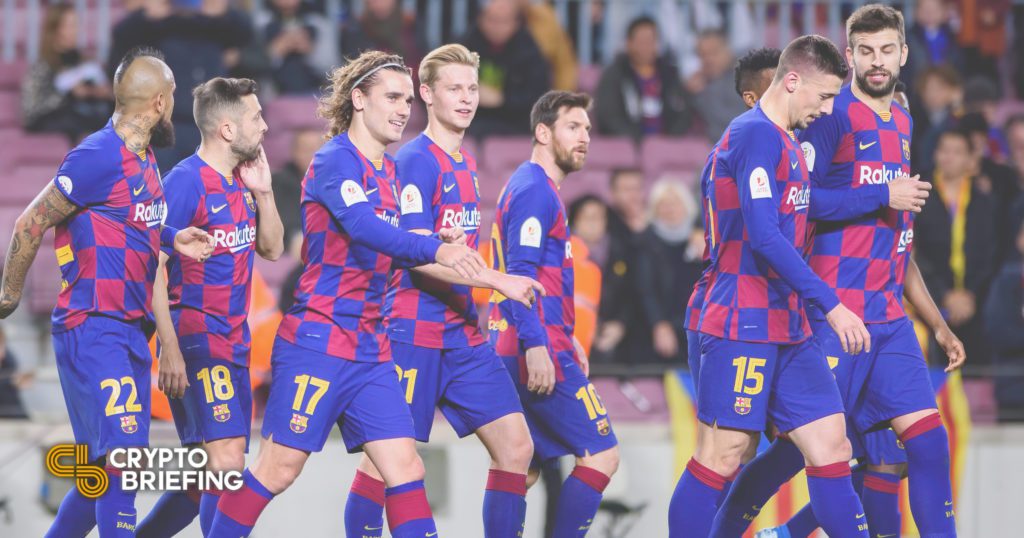 Key Takeaways
FC Barcelona has revealed plans to create its own cryptocurrency.
The move comes just a week after the club rejected sponsorship deals from Polkadot and Binance.
The club's president, Joan Laporta, also stated plans to create a Metaverse and NFTs.
Professional soccer club FC Barcelona has announced plans to develop its own cryptocurrency to help the team "survive financially." The announcement comes a week after the Spanish club rejected sponsorship deals from Polkadot and Binance.
FC Barcelona Reveals Crypto Plans
FC Barcelona could be the first soccer team to launch its own standalone cryptocurrency.
Speaking at the Mobile World Congress 2022 conference in the Catalan city Monday, FC Barcelona president Joan Laporta announced that the club would create its own cryptocurrency. Laporta cited the need for FC Barcelona to compete with clubs owned by big corporations and foreign investors as a major reason behind the decision.
"We want to create our own cryptocurrency, and we have to do that ourselves. We are different because we survive financially from what we can generate through the industry of sport," Laporta stated, explaining that the club doesn't have big shareholders or backers and therefore needs to be innovative in how it connects with its fans.
In addition to an FC Barcelona cryptocurrency, Laporta also hinted that the club plans to create its own "Barça Metaverse" and NFT collections. "We're developing our own Metaverse, [which is why] we rejected the chance to be associated with any cryptocurrency enterprises," he said.
Just a week prior, FC Barcelona turned down sponsorship bids from crypto companies Polkadot and Binance in favor of the music streaming platform Spotify. It's now clear that the club's in-house crypto plans likely factored into these rejections.
FC Barcelona's recently announced blockchain plans are not the club's first foray into the crypto space. Since 2020, the club has been issuing BAR; a fan token launched through socios.com. BAR tokens allow holders to help the team make decisions, access VIP experiences, earn official products, and more. Several other prominent European clubs have also launched similar tokens, including Italy's AC Milan and Poland's Legia Warsaw.
However, with the announcement of a standalone cryptocurrency, Metaverse, and NFTs, FC Barcelona looks set to go beyond its peers in leveraging blockchain technology.
Disclosure: At the time of writing, the author did not own any of the cryptocurrencies mentioned in this piece.