Libra Didn't Have A Chance In France
Le Maire has advocated blockchain as a way to challenge monopolies...like Facebook.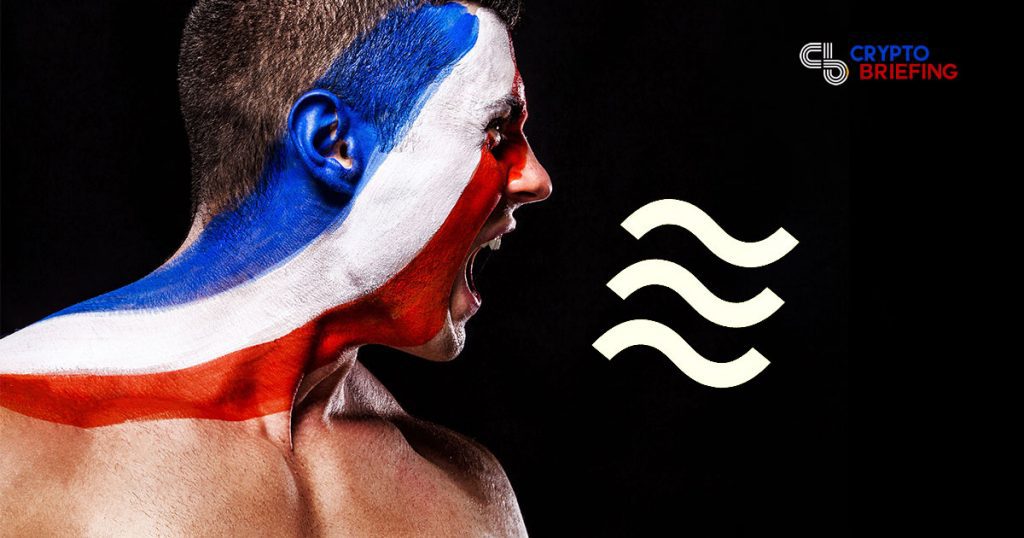 France may be a growing hub for blockchain tech, but its hospitality does not extend to Facebook. The country delivered a shock to the crypto industry when Bruno Le Maire, Minister of Economy and Finance, announced that France would block any attempts for Libra to develop in Europe.
"I want to be absolutely clear: in these conditions, we cannot authorise the development of Libra on European soil," Le Maire said at an OECD conference on virtual currencies. He went on to say that the "privatization of money" by a sole actor would endanger the "monetary sovereignty of countries."
In the past, Le Maire has called for greater international cooperation in the regulation of stablecoins, arguing that officials should aim for "concrete plans" in the next few months.
Dante Disparte, Libra's Head of Communications, said that Le Maire's comments "further underscore the importance" of working closely with regulators. Disparte remained nonplussed, telling The Independent that that Libra has become "the world's most scrutinised fintech effort." Disparte also said that Libra has given itself a long enough runway to talk with officials about how best to integrate with existing financial systems.
---
Blockchain vs. Tech Monopolies
Today's news should not come as a surprise for the industry. In a talk in mid-April, Le Maire expressed his support for blockchain technology as well as his wish to make France "the benchmark for the development of this industry and its regulation on the international stage."
Crucially, he also highlighted that a major selling point for blockchain technology is to prevent the creation of monopolies and to challenge existing ones…such as Facebook.
"Blockchain can reshuffle the cards of power in the digital world," he said at the time.
France has been one of the most forward countries when it comes to cryptocurrencies. In April, the French Parliament passed laws to allow digital asset companies to be licensed by the AMF – the country's main financial regulator. French investment bank Société Générale issued 100M Euro bonds on the Ethereum blockchain later that same month.
Binance's CFO Wei Zhou also confirmed to Crypto Briefing that the exchange has been in discussion with French officials. Zhou said they were attracted to the country because of its "progressive legislation."
Christophe de Courson, co-founder and CEO of French crypto asset management fund Olymp Capital, believes Le Maire's comments might have more to do with political posturing than taking a principled stand.
"I think it's politics," de Courson explained. Having read the draft for Le Maire's Presidential manifesto during the 2017 elections, he said that there was "a lot of bullshit" in Le Maire's proposed policies for virtual assets. According to de Courson, the minister's understanding of the technology is somewhat limited.
"He's an opportunity guy," de Courson added. "This is just communications and marketing to the other institutions." He suggested that it might be an attempt to get the Bank of France, which has long taken a dim view towards the cryptocurrency space, on board.
---
France Warm To Crypto, Chilly To Libra
Whereas most other cryptocurrencies are decentralized, there's a danger that Libra may remain controlled by Facebook. Danny Scott, CEO of CoinCorner, says that this concern is gradually spreading among regulators and might lead to more national restrictions.
"We expect to see this ban having somewhat of a domino effect, with more countries following suit to ban Libra over the coming months," he said in an email.
France is not the only country to express scepticism about Libra; the project faced a chilly reception in the U.S. Senate and Congress, as Crypto Briefing reported earlier this summer. The project has also faced widespread opposition from the crypto community, which expects the social media giant to treat its currency with the same care it shows to its users.
Judging by Le Maire's comments, he may have the same concerns about Mark Zuckerberg's 'gall' in proposing an international payments mechanism.