"Thank Donald Trump:" Trade Tensions Could Push Bitcoin Higher
But some are not convinced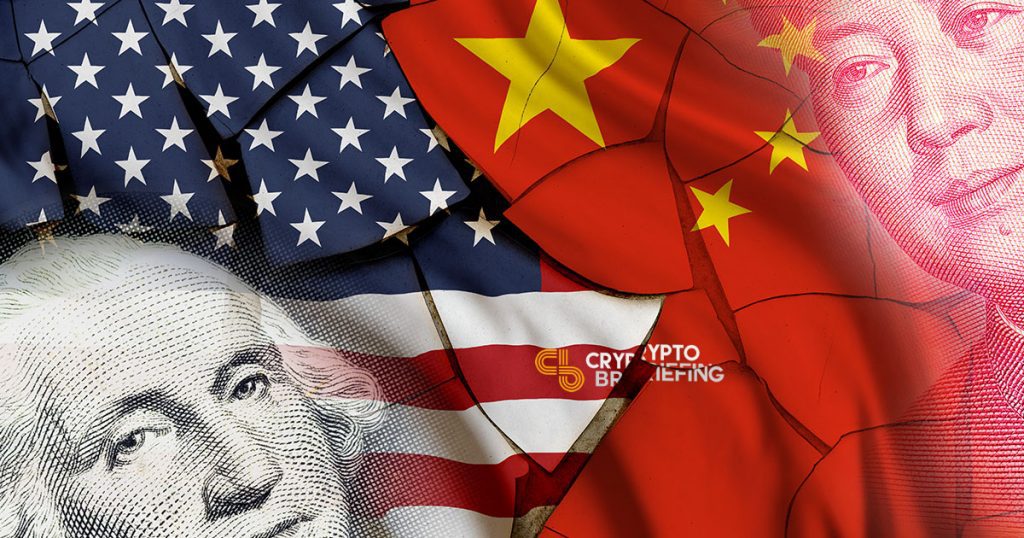 Rising tensions between the U.S. and China are damaging global markets as well as investor confidence. But while sabers rattle, cryptocurrency markets are booming.
Bitcoin prices are at the highest levels in more than three weeks, rising over 8% in the past twenty-four hours. That's a gain of approximately $1,000. The rise has also lifted the rest of the digital asset market, which had a total value of $310bn at the time of writing.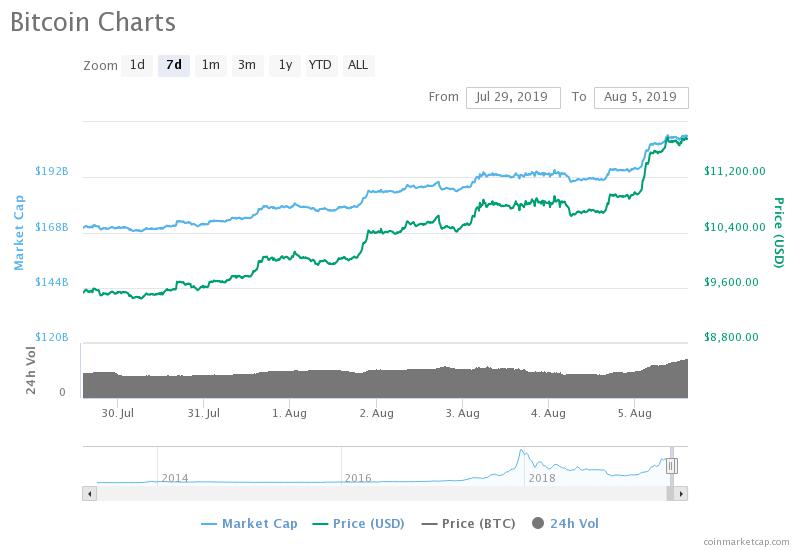 This might be a knee-jerk response as the Renminbi falls beneath its $0.14 floor for the first time in eleven years. In a statement today, the People's Bank of China (PBOC) said the fall was a result of "unilateralism and trade protectionism measures and the imposition of tariff increases on China."
Although the U.S. is not mentioned explicitly, the statement likely refers to President Trump's announcement on Thursday of a 10% tariff on Chinese goods. The new fees will come into effect on more than $300bn of Chinese imports as early as the beginning of September.
The announcement precipitated a global flight out of equities, signaling a drop in market confidence. Since Thursday, the Nasdaq Composite and S&P 500 dropped by 2% and 1.6% respectively, with China's SSE Composite down more than 3.5%.
Historical safe havens are experiencing a surge in popularity as investors look to preserve value. German 30-year bonds went into negative yield for the first time in history and the Swiss Franc has gained nearly 3% against the dollar since Thursday.
Today's move is further evidence that Bitcoin is fast becoming a recognized hedge against the traditional markets.
"Bulls need to thank Donald Trump for this current move because this is completely driven due the geopolitical tensions," explained Naeem Aslam, chief market analyst for ThinkMarkets.
https://twitter.com/realDonaldTrump/status/1158350120649408513
With the prospect of China and the U.S. having to devalue their currencies, Aslam said the Federal Reserve will have to cut interest rates and "adopt an ultra-dovish monetary policy," which could push the Bitcoin price even higher.
But although a global economic downturn makes a nice tie-in, some analysts are harboring doubts. According to skeptics, the latest rise could be a sophisticated pump-and-dump by deep-pocketed holders.
"[L]arge-volume traders (including exchanges themselves) will most likely leverage bitcoin's current upward momentum toward a new high from its previous peak," argued Tom Maxon, Head of U.S. Operations at CoolBitX, "to short it to the detriment of less powerful retail traders."
The market has already seen several sudden spikes culminating in quick drops. The Bitcoin price raced upwards to well over $13,500, a little over a month ago before crashing back down to below $10,000. Today's rise might well be a similar movement.
A BitMEX report published in February said there was no evidence Bitcoin is an effective hedge against market tumult. Although useful to a degree, analysts suggested that traditional safe havens, like gold or bonds, would prove more effective than Bitcoin, which has not yet been through a global recession.
As the rhetoric mounts on both side of the Pacific ocean, investors – advocates and cynics alike – will watch digital assets closely to see how they respond to economic uncertainty. If markets tip into a recession, it could prove to be Bitcoin's ultimate test.