Stuff Like That Is Going To Happen: Goldman Sachs Chair On $6bn Theft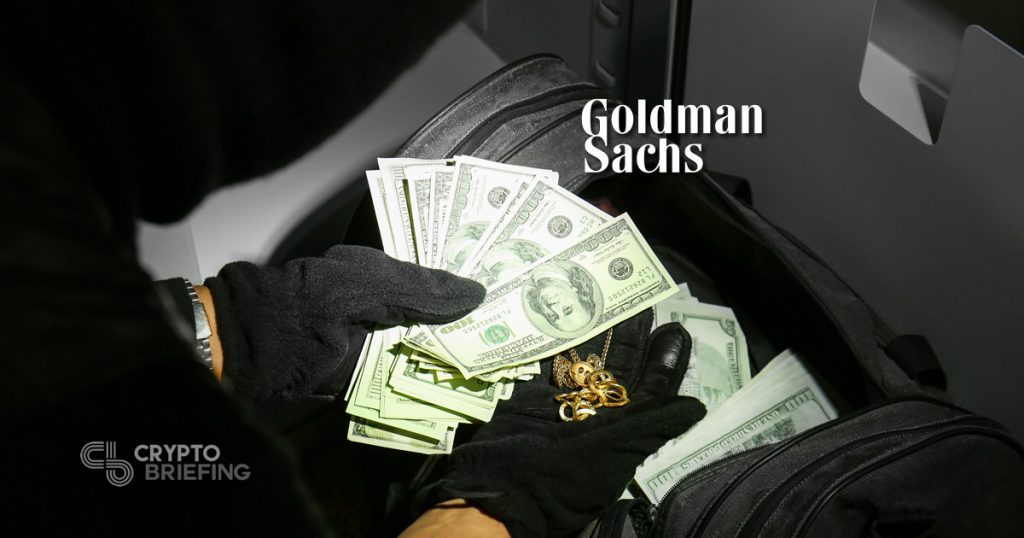 Crypto crime is a major focus of the mainstream business press. And to be fair, the blockchain space has had more than its share of anonymous thefts for vast sums of money. But nowhere near as many as the legacy banking system, which often demonstrates breathtaking audacity in how it flouts the law or fails to safeguard its clients' money.
As a case in point, crypto criminals would have a hard time matching this week's revelation that employees at Goldman Sachs, one of the lynchpins of the banking system, defrauded billions of dollars from 1MDB, Malaysia's state-run development fund.
Federal prosecutors have revealed a guilty plea from from a former banker, and announced bribery and money laundering charges against a second. At least one high-ranking Goldman executive, who was aware of the scheme, has not been charged, and their leading Malaysian collaborator is now on the run.
Bloomberg reports:
The bank, which arranged $6.5 billion of 1MDB bond offerings that netted it $600 million in fees, is described as being so focused on deals at times that compliance came second. Internal controls were allegedly "easily circumvented" by bankers helping to divert the proceeds for illicit purposes.
The embezzled proceeds were used to buy off local officials, as well as to lavish high-priced gifts on celebrities. Ironically, $60 million of the stolen money went into the production of The Wolf of Wall Street. Another $730 million turned up in the pockets of Prime Minister Najib Razak, who lost his reelection over the scandal.
Goldman's chairman, Lloyd Blankfein, downplayed the bank's responsibility and attributed the crime to a few bad apples.
"These are guys who evaded our safeguards, and lie, stuff like that's going to happen," Blankfein told the New York Times. "Somebody's going to use phones away from us, and personal this and personal that."
The Chairman of Goldman Sachs is too polite to actually use the phrase "shit happens" but the sentiment is as clear as day.
While the scandal is particularly embarrassing for Goldman Sachs, it's not the only investment bank to be caught with a few fingers in the billion-dollar jar. We've previously reported on multi-million dollar fines for JPMorgan's market-rigging, as well as the quarter trillion of fines paid by legacy banking institutions in total over recent years.
---
Can DLT Fix Development Finance?
But the point here is not to point fingers at the legacy banking system, however satisfying that may be. As the past year has shown, banks have no monopoly over bad actors.
But well-programmed digital ledgers could also audit large expenses and prevent funds from disappearing into the wrong pockets—particularly in the scandal-prone areas of international philanthropy and development financing. Unlike Goldman's internal regulations, smart contracts are not "easily circumvented," and it is not particularly easy to cover one's tracks in a transparent ledger.
And we're not the only ones who think so. Last month the Binance-founded Blockchain Charity Foundation made the case for DLT to the United Nations, and a report from the World Bank listed the possible or nascent uses of Distributed Ledger Technology, including "Tracking distribution and expenditure of aid money" for humanitarian projects."
There's still a long time before that can be realized, and a poorly-written smart contract can be as expensive as an embezzling bank. But a well-secured ledger could make development funds easier to track, and make criminal fingerprints easier to find.
Oyster Protocol's smart contract led to an apparent exit scam this week, in which 'Bruno Block' took off with around $300k. The event has been widely reported beyond crypto media.
Without wishing to minimize the pain felt by PRL investors, or diminish the disgrace someone like this brings to the crypto community, that theft represents 0.000005% of the amount stolen by Goldman Sachs bankers and their criminal associates.
So maybe next time an exchange is hacked or a founder pulls an exit scam , the business community will shrug with equanimity, declare that "stuff like that's going to happen", and we can all move on with our lives.
The author is invested in digital assets.