IOST Talks Extremely Mild Trash About EOS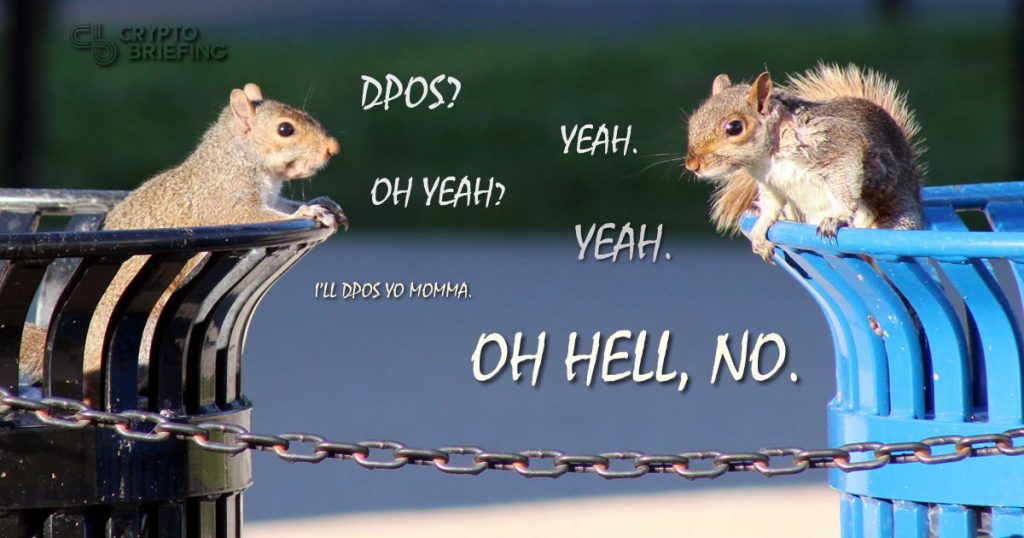 There have been fighting words in the crypto space lately. First the Nano founder used the c-word* while talking about Ripple's baby. TRON's Justin Sun continues to take sideswipes at Ethereum. And now, a proof-of -stake blockchain protocol is taking aim at one of the biggest targets in the market: EOS.
In describing the EOS delegated proof-of-stake mechanism (DPoS), IOST co-founder Ray Xiao told Crypto Briefing that "EOS only allows the top 21 voted candidates to become supernodes, which could easily breed corruption and kill the flexibility of node switching in the network."
He continued to make the point that "This centrality makes it very challenging to build asset-backed stablecoin solutions, for example. It would need only eight supernodes to coordinate an attack. This poses a huge risk to entrepreneurs who want to build mass adoption products that require a trusted network."
IOST, an enterprise-oriented blockchain devoted to the Internet of Services, has released its final testnet, as well as a representative voting process through which it hopes to become a contender for the leading dPOS protocol. The announcement described IOST as a rival – and successor – to the fifth-largest cryptocurrency.
The announcement claimed that IOST's new voting system "features several major improvements over Delegated Proof of Stake while avoiding the consolidation of power among early investors."
EOS, the most well-known DPoS blockchain by market capitalization, launched last summer with high hopes for a scalable, decentralized ledger capable of running commercial dApps. However, the network-which limits block creation to 21 elected block producers—has been dogged by accusations of rent-seeking and cartel behavior, as Crypto Briefing previously reported.
"While projects like EOS have suffered because a small number of 'super nodes' control the network, we've designed a unique voting system that combats the centralization of power." said Terry Wang, CTO of IOST.
Instead of a small set of established block producers, IOST's "Servi" mechanism chooses hundreds of different nodes to participate in establishing consensus.
"The election of our nodes is based on our proprietary Proof of Believability (PoB) mechanism, where hundreds of different nodes may be selected to participate in the committee every day," Wang explained. "This results in a highly decentralized version of DPoS where, instead of a fixed, small number of 'super nodes' who control the network, hundreds, if not thousands of different nodes on the IOST network will be producing and validating blocks."
Organizations and individuals are invited to apply as Servi Node candidates, allowing them to take advantage of IOST's block rewards. Any candidate who can secure 0.05% of IOST's total votes can run a Servi Node, provided they meet minimum storage and CPU requirements. With annual expenses around $10,000 and projected returns ranging as high as $1M, ensuring fair and equitable opportunities for node validators is likely to remain a high priority.
Developers are also invited to bring their projects to Everest 2.0, the final testnet before IOST's full launch next year. According to IOST, the testnet is already home to several dApps by third-party developers.
*Centralized. Ouch.
The author is invested in digital assets, but none mentioned in this article.