IOTA Reveals Industry Marketplace For Machine Transactions
Will IoT Devices Control The World?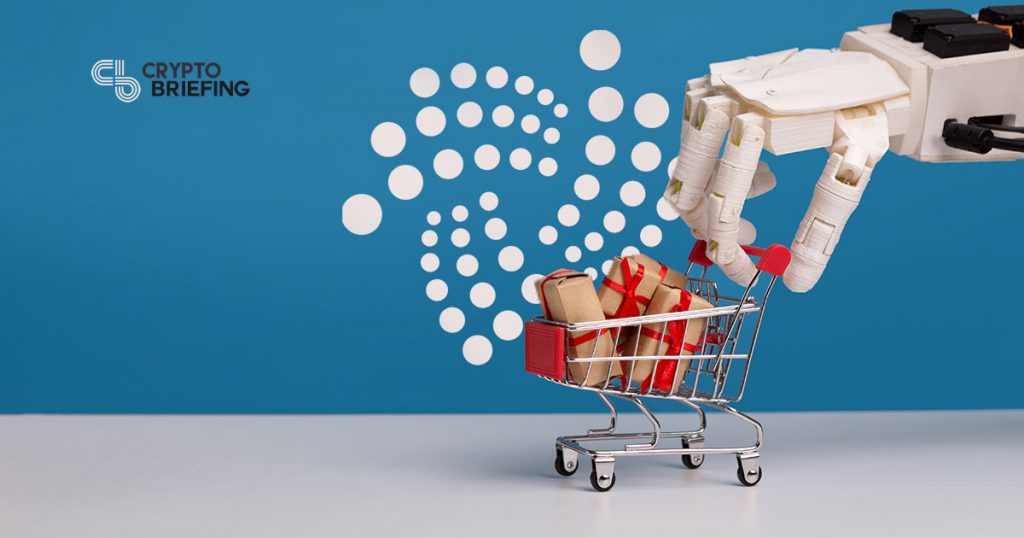 Through all the fuss with automotive partnerships and Coordicides, many observers have been wondering when IOTA's Tangle would start dealing with industrial IoT. Despite the technical merits of DAG technology, machine-to-machine transactions have remained a distant goal.
That is, until today. The IOTA Foundation is now announcing the launch of an autonomous, decentralized marketplace where devices will communicate to exchange goods and services between each other. "Who needs humans?" asked SkyNet the IOTA Foundation.
Dubbed 'Industry Marketplace', the platform was built with an eye towards the much-anticipated Industry 4.0.
Automation will be king in this new reality. Devices will not only contain information or directives, they will also become active decision-makers and optimizers. This allows machines to move from a procedure-oriented paradigm to a goal-oriented one, which requires devices to be allocated resources to accomplish their objectives. Industry 4.0 devices will be autonomous economic agents of their own right, cooperating according to market principles.
---
What Is IOTA's Industry Marketplace?
And that's where the Industry Marketplace comes in. It will serve as a vendor and industry-neutral platform that automates the trading of goods and services, both physical and digital. Powered by DLT, immutable audit logs and standardized machine-readable contracts, the marketplace satisfies the specifications outlined by Plattform Industrie 4.0, Germany's network for advancing digital transformation in manufacturing.
But the most important feature is the decentralized device identity system. As Jörg Nagel, Managing Director at one of founding partners Neoception, explains: "The IOTA decentralized identity system is even capable of solving a current industrial need of identifying physical devices, which is a prerequisite to attach an Asset Administration Shell to the physical device."
The Industry Marketplace is an open-source initiative and free for all to join the existing body of founders: eCl@ss, Neoception, Otto von Guericke University Magdeburg, Helmut-Schmidt-University Hamburg, WeWash and the IOTA Foundation.
---
What is Industry 4.0 in practice?
It is often named as the fourth industrial revolution, but it's not always clear what is so revolutionary about it. It might look like simple computerization, but it goes much further than that.
AI, Big Data, and IoT may sound like buzzwords, but they could be components of a major economic transformation. Industry 4.0 automates everything: completely automated assembly lines, automated maintenance of those machines, self-driving automobiles and much more. It puts sensors everywhere it can, up to recording the torque on each individual bolt and feeding it to the central processor.
But at the same time, Industry 4.0 is still far off. Some say that 5G roll-out will be necessary to enable its success, due to the sheer amount of bandwidth required.
With the Industry Marketplace, IOTA is making a move to fit inside this complicated puzzle, putting its vision from 2015 into practice. It's a risky gamble: IOTA will be betting on the the early-mover advantage to cement its position in the new market.
With some luck, it may make up for some of IOTA's previous setbacks.