Is Bitcoin's Biggest Bull Getting Cold Feet?
Michael Saylor's most recent Bitcoin purchase for MicroStrategy falls short of the big buys onlookers have become accustomed to over the past year.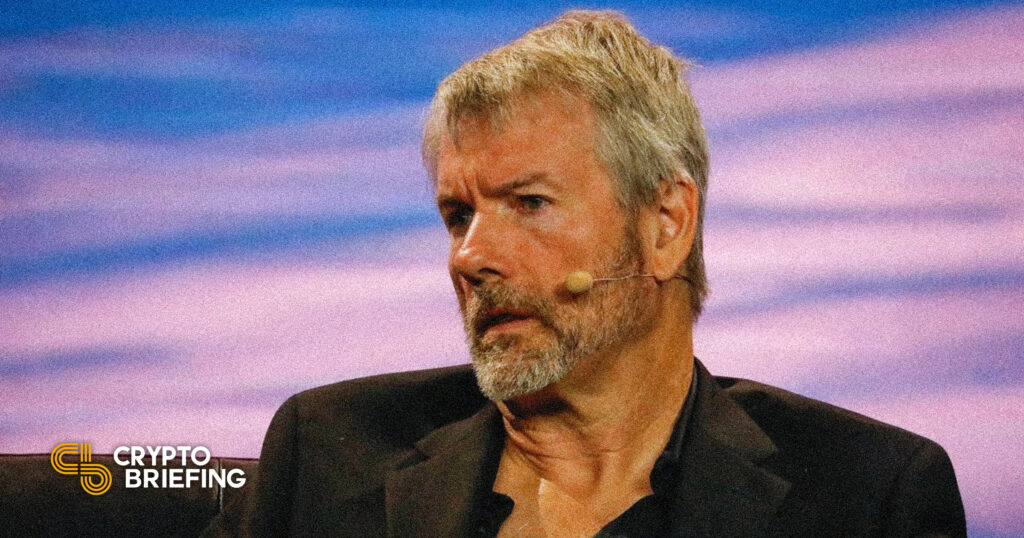 Key Takeaways
MicroStrategy has acquired an additional 301 Bitcoin at a purchase price of around $6 million, bringing its total holdings to roughly 130,000 Bitcoin.
The latest purchase is significantly smaller than MicroStrategy's previous Bitcoin bets.
The macroeconomic climate and concerns over its underwater Bitcoin position may explain why MicroStrategy opted for a relatively small purchase.
The MicroStrategy co-founder announced the company had bought another 301 Bitcoin for approximately $6 million earlier today.
MicroStrategy Buys More Bitcoin
Michael Saylor is accumulating more of his favorite digital asset, but his latest investment falls short of his previous buys.
The MicroStrategy co-founder took to Twitter Tuesday, announcing that the company had purchased an additional 301 Bitcoin for approximately $6 million at an average cost basis of $19,851 per coin. The most recent buy brings MicroStrategy's total crypto holdings to around 130,000 Bitcoin worth almost $4 billion.
Since August 2020, MicroStrategy has aggressively invested in Bitcoin under the supervision of its then-CEO, Michael Saylor. After an initial purchase of $250 million worth of Bitcoin, the company has doubled down on its investment several times as the top cryptocurrency soared to new highs throughout 2021. Despite buying into the top cryptocurrency at a range of different prices, the company is currently underwater on its Bitcoin. MicroStrategy's average purchase price currently sits at $30,639 per coin, while Bitcoin trades at around $19,121 at press time.
Although MicroStrategy was started as a business intelligence and mobile software company, it has become better known for its bullish outlook on digital assets—specifically Bitcoin. As such, many investors view the company's stock as an easy-to-trade proxy for the top cryptocurrency.
MicroStrategy's most recent purchase shows that the company is still interested in picking up more Bitcoin at a lower price than its cost basis. However, there are several signs that the Bitcoin bull may be losing its appetite for the top digital asset in the current economic climate.
Why Is the Firm Slowing Down on Its Purchases?
Today's purchase is significantly smaller than Michael Saylor's previous Bitcoin buys for MicroStrategy. From February 15 to April 5, The company purchased over 4,000 Bitcoin for $190 million. MicroStrategy also spent an additional $25 million in January and another $94.2 million on the top cryptocurrency in December 2021. However, now the crypto market is at its lowest levels in over 18 months, Saylor appears to be dropping less cash than he did when Bitcoin was trading significantly higher.
Recent disclosures from MicroStrategy also suggest that the company isn't strapped for cash. Earlier this month, MicroStrategy filed with the SEC to sell up to $500 million of its MSTR stock to fund "general corporate purposes, including the acquisition of Bitcoin." It's possible that extra funds raised through the stock offering haven't cleared into the company's accounts. However, considering Saylor's previous gung-ho attitude toward buying Bitcoin, it's unusual for him to announce that he bought only a modest amount rather than waiting to reveal a larger purchase as he did from February to April.
Additionally, Saylor's relegation from his position as CEO of MicroStrategy could be indicative of internal attitudes toward his Bitcoin acquisition strategy. In August, Phong Le, the previous MicroStrategy president who had been successful in operating the company's software business, took over from Saylor as CEO.
The move to replace Saylor with someone more focused on MicroStrategy's original mandate may be a hedge against its Bitcoin bet falling through. Although Saylor still spearheads the company's Bitcoin acquisition from his position as executive chairman, the recent, smaller purchase could be all the company is willing to let him allocate in the current economic climate. It's also worth noting that the company has registered a monumental paper loss of $1.5 billion on its Bitcoin holdings. Regardless of whether Bitcoin eventually recovers above MicroStrategy's cost basis, the pressure of being underwater on such a large bet will doubtlessly be cause for concern among the company's top brass.
Whether MicroStrategy's recent $6 million Bitcoin buy is all the company wants to allocate or if a more significant buy is in the pipeline remains to be seen. Still, with the global macroeconomic backdrop showing little improvement in the short-term, Saylor may have ample time yet to keep buying his favorite asset at depressed prices.
Disclosure: At the time of writing this piece, the author owned ETH, BTC, and several other cryptocurrencies.