Jay Clayton Joins Bitcoin-Rich Asset Management Firm
After retiring from the SEC, Clayton has joined One River Digital Asset Management as an advisor.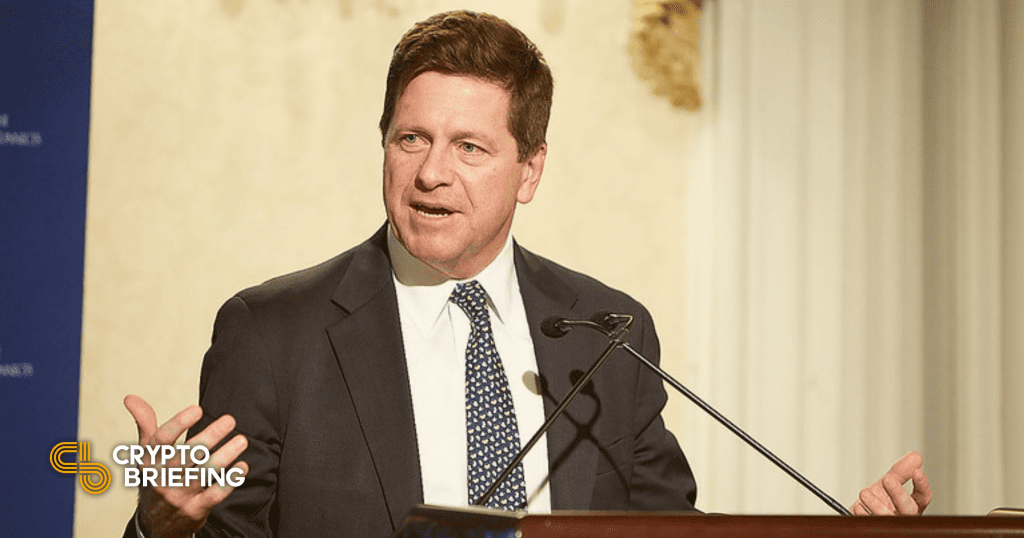 Key Takeaways
Clayton has joined the advisory council of One River Digital Asset Management, which oversees digital asset investments.
The investment firm itself owns over $600 million of Bitcoin.
After ending his term as chair of the SEC, Jay Clayton is returning to legal roles in various locations.
Former SEC chair Jay Clayton has joined the advisory council of One River Digital Asset Management, a digital asset investment firm.

Clayton Now Advisor at Crypto Company
Jay Clayton, who served as chair of the U.S. Securities and Exchange Commission between May 2017 to December 2020, has taken advisory roles at multiple firms.
Most recently, he has been appointed to the advisory council of One River Digital Asset Management, a prominent crypto investment firm and a subsidiary of One River Asset Management.
Clayton said about One River CEO Eric Peters: "We were impressed by Eric's willingness to hear our varying views on the digitization of our monetary, banking, and capital markets ecosystem and One River's commitment to transparency."
Clayton is regarded as one of the crypto industry's top villains because the SEC declined to approve Bitcoin ETFs under his leadership. Under Clayton, the SEC also made it harder for startups to run ICOs and most other types of initial tokens sales.
However, Clayton's willingness to work with Bitcoin-adjacent firms should not be entirely surprising, given that he stated that Bitcoin is not a security in 2018. Unlike other cryptocurrencies, Bitcoin never went through an ICO or any other fundraiser.
Along with serving on One River's advisory council, Clayton will rejoin his former law firm, Sullivan & Cromwell LLP, as a policy council advisor. He will also act as non-executive Chair of Apollo Global Management Inc. and serve as Adjunct Professor at the University of Pennsylvania Carey Law School.
One River's Cryptocurrency Bet
Prior to the economic crisis resulting from the response to COVID-19, One River CEO Eric Peters focused his strategy based on volatility, bringing in returns of around 35% in 2020.
The firm has made significant investments in Bitcoin. In November, it announced a $600 million Bitcoin purchase. In recent statements, Peters additionally confirmed that One River plans to increase its Bitcoin and Ethereum holdings to $1 billion in the first half of 2021.
One River has also received financial backing from the Brevan Howard Asset Management Fund and Ruffer LLP.
At the time of writing this author held Bitcoin and less than $15 of altcoins.