Joe Crypto: More Bitcoin Insecurity As Markets Flop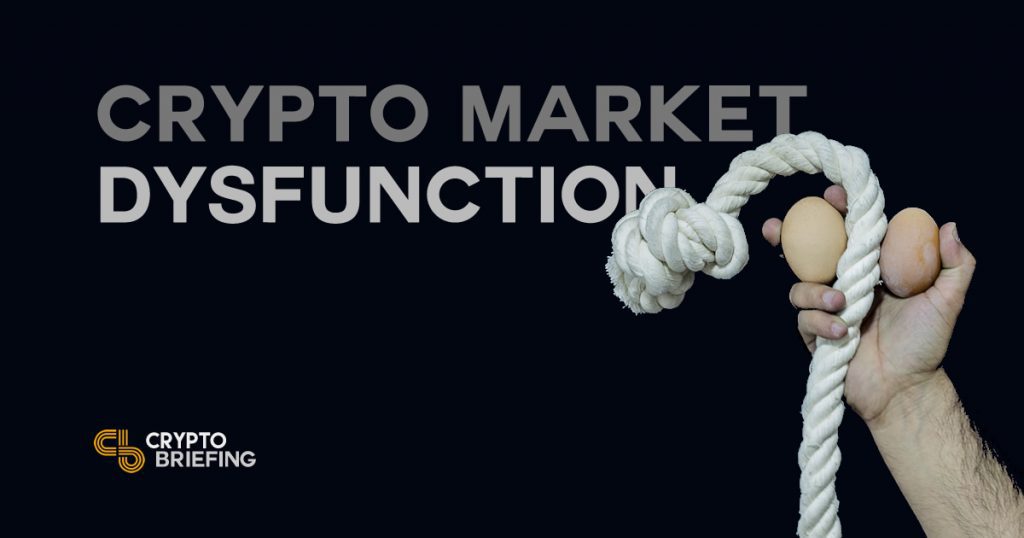 Confidence is a weird thing and top athletes will tell you it can come and go in a moment. Just weeks ago we were looking at a resurgent cryptocurrency market. Right now? Well if we heard the traders were looking for a very high window (or a little blue pill) we wouldn't be surprised. Almost everything is underperforming.
Confidence is an essential ingredient of the cryptocurrency market. This is virtual currency, based largely on future ideas and technology that is still around the corner. The whole industry is built on potential, promise and confidence. Take the confidence away and all the potential and promise in the world counts for nought.
It doesn't take Anthony Robbins to look at this market and realize that fear, nerves and insecurity are driving the decisions and the downward trend.
Bitcoin Hits Resistance
Yesterday, the market seemed to be clawing back lost ground, until Bitcoin nudged up towards $6,400 at 4:00AM and the whole market collapsed as Bitcoin just couldn't find solid ground. It faltered at $6,380 and then dropped like a stone.
This is the reason for much of the chaos in the past weeks, Bitcoin keeps hitting resistance points and seemingly cannot take it. The confidence just isn't there right now.
Bitcoin almost broke even over the last 24 hours, which is a win in the current environment. It was looking good today, but $6,400 proved to be a step too far and Bitcoin's slide took the whole market with it. It ended the last 24 hours 0.33% down, which is better than Ethereum's 1.43% slide.
Bitcoin Cash stayed relatively steady yesterday, but dropped 3.24% of its value over 24 hours and in the top 10 coins, only Monero fared worse with a 3.27% drop to a new market cap $1,784,165,409.
Outside the top 10 cryptocurrency tokens, Nano took a bit of a kicking and shed 5.65% of its value in 24 hours.
Good News on the Crypto Markets
So we have to go clutching for straws when it comes to good news on the market right now. Chainlink's recent Bithumb listing helped it towards a massive 9.52% price hike in the last day. Waves has a similar listing and converted that into a 3.82% increase and a new market cap of $224,598,933. Rchain bucked the general cryptocurrency market trend thanks to the recent hype surrounding its testnet progress.
Ripple is still riding high after announcing a series of new products, including (hint hint, maybe) xRapid, and then there's the curious case of Cardano ADA.
This is what overconfidence looks like or, more likely, desperation. Cardano revealed a deal with the Mongolian government, Bitcoin went North and suddenly there was a feeding frenzy and Cardano ADA went skywards.
Gamblers Rush To The Sound of Money
It could just have been the only light at the end of the crypto tunnel for the day traders watching a never-ending stream of lines heading down, but ADA was the darling of the cryptocurrency exchange for a little while yesterday. It was like a casino full of losers saw one table paying out and rushed to throw their money down.
About the same time as Bitcoin tanked, that confidence in Cardano began to evaporate and the mini-bubble quietly deflated. It's an intriguing look at the cryptocurrency market in microcosm, though, and if we can get any feelgood factor at all then the current situation could turn round in a hurry.
We're not looking for big profits today, anybody that recorded any growth at all over the last 24 hours is a winner at the moment. Zcash might be slightly upset to only record a 0.2% increase after a new report labeled it a better virtual currency and blockchain than Monero.
Wax On, Wax Off?
Wax might be tempted to toot its own horn after 'winning the day' with a 12.68% boost in its coin price. Wax has new deals in place to explore a blockchain-based virtual racing league, but it also lost 10% of its value this week and has simply bounced back to a market cap of $59,257,477 and a daily trading volume of $478,370. It isn't actually going to worry the headline acts, then.
It has been another lousy day on the crypto markets, but the only thing missing is a little confidence. Some positive news, a little positive spin and we could find that the market finally kicks into gear and ends the week on a high.
If not, traders could well be working weekends soon, so they get a window all to themselves…