Joe Crypto: The Sky Is Falling Again, Dammit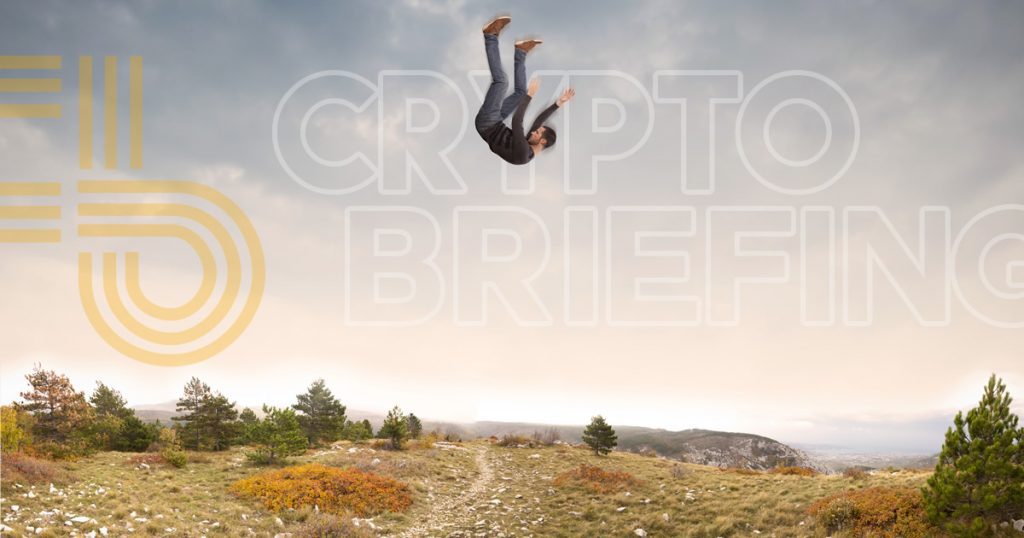 The week has started with another tiresome slump, just when we thought that the cryptocurrency market might be turning the corner. But is it all bad news?
Yes, is the short answer. It was a nightmare of a day. Still, there are plenty of reasons to be bullish, even when the market is bearish, as we are starting to see the green shoots of recovery after a tough year. There's always something happening, and the market is always going to have days like this.
Bitcoin hitting a resistance point dropped the market into chaos just a week ago and it still hasn't quite found the point of equilibrium. That means there's money to be made and lost in day trading, but today you would have to be Midas himself to walk away on top.
A Small Dip Means Bitcoin Wins, Kind Of…
Bitcoin inevitably grabbed most of the headlines, but at 6pm, BItcoin BTC had slid 3.93% in the last 24 hours to a market cap of US $108.5 billion. Others would love to have experienced a 4% dip and Bitcoin's fortunes look positively rosy compared to the likes of Ethereum.
Vitalik Buterin's baby has tanked hard in recent months. It recovered from the flash crash in June that virtually wiped out its $290 coin price within hours, but the confidence has never really come back.
An 11% dip on the cryptocurrency exchange in the last 24 hours will have been painful viewing for Ethereum hodlers, but there's a heightened fight or flight response with Ethereum right now that is injecting drama into its numbers. This blockchain is no longer too big to fail and other smart contract blockchain platforms are growing in size and stature. Ethereum doesn't have that air of invincibility any more and will have to work hard to get it back.
Double Digit Nose-Dives From Recent Stars
EOS has nosedived hard after a period of sustained growth, dropping 12.19%, down to $4.77 a coin and a $4.32 billion market cap. VeChain lost more than 12% of its value in the space of 24 hours, too. It has been a bad day…
So the silver lining comes in the coins that haven't lost much.
CyberMiles Is Today's Winner
For the record, CyberMiles is pretty much the only coin to have a really good day, with a 3.42% boost. With an $8.63 million daily trading volume and a $58 million market cap, CyberMiles has been in the news of late when it ballooned by more than 17% in one day.
It's a lively coin on the cryptocurrency exchanges and there's real tech, a designated Proof of Stake smart contract system for e-commerce. It works with Ethereum and it's definitely a coin to watch. Recent deals with HiBTC and listing on South Korea's Bithumb crypto exchange have given it credibility and it is slowly emerging from the shadows. CyberMiles is shaping up to be a star of tomorrow's world, but of course this might be as good as it ever gets.
Bitcoin Gold: First of the Losers
Back among the main players (ha ha!), Bitcoin Gold was the big 'winner' of the day as it lost just 1.47% of its value. Yes, really, that's as good as it got. Dash lost 3.36% to sit at a market cap of $1.5 billion, while XRP lost just 4.35% and Stellar took a 5.48% clubbing.
Bitcoin actually might turn out to be the big winner of today's shakedown. Some of the smartest crypto commenters predicted that people would jump into Bitcoin as the safe port in a storm.
It's looking like an old-school hedge fund right now. Nobody is getting rich off Bitcoin and it's putting hodlers through the wringer stress wise, but it does show the most likely long-term gains and it's still seen as a safe investment for the long run.
Not many virtual currencies can say the same and Bitcoin BTC may be the conservative and safe crypto to go for right now.
The Bitcoin Market Dominance is an interesting figure to watch and it generally goes up when the waters get choppy in the crypto markets. Yesterday's low of 54.19% gave way to today's high of 56.54% and that's a pattern that we're used to seeing on days like this.
Today has been a dire day on the cryptocurrency market.
On the plus side, tomorrow has to be better. We hope, anyway…
The author is invested in digital assets including Bitcoin and Ethereum.