JPMorgan Targets Millennials: Let The Eye-Rolling Begin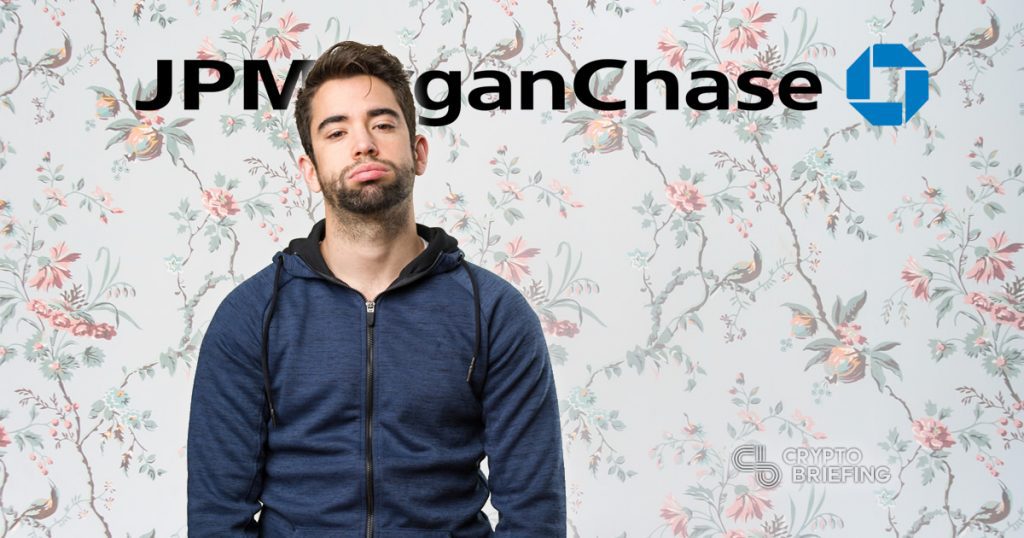 JPMorgan has targeted the next generation of investors with a new digital investment service called You Invest. 100 free trades are part of the package, while Chase Private Clients get unlimited free trades.
That is an interesting about-face for a legacy bank that is feeling the heat from crypto amid increasing apathy from the target market. And the devil is also in the detail – you need $15,000 in holdings at the bank to qualify for these 'free trades'.
Robinhood Steals (Users) From The Rich?
You Invest is part of a digital services package upgrade that was long overdue, but JPMorgan has clearly worked overtime on a mobile trading platform that has Robinhood in its sights. The 100 free trades in stocks, mutual funds or ETFs are the key part of the equation.
JPMorgan has always charged for its trades and stripping the fees is a clear sign that it is losing the battle for young hearts and minds. Today's youth largely see little need for monolithic centralized banks and JPMorgan has become a symbol of corporate greed. While cryptocurrency and digital ledger technology have captured the imagination of the generation, the CEO of JPMorgan has spent much of the last year belittling it – calling crypto "stupid" and threatening to fire anyone on his staff who traded Bitcoin.
It might take more than a few free trades to shake off the bank's retro image: modern banks have a real problem selling to the youth of today. A third of Millennials don't even expect to have a bank account in the future, according to the Millennial Disruption Index.
In that damning survey:
53% labeled their bank an irrelevance
The top four banking brands featured in the 10 'least favorite brands'
Millennials would prefer to go to the dentist than the bank
That's a tough crowd, but JPMorgan has come out swinging.
Millennials Ready To Invest
The target market for You Invest is the modern Millennial, but JPMorgan will roll out the service to all of its 47 million online users in the end. Just 10% of its customers hold active investments, but that is still a potentially huge market.
So far, You Invest is only available to a select few. JPMorgan has highlighted the fact that the average user is 15 years younger than the typical investor who asks for a Chase financial consultant.
Millennials will go on to become the stock exchange high-rollers of tomorrow. It's a simple strategy to get young graduates started on a portfolio, while tempting cryptocurrency defectors back to the stock exchange plantation.
Chase Private Client customers, who typically have $250,000 in holdings, receive unlimited free trades. The little people with just $15,000 at the bank will pay a $2.95 per trade flat fee when their 100 trades are up.
Cynical Millennials may well roll their eyes – hard – at an offer that gives them $300 in free trades in exchange for locking up $15,000 at the bank. Banks make money by lending against their assets, but they are legally allowed to lend up to 10x the assets held. Millennials know this. They also know that a trade costs the bank virtually zero. So at a minimum, they are offering JPMorgan the chance to lend up to $150,000 to other customers, at a cost to the bank of almost nothing.
Do Millennials Want Slow Moving Shares?
Steadily appreciating stock portfolios were all it took to win over the boomer generation that planned from their retirement, but JPMorgan might have a tougher time convincing Millennials about steady yields.
It's no secret that money has been gamefied and the glacial movement of the stock market, even on a record bull run, now competes with the instant highs and lows of cryptocurrency. On an emotional level, that may be a battle the old guard simply cannot win.
A generation brought up on the dopamine rushes of social media and video games are now finely-tuned to fast-moving markets.
An astonishing 55% of Millennial gamers have bought in to cryptocurrency, compared to 5% of the general population. 11% intends to invest in cryptocurrency and they're attracted by the fast gains, the instant millions and indeed the risks of the cryptocurrency exchange.
Video games, social media and online trading are a world away from the old boys' club that JPMorgan was founded on and the products it peddles.
The investment bank is getting into crypto, but the legacy products might be wrong for the modern crowd. Today's young workers need a game to play, a mission to conquer and a fast-moving market.
The steady growth of yesterday's stock market just doesn't do it for them anymore.
The author is not currently invested in digital assets.