Lionel Messi Will Receive Crypto for Joining PSG
The two-year deal is said to include a large amount of the club's crypto fan tokens.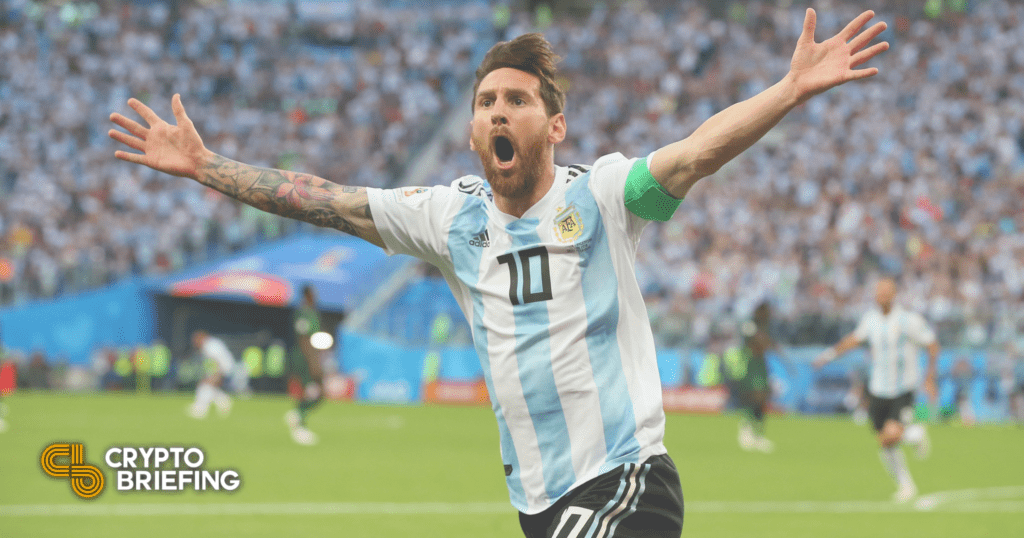 Lionel Messi has signed a two-year contract with Paris Saint-Germain. The undisclosed deal is said to include a "large number" of PSG fan tokens.
Messi Receives Crypto Tokens
As part of a signing bonus for a two-year contract with French soccer club Paris Saint-Germain, Lionel Messi will receive a "large number" of the club's PSG fan tokens, according to a report from Reuters.
Our new 💎

This is just the beginning …

❤️💙 #PSGxMESSI pic.twitter.com/39cppjOeYI

— Paris Saint-Germain (@PSG_English) August 12, 2021
Paris Saint-Germain said in a statement that the PSG tokens are part of Messi's "welcome package," or signing-on fee, and have been provided by Socios.com, the leading sports fan token platform. While the exact details of the deal have not been disclosed, the club stated Messi had received a "larger number" of the tokens.
The PSG tokens give fans access to several perks, including choosing a motivational message on the dressing room wall before games and voting on key club decisions such as the goal of the season or the winners of the club's end-of-season awards. Additionally, token holders have also experienced unique, personal video calls from the team's players, with even more exciting benefits planned in the coming weeks and months.
Since its launch in 2019, several other major European soccer teams have launched their own fan tokens via Socios.com. In January, AC Milan became the latest team to offer tokens, promising access to VIP rewards, promotions, and other unique experiences for token holders.
Since June, the PSG token has quadrupled in value amid rumors that the soccer legend would be transferring to Paris Saint-Germain. It is currently up over 240%, with tokens priced at $40.55 at the time of writing.
Disclaimer: At the time of writing this feature, the author owned BTC and ETH.