MakerDAO: DAI Will Become The Decentralized Challenger To XRP
Decentralization makes DAI secure against seizures by oppressive regimes.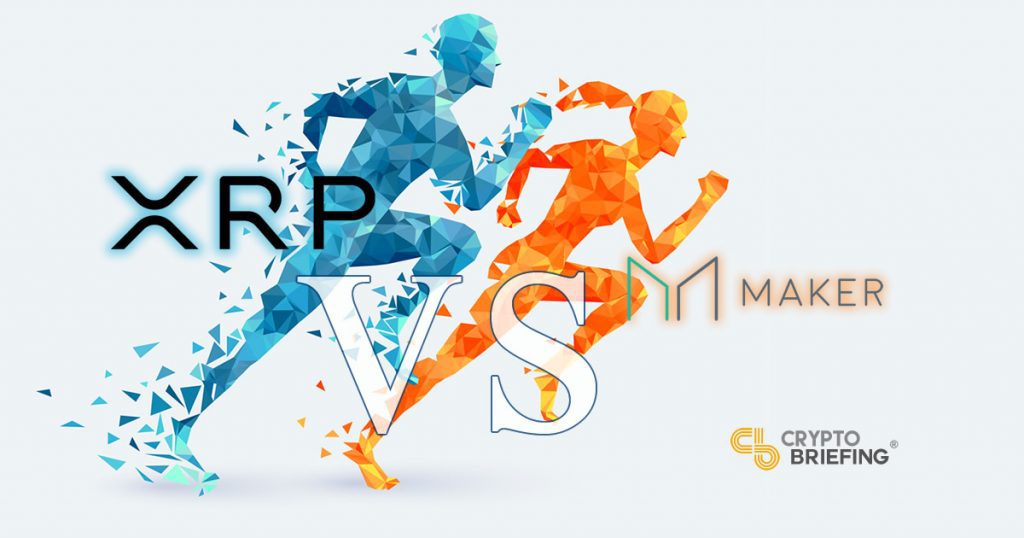 One of the business development leads for MakerDAO (DAI) has mooted the possibility that the stablecoin project might compete against established blockchain remittance platforms, like XRP, the Stellar Network (XLM) or JPMorgan's Quorum.
At Consensus in New York, Jennifer Senhaji, part of Maker's Business Development team, told Crypto Briefing the project could become the decentralized alternative for users looking to send money across borders.
Senhaji explained that they are planning on using Wyre, one of MakerDAO's partners, as a fiat on-ramp, allowing users to seamlessly exchange local fiat currencies into Dai and send it internationally."Dai can become a remittance token," she added.
As with other blockchain-based remittance solutions, like Ripple's xRapid solution, receivers can convert Dai back into the local currency, avoiding lengthy time delays and saving significant amounts on fees.
But while XRP and XLM are quick, completing in a couple of seconds, Dai works on top of the Ethereum (ETH) ledger, meaning transactions during particularly busy periods could potentially take hours.
By some measures, it would be hard for Dai to beat the more established competitors, agreed Senhaji, but it also has some "unique differences" which gives it an edge over the other platforms.
"Dai has its advantages in that it's decentralized", Senhaji said. "There's no custody, meaning that you can't seize assets as easily as they could with more centralized solutions."
MakerDAO provides a DAI stablecoin, which maintains parity with the US dollar without having to actually be backed by actual fiat currencies. The project has already been incorporated into the burgeoning DeFi space, and a reported 85-90% of businesses working in the sector have already integrated with MakerDAO, a spokesperson said.
Senhaji wouldn't provide details on where exactly MakerDAO was building out its new remittance network, but said they had their sights on building out infrastructure in the roughly 30-40 countries where their business partners can easily provide fiat on-ramps.
In a speech just beforehand, Maker's head of business development, Gregory DiPrisco, said the project was focused on integrating DAI into the general payments system in Argentina.
Later the same day, a Maker spokesperson confirmed that Latin America was a key focus point. "People forget that Argentina also has a ridiculously high inflation rate," they said, "some businesses are looking for secure ways to get out of the peso". Ripio, another MakerDAO partner, has a firm base in the region.
This article has been updated to note a transcription error.