Metal Pay Shares $18M With MTL Crypto Holders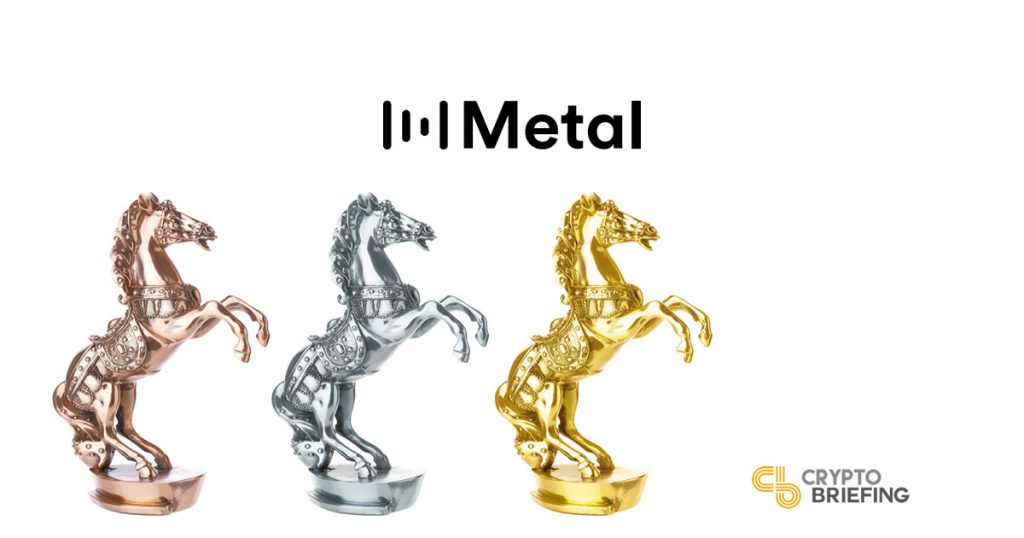 When does crypto actually start becoming a currency? A means of exchange used by everyone, not just the tech savvy? Well, it won't be today, and it probably won't be tomorrow, but in times to come? Yes… maybe. And Metal is making an $18M bet that those times aren't too far off.
Metal Pay (MTL) is a peer-to-peer payments application, currently available to users based in the U.S. In some respects it is similar to conventional payment platforms like PayPal, it allows users to transfer money, fiat or crypto, easily between one another with just a phone number.
What makes it special is it incentivizes users with cryptocurrency for eligible payments. Transactions are verified through the network's own Proof of Processed Payments (PoPP) mechanism; this checks the user has the correct funds and that the sender and recipient have the proper authorization. If everything checks out, both parties are rewarded with the platform's native MTL tokens.
The reward incentivizes the proper use of the platform, but as Metal's CEO and founder Marshall Hayner explained, there is more to it than that. "At Metal, we want to introduce the general public to the power of blockchain through the digital payments ecosystem," he said. "By putting it in everyone's hands, we change crypto".
---
MTL Tokens
Metal announced today they would be giving away 40% of the MTL total supply to users of the Metal Pay app, worth approximately $18m at the current exchange rate. This will all be distributed through the PoPP mechanism.
Rewarding users with MTL obviously incentivizes good behavior, but it makes crypto accessible; facilitating mass adoption. "The sector has gone about increasing the number of users the wrong way," he says. "Tell people to set up an exchange account and then convert their fiat into crypto and they're unlikely to do it. But if you actually give it to them, they're far more likely to play around and become familiar with it."
MTL tokens are currently the only cryptocurrency available on the Metal platform. But they are currently in talks with many of the big cryptocurrency projects. Although Hayner can't provide any details at this stage, he admits that the majority of teams from the top-ten coins by market cap have expressed an interest.
Metal hopes these projects can be distributed to users in the same way MTL tokens are. The benefit is it raises awareness in the project, similar to a marketing campaign. One idea currently being considered is for users to be rewarded with tokens for reading an article about the project.
---
What's stopping crypto mass adoption?
Having bought his first bitcoin (BTC) in 2009, Hayner has watched the space move from hobby and thought experiment, to the serious international industry it is today. Speaking to Crytpo Briefing over the phone, he remembers how excited the community was when BTC first surpassed $1 in 2011.
In the last ten years, he has moved around and worked on different projects in the space. He helped build the nascent Stellar (XLM) community in 2014 and spent a lot of time working on and developing the Dogecoin (DOGE) ecosystem.
Although Hayner is delighted to have seen crypto develop from the ground up, it hasn't all been positive. The sector is no longer decentralized. Bitmain and other corporate entities now control substantial portions of the BTC network, their ASIC rigs muscling out individuals and hobbyists who used to mine the blockchain from their computers. New investors are attracted by the prospect of speculative gains rather than an interest in the technology.
---
Metal Pay
Metal hopes it will make crypto more decentralized. There's often no better way to learn that by doing it yourself. Freely distributing tokens allows users to try it out and experiment without having to actually invest their own money. Although MTL tokens is a fraction of the $14 they reached last year, they still have value. Hayner says users who exchange MTL into fiat will realize it can actually be used as a currency, not just as a speculative tool.
For much of human history, the currency used by everyone, rich and poor, has been a metal coin. Perhaps it's fitting that a project looking to make crypto familiar in the mainstream should be called… Metal.
The author is invested in BTC, which is mentioned in this article.