Metropolitan Police Seizes Record $250 Million in Crypto
London's Metropolitan Police has seized $250 million worth of cryptocurrencies as part of an investigation into money laundering. The U.K. force has seized a total of $408 million in the last two months.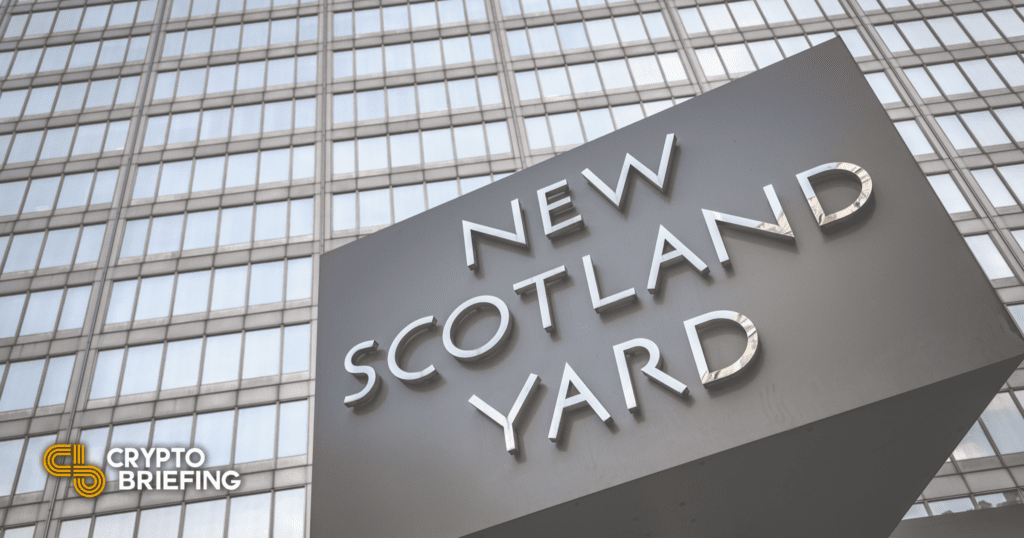 The Metropolitan Police has seized a record $250 million worth of cryptocurrencies. A 39-year-old woman has been arrested on suspicion of money laundering.
London Police Force Seizes Record Crypto Sum
The Met Police has seized £180 million ($250 million) worth of cryptocurrencies in an international money laundering case.
It's the U.K.'s largest-ever cryptocurrency seizure, following a similar seizure of around $158 million in crypto last month.
The Met acted on an intelligence report on criminal wallet transfers, according to a Tuesday BBC report. The investigation is ongoing.
The Met arrested a 39-year-old woman on Jun. 24. She's since been interviewed over the seizure and released on bail. The Met did not share details of the crime, nor the cryptocurrencies seized.
The Met's Deputy Assistant Commissioner Graham McNulty said that "cash still remains king in the criminal world," but with the development of digital platforms, there has been an increase in "organized criminals using cryptocurrency to launder their dirty money."
He added that the detectives investigating the case had "worked tirelessly and meticulously to trace millions of pounds worth of cryptocurrency suspected of being linked to criminality and now being laundered to hide the trail," and affirmed that the Met would "stop at nothing" to prevent the transfers and identify the assailants. On-field investigations by policing authorities provide insights into how criminals use cryptocurrencies to launder dirty money.
The U.K. has recently increased its oversight on illicit and unregulated cryptocurrency transactions. Leading crypto exchange Binance has been among the victims of its crackdown. The U.K.'s Financial Conduct Authority (FCA) banned crypto derivatives for retail traders in October 2020.
The FCA is also in the process of investigating U.K.-based cryptocurrency businesses. As part of its efforts to tackle money laundering, the watchdog ordered firms to register before 10 Jan. 2021. Most of them are currently pending a review to assess whether they meet the FCA's regulatory standards.