Morgan Stanley Increases Bitcoin Exposure
Despite the recent market correction, investment banking giant Morgan Stanley seems bullish on Bitcoin.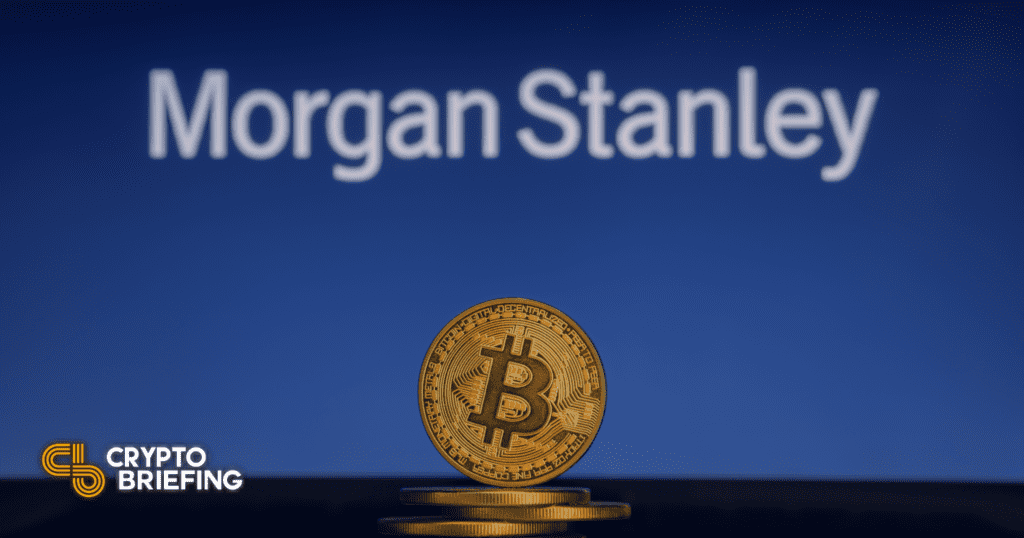 Key Takeaways
Tuesday SEC filings revealed that Morgan Stanley has increased its indirect Bitcoin exposure through several of its funds.
Over the Jun. 30 - Sep. 30 period, the firm acquired more than 2.6 million Grayscale Bitcoin Trust shares worth around $118 million.
At present the firm holds approximately 6.6 million GBTC shares worth over $300 million at current market prices.
According to the latest U.S Securities and Exchange Commission (SEC) filings, Morgan Stanley has added to its Bitcoin exposure through the Grayscale Bitcoin Trust, raising hopes for potential Grayscale Bitcoin ETF approval.
Morgan Stanley Doubles Down On Bitcoin
The world's third-largest wealth manager, Morgan Stanley, has dramatically increased its Bitcoin exposure.
According to a Tuesday SEC filing, Morgan Stanley has increased its indirect Bitcoin exposure by purchasing a significant number of Grayscale Bitcoin Trust (GBTC) shares through multiple investment funds.
As per the filings, for the period ending Sep. 30, the bank's Growth Portfolio fund added 1.5 million GBTC shares, while the Insight and the Global Opportunity Portfolio funds added nearly 600,000 and 500,000 shares, respectively. Across these three funds, Morgan Stanley currently holds more than 6.6 million GBTC shares worth over $300 million on its balance sheet. This marks an increase in GBTC exposure of about $118 million over the Jun. 30 – Sep. 30 period.
In addition to other Morgan Stanley funds adding GBTC exposure as well, the firm also holds a significant number of shares of the largest corporate holder of Bitcoin, Microstrategy. The wealth manager decided to invest $500 million in Microstrategy stock back in January, thereby gaining more indirect exposure to Bitcoin.
Traded on the OTCQX market, the Grayscale Bitcoin Trust allows institutional investors to gain indirect exposure to Bitcoin through purchasing the fund's shares. However, GBTC has been trading at a discount to the fund's net asset value since February this year. Currently, the discount to BTC is around 11.56%, likely due to the 12-month lock-up period for the shares and Grayscale's high management fees.

(GBTC discount or premium to NAV data from ycharts.com)
Competition for institution-grade crypto investment products is also heating up. Valkyrie's and VanEck's Bitcoin futures ETFs were approved by the SEC in October and November and started trading on Nasdaq and CBOE, respectively.
Grayscale has also announced plans to convert its trust to a spot ETF, but so far there seems to be no appetite for approving spot products at the SEC. In November, the U.S. securities regulator rejected VanEck's spot Bitcoin ETF application, claiming the proposed product had not met its burden in regard to preventing "fraudulent and manipulative acts and practices" and "[protecting] investors and the public interest."
In light of Morgan Stanley's recent increased exposure to GBTC, some members of the Bitcoin community are now speculating that the investment banking giant could help Grayscale get its spot Bitcoin ETF approved.