Metal Pay Is Giving Out Free Crypto All Day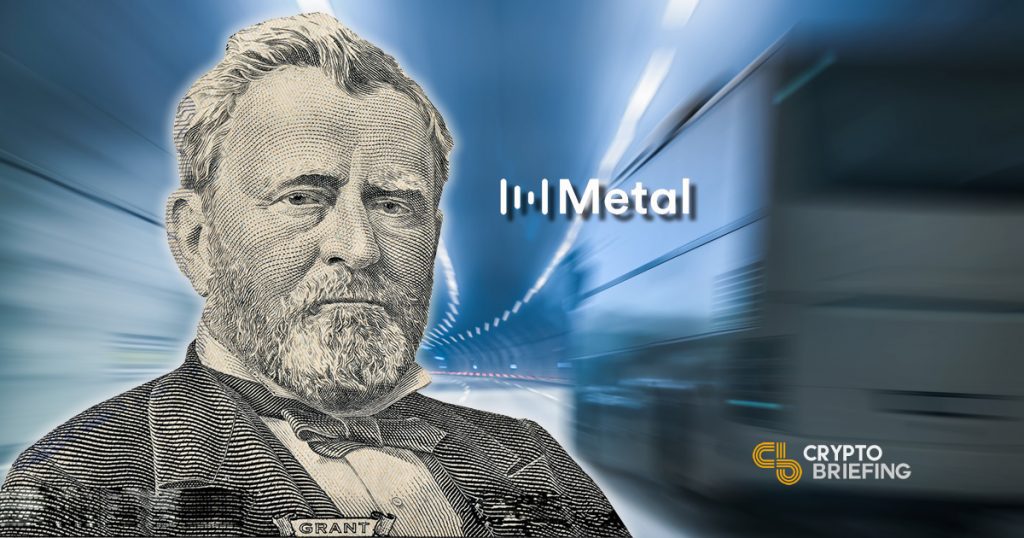 The prospect of getting something for nothing is a powerful motivator. The American actress, Sandra Bullock, once (in)famously said that she would do "anything for free stuff" though whether this statement has been tested in the wild is unclear. Now the cryptocurrency equivalent of PayPal believes it can encourage greater adoption by offering tokens as gifts for new users – and they're not talking bullocks.
Metal Pay (MTL), a peer-to-peer payments application, is giving 200 MTL tokens – worth approximately $50 – to people who sign up to the service. The offer, which ends at midnight tonight PST and is available to US citizens in 34 states, comes as the app receives its 200th review on the IOS app store.
At first we wrote this off as another crypto scam, but Metal Pay's PR agency reassures us that this is the real deal, and you don't even need to send ETH first. "From now through Dec. 14, we're giving everyone who signs up for Metal Pay a bonus of 200 MTL", the company said in an official blog post.
---
MTL tokens
Established in 2015, Metal Pay allows users to send payments – crypto or fiat – to one another using phone numbers. Currently available only to residents of (part of) the United States, it incentivizes people to act responsibly by rewarding eligible payments with MTL tokens.
Speaking to Crypto Briefing in early October, Metal Pay founder, Marshall Hayner, explained that 40% of the total MTL supply had been allocated to be distributed as rewards. Through rewards, and by placing digital currencies in the hands of prospective users, Metal Pay hopes it can maintain an element of decentralization in the sector.
Promotional giveaways are not new in cryptocurrency. Earlier this year some projects encouraged greater adoption through the use of airdrops. Certain holders would often be eligible for free tokens, which would be sent straight to their wallet addresses. Although an effective marketing strategy, the practice raised some concerns in the States over how the tokens would be taxed by the IRS.
The Metal Pay promotion is a way to get people using the feature. At a time when some are going out of business, it's a matter of survival. Joe Lubin told staff two weeks ago that ConsenSys would have to scale down its financial support, putting some of the less-profitable 'spoke' projects in the crosshairs.
A good offer indeed, but if today's market is anything to go by, those 200 MTL tokens may sell for a lot less than the $50 advertised. They were worth around $43, by press time.
Link to the free money (never thought we'd put that on our site…)
is here
.
Disclaimer: The author is not invested in any cryptocurrency or token mentioned in this article, but holds investments in other digital assets.