NFTs Are the "Gateway Drug to Crypto," Says CoinGecko
CoinGecko outlined how NFTs have been critical in driving crypto's mainstream adoption.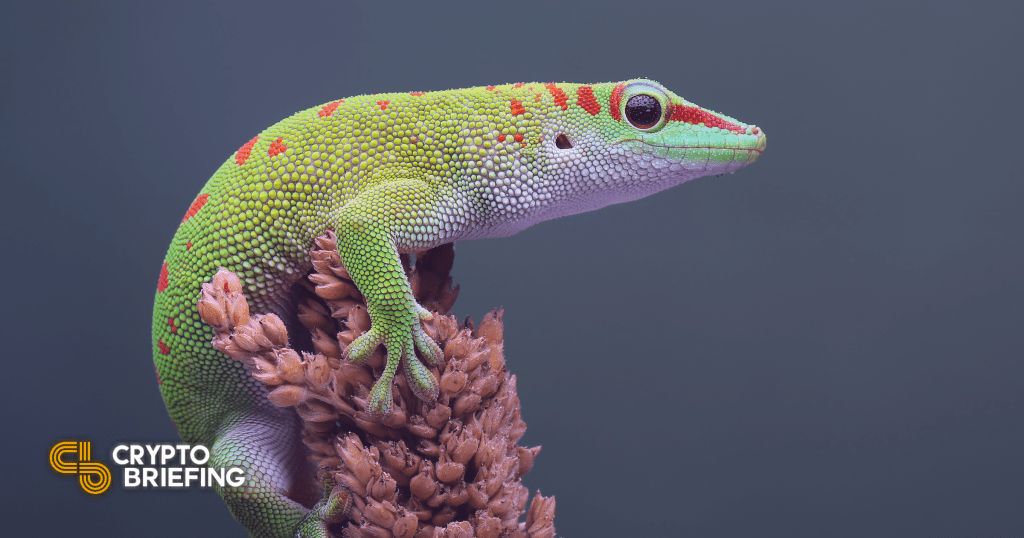 Key Takeaways
According to CoinGecko, NFTs have become one of the main factors influencing the adoption of cryptos.
Search volumes for NFTs as well as trading volumes skyrocketed to record highs in Q1 2021.
The same popularity rise could extend over the rest of the year, even though inflation fears may spell trouble for the financial markets as well as crypto.
A new report from CoinGecko suggests that the popularity of NFTs during Q1 2021 has been a key driver in raising awareness for the broader crypto market.
NFTs Become One of the Main Drivers for Crypto Adoption
CoinGecko released its quarterly report, detailing the main factors that helped drive the adoption of blockchain technology. The data platform details how emerging institutional presence pushed the total crypto market capitalization higher with "no ceiling in sight."
Still, most of the growth seen over the first quarter can be attributed to the NFT sector, says CoinGecko. The market slice became the "gateway drug to crypto," they write.
According to CoinGecko, a simple glance at Google searches for "NFT" paints a clear picture of the hype around this nascent economy. Although searches for NFT kicked off the year far below those for "DeFi," they picked up the pace by the end of March.
Beeple's "Everydays: The First 5000 Days" digital artwork has been the key catalyst for the interest in NFTs. After it was sold on Christie's for $69 million, interest levels for NFTs skyrocketed to an all-time high of 100, surpassing the searches for DeFi by a 4:1 ratio.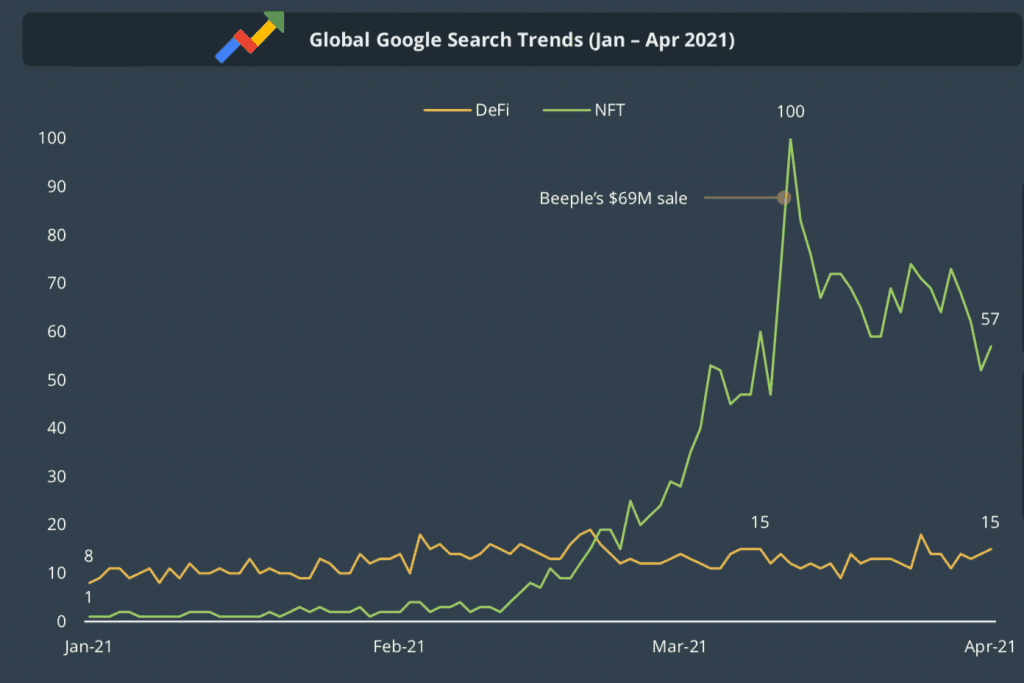 Similar growth was seen in the trading volumes of one of the most established NFT marketplaces in the cryptocurrency industry, OpenSea.
The platform averaged about $1 million in trading volume per month throughout 2020, but as the hype around NFTs exploded so did trading volumes.
"In January 2021, OpenSea reclaimed its No.1 spot with $8 million and doubled Rarible's trading volume ($3.8 million). The NFT scene then exploded in February 2021 where trading volumes grew by almost 10X. In March 2021, total trading volume reached an all-time high of $187 million."

CoinGecko expects the NFT market and cryptocurrency industry to continue growing at the same pace for the rest of the year. Given Coinbase's debut on Nasdaq and Fidelity's plans to launch a Bitcoin ETF, the firm anticipates institutional demand to skyrocket.
Disclosure: At the time of writing, this author owned Bitcoin and Ethereum.
For more key market trends, subscribe to our YouTube channel and get weekly updates from our lead bitcoin analyst Nathan Batchelor.