Nobody Will Sell You A Bitcoin For $7,999 Anymore
As news broke this morning that Bakkt has committed to testing Bitcoin futures this July, traders reveled in soaring prices and a newfound expectation of increased institutional interest in the digital asset class. At 5:15pm ET Bitcoin passed the $8,000 psychological barrier, and most technical analyses are suggesting that short-term upward pressure may continue.
Bitcoin has been on a bull run as Blockchain Week in New York loomed. At the epicenter of the crypto world for a few days, it was perhaps fitting that Bakkt – the Intercontinental Exchange (ICE) cryptocurrency wing – announced its news on home turf. ICE is the owner of the New York Stock Exchange.
Despite numerous crises over the last few weeks – including the revelation that Tether was not fully-backed by dollars, a security breach at Binance, and classless comments from Investment 1.0 prognosticators at Berkshire Hathaway, Bitcoin has proven resilient.
Mati Greenspan of eToro noted that "This could be the start of another Bitcoin megacycle. After testing $7k it would be very normal to see some kind of retracement – but that didn't happen. It just took a short breather and continued its upward trajectory."
The price of Bitcoin was as low as $5,052 within the last 30 days – meaning the jump to over $8,000 represents an increase of around 58%. While some may consider that to mean the asset no longer represents a strong opportunity, other industry veterans disagree.
Trevor Koverko, founder of Polymath, told Crypto Briefing that "My advice has stayed the same when it comes to getting exposure to bitcoin. For most retail investors the best strategy is to average in. Which means on a regular schedule purchase a small amount of bitcoin, don't try and time the market and don't pay attention to volatility – just have a thesis of what bitcoin demand will be five years from now and if it's higher than it is today then get started right away!"
---
The Consensus Bump?
Last year there was an expectation – or perhaps, a hope – that Consensus would stimulate the crypto market as it has in the past. However, that failed to materialize – leaving the people who rented Lamborghinis looking a little foolish.
In 2017, however, there was a strong increase in crypto interest leading up to the CoinDesk event, and many credited it as a key influencing factor in the subsequent parabolic rise in crypto values.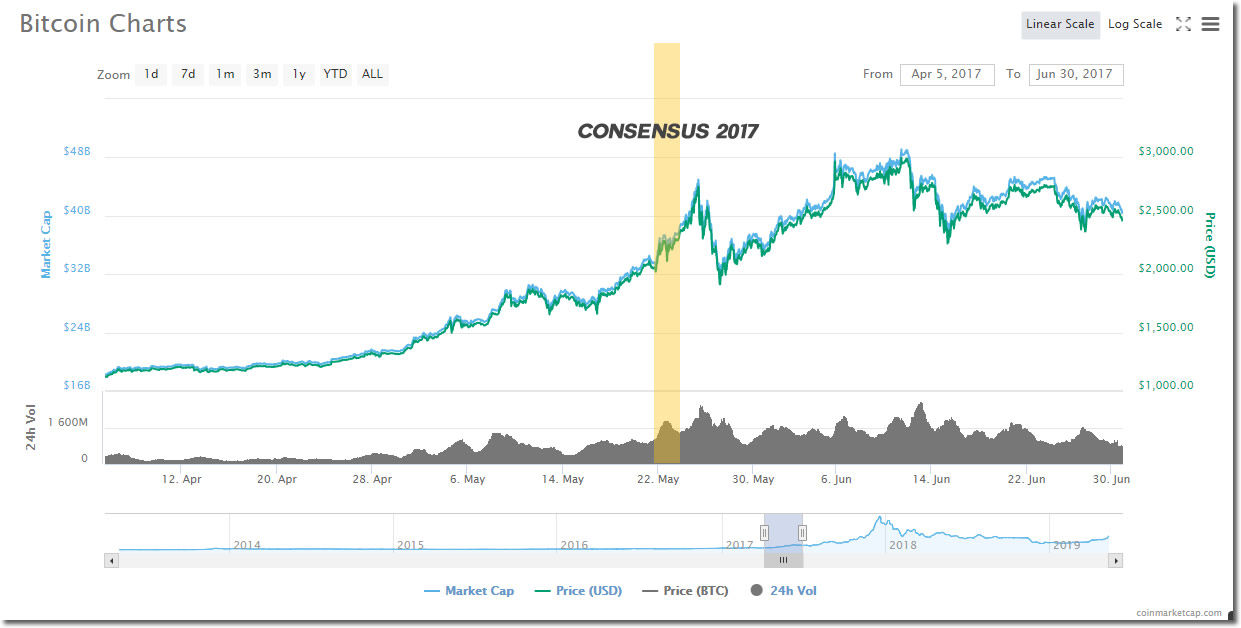 A similar pattern can be observed in the run-up to the conference that began today.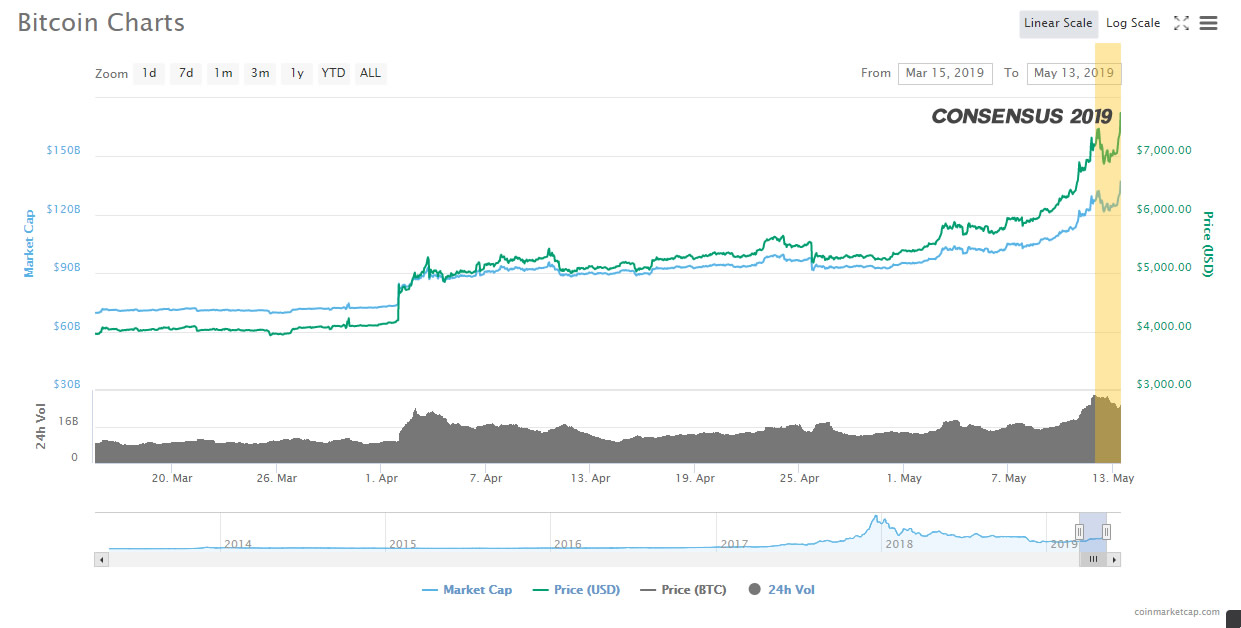 Market sentiment is at a high point: crypto analysts TheTie notes an 85% positive sentiment on Bitcoin price, and an overall market score of 68.2, which is expressed as a 'High' score.
Bitcoin only stayed in the $6,000 – $7,000 trading range for around three days; it traded between $7,000 and $8,000 for just two days.
But Rich Rosenblum of GSR, which just launched a structured product to limit trading losses, suggested that the rally may not propel Bitcoin to the heights some participants hope: "Many market participants after the recent rally are calling for a return to the all time highs of $20K BTC," he said.
"An interesting exercise is to view the options market pricing of such an event, 12/27/2019 20K Strike Calls. Currently, they are trading at a 15 delta or approximately 15% of being above that level and "in-the-money". From a premium perspective, they look cheap, since at the pace we saw this weekend, we could be there in a weeks time. Yet from a volatility perspective, they are expensive, since that would imply that BTC volatility would need to realize > 6% per day for the rest of the year."
While some will see echoes of the 'Bitcoin Mania' that resulted in the 2017 bubble, other advocates are observing that Bitcoin is finally 'pricing in' the institutional investors who have been dancing around the outside of the digital asset market until they found the courage (and regulatory clarity) to dive in.
That clarity may not be there quite yet – but the Bakkt move certainly takes cryptocurrency a step further toward recognition as a serious asset class.