Ray Dalio Likens Bitcoin to "Digital Gold"
Billionaire investor and Bridgewater Associates founder Ray Dalio has referred to cryptocurrencies as "digital gold" in a new interview with CNBC's Squawk Box.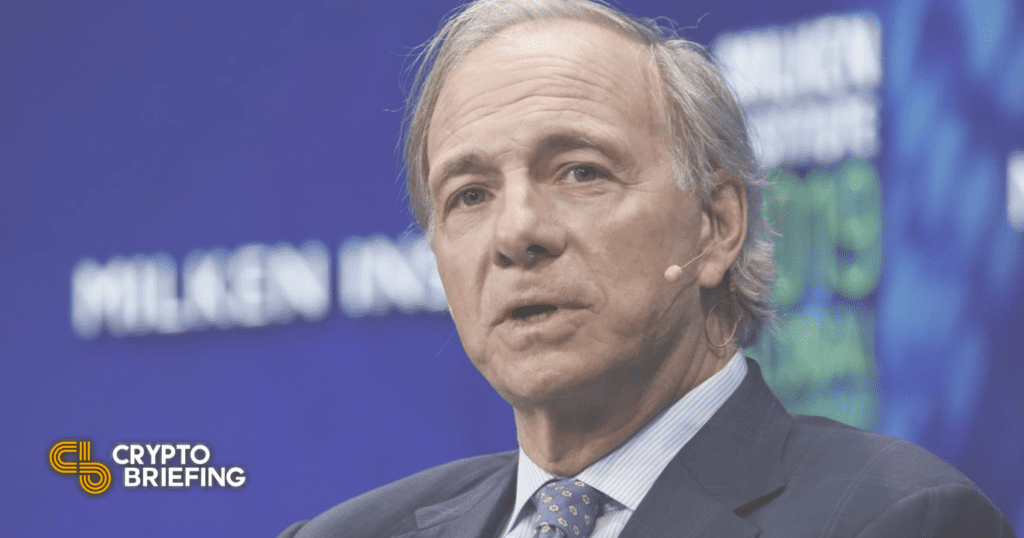 Key Takeaways
Ray Dalio referred to cryptocurrencies and blockchain as "a digital gold" in a CNBC interview today.
He said that crypto has a place in the wider set of asset classes.
The billionaire investor also confirmed that he holds a "tiny percentage" of his portfolio in Bitcoin.
Ray Dalio has softened his views on crypto in recent years.
"A Digital Gold"
Famed investor and bestselling author Ray Dalio has likened Bitcoin and other cryptocurrencies to "a digital gold," the latest in a series of indications that his views on blockchain have profoundly shifted.
Speaking on CNBC's Squawk Box today, Dalio said that "cryptocurrencies and blockchain's great." Comparting crypto to other scarce commodities, such as precious metals, he claimed that Bitcoin and some of its peers would enjoy an important place among asset classes. "I think a digital gold, which would be a Bitcoin type of thing is something that, probably in the interest of diversification of finding an alternative to gold, has a little spot relative to gold and then relative to other assets," he said.
Dalio also expressed more philosophical questions on the nature of money, particularly productive assets in relation to fiat currencies, which have informed his thinking on cryptocurrencies. "I think that we're in an environment where we're going to ask 'what is the new money?'" he said, "meaning fiat currencies, and when we look at currencies, you hold currencies in the form of a debt."
He also recited his famous "cash is trash" dictum, arguing that all fiat currencies eventually decline in value next to goods and services. Dalio said, "when I say 'cash is trash,' what I mean is that all currencies in relation to the euro and the yen, all of those currencies—like in the 1930s—will be currencies that will go down in relationship to goods and services."
Remarking that "Bitcoin has made a tremendous achievement over the last 11 years," Dalio's comments seem to further advance his image as a so-called crypto "bear" who has recently come around to the asset class. Dalio had taken a relatively negative stance on Bitcoin and crypto more generally until as recently as November 2020, when he admitted to "missing something" about it on Twitter. Since then, however, he appears to have pulled a U-turn. In May 2021, Dailio revealed that he owned "some" Bitcoin as an inflationary hedge, a disclosure that was echoed in today's interview when Dalio said that it made up "a tiny percentage of [his] portfolio."
Dalio cautioned against the idea of believing too firmly in a single asset class to the exclusion of others, however, arguing that "the Bitcoin people get too preoccupied with it, and the gold bugs get too preoccupied with it, and I think you have to look at the broader set of assets."
Disclosure: At the time of writing, the author of this piece owned BTC, ETH, and several other cryptocurrencies.