Tether Owns Billions In Chinese Debt: Bloomberg Report
The stablecoin issuer may hold questionable assets, a Bloomberg BW report claims.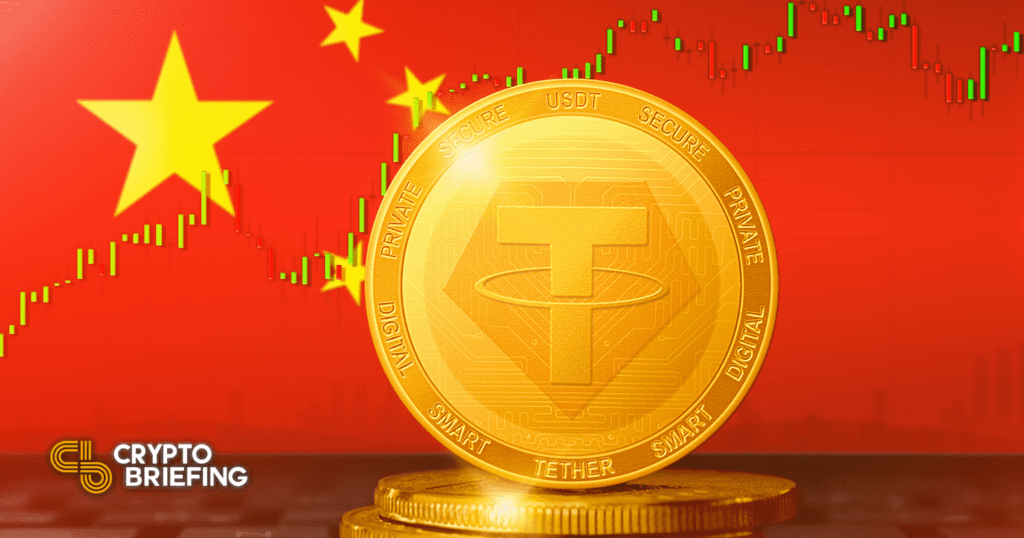 Key Takeaways
According to Bloomberg BW, stablecoin issuer Tether has extended billions of dollars in loans to Chinese companies.
The value of loans backing Tether's stablecoin reserves could be a risk factor for the crypto industry.
Tether has faced scrutiny from authorities and investigators in the past.
A Bloomberg report has claimed to have found that Tether holds billions of dollars worth of Chinese commercial paper.
Investigation Raises New Concerns
Today, Bloomberg BusinessWeek reported that stablecoin issuer Tether owns billions of dollars worth of commercial paper issued by large Chinese firms and that it may be using these assets to back up its stablecoin reserves.
According to documents received by Bloomberg BusinessWeek, Tether has extended billions of dollars in loans to large Chinese companies.
The report investigated the quality of assets backing USDT, and alleged the debt assets supporting Tether dollar reserves may of questionable nature.
USDT is designed to be pegged to U.S. dollar at a 1:1 ratio, thereby making it possible to trade crypto assets without relying on traditional banking services by providing a stable unit of account. USDT leads the stablecoin market by trading volume and acts as the top base-pair currency for trading across several large crypto exchanges, including Binance, FTX, and others.
The report revealed that the stablecoin company also provided a billion-dollar loan to Celsius, a centralized crypto lending platform that was recently accused of violating securities laws by the U.S. States of Alabama, Texas, and New Jersey.
Tether's previous public attestations include various short-term deposits and commercial paper kept as reserves to back the USDT stablecoin. In fact, $30 billion of the Tether's dollar holdings are invested in commercial paper, which makes one of the largest holders of this debt asset class and puts the firm ahead of some top financial firms.
It is also alleged that Tether also owns commercial paper issued by Evergrande, China's second-largest real estate developer, which is itself experiencing a major liquidity crisis.
Chinese real estate developers are some of the world's biggest issuers of commercial paper. Before falling into a major crisis, Chinese property developers had issued commercial paper worth 3.6 trillion yuan ($556 billion) in 2020—20% higher from 2019.
This is not the first time concerns about the true value of USDT have emerged. In fact, Tether, has been accused multiple times that their stablecoin is not backed by dollar reserves in the full amount of its market cap of $69 billion.
Tether's Response to Bloomberg
Tether has vehemently dismissed the claims and has stated it maintains the full value of the reserves backing its stablecoin supply.
The company also denied holding any Evergrande debt and claims to hold only commercial paper issued by A-2 and above-rated companies, which it claims to be risk-free. But the firm has not clarified the exact details of its debtors.
It has tried to quell the heightened concerns expressed by mainstream financial media regarding its dollar reserves. In response to the Bloomberg BW report, it released a blog post claiming that the report is spreading "misinformation."
Tether has been beset by transparency concerns in the past as well.
Just last month, Bitfinex, Tether's parent company, tried to block CoinDesk from accessing the specifics of its commercial paper holdings by filing a petition in New York Supreme Court. The company is currently under investigation by multiple law enforcement agencies, including the U.S. Department of Justice and the Federal Bureau of Investigation.
In early 2021, Tether paid a fine of $18.5 million to settle a case with the New York Attorney General. In the NYAG investigation, the company was found to be conducting "illegal activities" in New York.
Tether's reserves remain unaudited.