Amid Rising Debt, Former Primer Minister of Canada Calls for Bitcoin Reserves
Former Canadian Prime Minister and economist, Stephen Harper, a skeptic of monetary stimulus, suggests that the next step to the current economic crisis is sovereign debt defaults.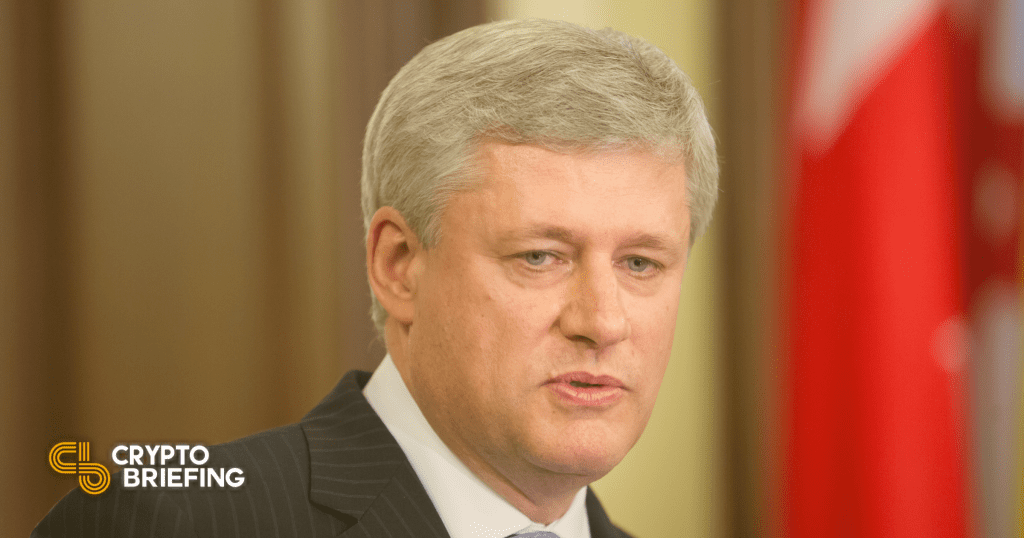 Key Takeaways
Stephen Harper, in an online conference, talked about the difference between the current recession and the 2008 financial crisis. 
Harper raised uncertainty around the continued demand for U.S. dollars at prolonging low-interest rates.
As confidence in the dollar weakens, Harper mentioned Bitcoin reserves with central banks alongside gold. 
"How long will the world loan trillions of dollars at zero percent to the U.S?" asked Stephen Harper, the former Prime Minister of Canada. While Harper himself doesn't hold any Bitcoin himself, he acknowledged its rising significance as an inflationary hedge.
Countries Could Add Bitcoin Reserves
Financial services firm Cambridge House organized an online event Vancouver Resource Investment Conference, which hosted experts to talk about the global economic scenario and their investment strategies.
Stephen Harper was one of the delegates who spoke at lengths with Cambridge House CEO Jay Martin on the pandemic-induced recession.
Harper noted that large-scale lockdowns and associated money printing had caused an asset price inflation more than the pandemic. "There are bubbles everywhere," said Harper.
Further, the U.S. dollar is at the center of this global crisis. Demand for the greenback shot up when the crash hit the market, and since then, the U.S. government has been putting out fires by hurting the dollar and future debt crisis.
In this scenario, the current "debt overhang [dwarfs] 2008-2009" and like the effects of that crisis, Harper predicts a "series of sovereign debt crises like Greece, Italy, and Portugal."
The U.S. dollar, too, may continue losing its position as a global reserve asset, but not completely due to a lack of alternatives. The euro is equally weak to the dollar, and the Chinese government may have far too much control over their native currency.
What's left is increasing gold and perhaps even Bitcoin reserves. Harper said:
"Other than gold, Bitcoin, a whole basket of things, I think you'll see the number of things that people use as reserves will expand, but the U.S. dollar will still be the bulk of it."
For Harper, the three key features for as asset to quality as money are unit of account, a medium of exchange, and store of value. According to the former PM, while Bitcoin qualifies for the first two qualities, it lacks intrinsic value.
Harper said:
"I don't know as a store of value what am I holding in Bitcoin as a major reserve on my balance sheet."
In 2013, Greece's debt crisis kicked off a Bitcoin bull run. This time it could be another country.
In the future, whether or Bitcoin can maintain its newfound global image as an inflationary hedge will determine the next phase of acceptance with central banks and institutions.
Disclosure: The author held Bitcoin at the time of publication.