Ryan Taylor of DASH Is Going Nowhere Without A Fight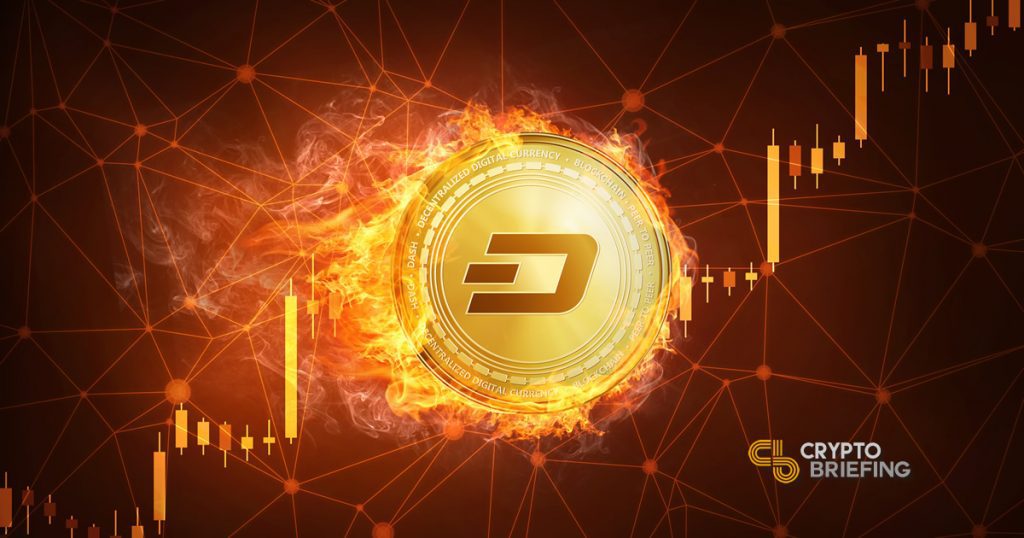 DASH has been a top five performing coin in the market over the course of the last 30 days when measuring its performance relative to Bitcoin, despite the fact that community members were calling for Ryan Taylor's head three weeks ago.
DASH has also continued to deliver on their strategy of banking the unbanked in South America – news came out this month that DASH closed a deal with Kripto Mobile to provide pre-installed DASH wallets on some Latin American phones. The currency has also shown major growth in adoption with Venezuelan businesses.
Taylor is the CEO of Dash Core Group, and a community member issued a proposal to demote him to an advisory role.
The proposal has not gained much steam – less than 15% of respondents have agreed that it would be in the coin's best interest to demote Taylor.
The writer, who is a masternode owner, had to pay $1000 of their own money to issue the proposal and indicates that they will continue submitting similar proposals even if this one does not pass this cycle due to their frustration. It's clear the writer has considerable skin in the game as a masternode owner.
Masternodes are required to have 1000 Dash collateral (almost $200k USD at today's price), a dedicated IP address, and be able to run 24 hours a day. It's estimated that masternodes receive about 11% return per year.
---
The Allegations Against Ryan Taylor
The proposal outlines seven reasons that Taylor should be demoted:
Deteriorating market confidence
Taylor, says the writer, has broken promises, missed deadlines, and the coin needs to 8.6X to reach its previous all time high. The proposal doesn't go into much detail here, but the author expresses their disdain for the fact that Taylor had "millions of dollars available to him" but has not met ambiguous promises from 2016, nor presented an updated roadmap.
The author claims that DCG monthly expenses are as high as $500,000 USD per month, and that chaos will start at $160 – a price where DCG will be unable to meet some basic expenses. DCG will be unable to pay their employees if the price of DASH falls below $80.
Lack of community support
Taylor has not built a safety net for DCG despite the fact that he had more than $30M USD in funding. The lack of a safety net is putting community projects at serious risk of being defunded
Underwhelming technology advancements
Evolution has not yet seen promised features, Private Send still takes too long, and Dash.org and the Dash Core Wallet are still the same as they were two years ago. Technological advancements have been taking too long and promises have not been met.
The author claims that Taylor made the mistake of hiring Fernando Gutierrez for the CMO position in January because he is a lawyer with no experience. He has had zero results in 8 months. It is claimed that Bradley Zastrow was also a hiring mistake in December in a business development role, because he has not produced results. The author does not acknowledge market conditions in general during their tenures.
Taylor has failed to build a results-driven culture, and Dash Core Group has been a stale company since Evan Duffield left; lacking innovation.
---
In Ryan Taylor's Defence
In Taylor's defence, multiple community members have commented on the proposal. They have indicated that Taylor has not broken promises or failed to meet deadlines by unreasonable amounts, that Dash is still on track to meet adjusted goals, and that the writer fails to acknowledge the poor market climate in the entire cryptocurrency realm that Taylor (and his new hires) have to deal with.
They argue that Taylor has done a phenomenal job creating a professional team and using the treasury to fund development, and that the safety net was the right choice to make at the time for tax purposes.
Taylor maintains strong stances on treasury management and his hiring practices, and he still believes that the community is supporting the DASH team and what they have accomplished.
On treasury management, Taylor told Crypto Briefing "The treasury at current prices has absolutely no effect on the timeline for Evolution or any other projects being managed by Dash Core Group. Because we never pursued an unsustainable hiring spree during the peak, we have been able to retain our entire workforce as the budget has contracted. We remain mindful of our expenses on behalf of the network and have taken some proactive steps to control costs. We have contingency plans that would allow us to continue operating with full staff at much lower prices before any reductions would be forced by the budget. We've also committed to restricting our entire proposals to under 60% of the total budget to ensure the community maintains access to funding as well."
Taylor also justified hiring his CMO by saying that, "Fernando possesses extensive marketing experience. He was a marketing manager at Telefonica where he was repeatedly promoted during his seven years with the company, and was previously in sales and channel marketing for HP. Fernando has a long history with Dash, is deeply knowledgeable about our strategy and operations, and is extremely committed. We couldn't ask for a better CMO."
Taylor finally noted that he still believes the community supports DASH: "The community has banded together to support the team we have built over the past 18 months. The vote and public discussion is overwhelmingly in support of the team and what we've accomplished. The proposal system is designed to enable anyone to come forward with a proposal and I support that ability to maintain a healthy dialogue and hold the team accountable. We do listen to the criticisms and take them to heart in many ways, including changing our communication, areas of focus, and partnerships to continue serving the network."
---
The author is invested in digital assets but does not hold DASH.