SEC Chair Gensler Reiterates DeFi Regulatory Risks
SEC Chairman Gary Gensler says crypto trading platforms risk regulatory trouble if they do not cooperate with the SEC.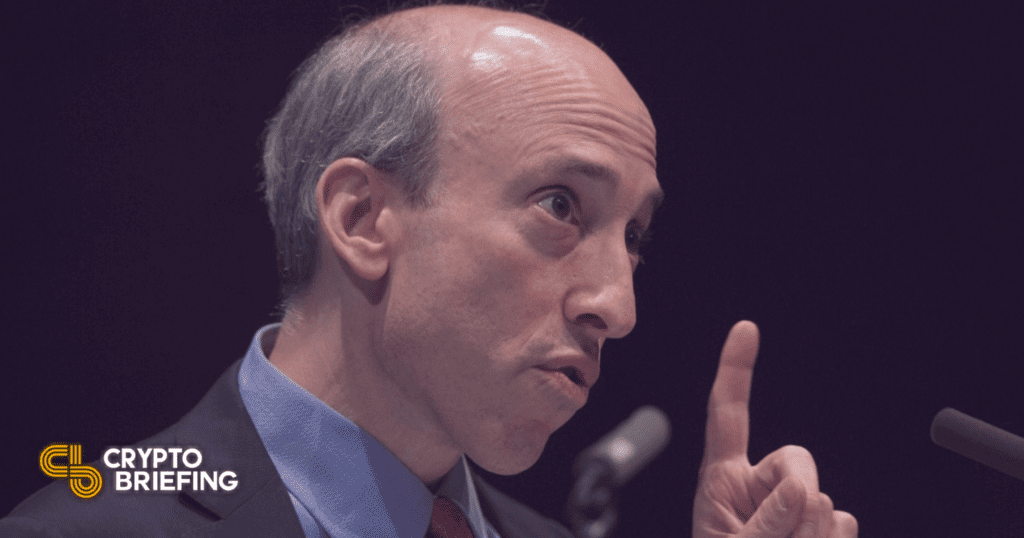 Key Takeaways
In an interview with the Financial Times, SEC Chairman Gary Gensler repeated his call to regulate DeFi.
The Chairman said crypto platforms should be "asking for permission" instead of "begging for forgiveness."
Gensler added that DeFi platforms have "a fair amount of centralization," making them susceptible to regulation.
In a Wednesday Financial Times interview, SEC Chairman Gary Gensler repeated his request for crypto trading platforms to register with the SEC, claiming they risk regulatory trouble by operating outside the U.S.' framework.
Gensler Suggests DeFi Is Centralized
The SEC's outspoken Chairman Gary Gensler has issued another warning to the crypto industry to comply with the nation's regulatory framework.
While DeFi platforms pose particular challenges for regulators because of their disintermediated nature, Gensler reiterated that "regulators would be able to exercise authority over even supposedly decentralized platforms" in a Financial Times interview. "It's a misnomer to say they are just software they put out in the web," he stated, emphasizing that DeFi platforms have "a fair amount of centralization," citing governance mechanisms, fee models, and incentive systems.
Gensler's controversial views on decentralized platforms have been known to the industry for a while now. Last month, he stated that projects that reward participants with valuable tokens could become subject to regulation, regardless of how decentralized they claim to be.
The crypto industry is too big to exist outside of the public policy framework, said Gensler. Commenting on the current crypto landscape and the likely evolution of the space, he added:
"At about $2 trillion of value worldwide, it's at the level and the nature that if it's going to have any relevance five and 10 years from now, it's going to be within a public policy framework. History just tells you, it doesn't last long outside. Finance is about trust, ultimately."
Concerning centralized cryptocurrency exchanges, the Chairman's view is that many cryptocurrencies listed on such platforms likely qualify as securities, meaning that crypto exchanges operating in the U.S. would need to register with the SEC. He said:
"There are a lot of platforms that are in operation today that would do better engaging and instead there is a bit of… begging for forgiveness rather than asking for permission."
Gensler has been particularly open about his concerns with the crypto sector in recent weeks. Last month, he also wrote a letter to Senator Elizabeth Warren asking Congress to provide more funding and give regulators "plenary authority to write rules for and attach guardrails to crypto trading and lending."