Solana Slows to a Crawl (Again)
Solana has been suffering from network issues again today following SolChicks' token sale on Raydium. The network has been struggling to process transactions for several hours.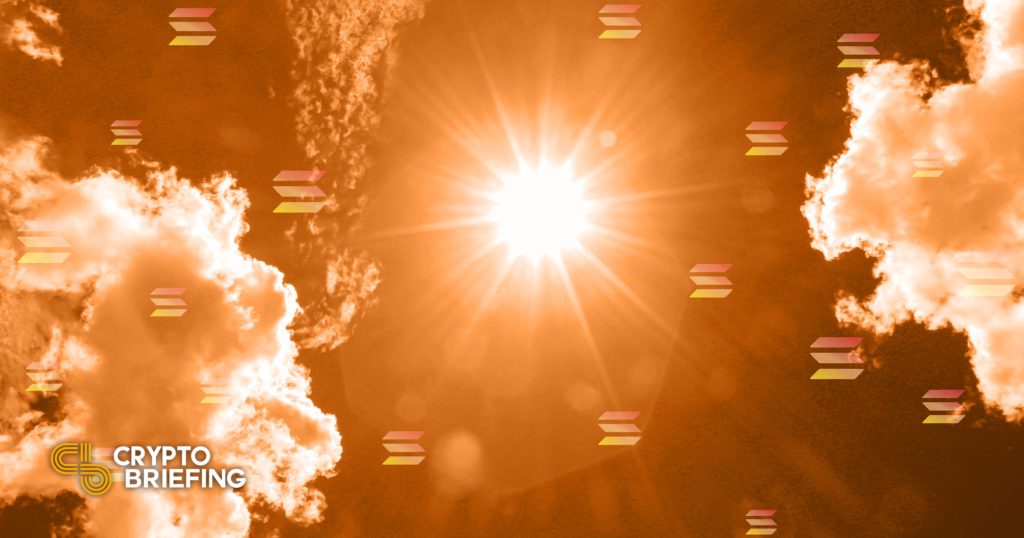 Key Takeaways
Solana is facing congestion issues due to an oversubscribed IDO launch on Raydium.
The network faced similar problems only three days ago from another Raydium token launch.
Though transactions have slowed down, the network has not fully halted like it did in September.
The latest incident comes days after Solana suffered congestion problems due to another launch on Raydium.
Solana Faces More Network Problems
Congestion issues are becoming an ongoing problem for Solana.
The Layer 1 blockchain, which markets itself on its high speed and low cost transactions, suffered from network congestion today following the SolChicks token launch on Raydium.
SolChicks, a Solana-native NFT project, launched its CHICKS token at 14:00 UTC on Raydium and the MEXC cryptocurrency exchange after much anticipation. The overwhelming demand for the sale appears to be the root cause of the network problems. Following the launch, SolChicks posted an announcement indicating that Raydium had crashed due to high interest in the sale. "CHICKS HAVE TAKEN SOLANA DOWN," a tweet read. "We apologize for the inconvenience of this delay but tens of thousands of people are trying to buy CHICKS and the Raydium server has crashed. It appears SolScan is also not loading our contract address right now either."
(Thread 1/2)
CHICKS HAVE TAKEN SOLANA DOWN 🐣

We apologize for the inconvenience of this delay but tens of thousands of people are trying to buy $CHICKS and the Raydium server has crashed. It appears SolScan is also not loading our contract address right now either. pic.twitter.com/WX0uqKlgZR

— SolChicks (@SolChicksNFT) December 13, 2021
SolChicks added that it was "encountering some minor server issues" and was unable to launch a liquidity pool on Raydium following the launch. Soon after the update, the Solana network saw many transaction failures. Data from Solana Beach shows hundreds of failed transactions in the last few hours, while Solana Explorer indicates that the number of transactions processed per second has fallen over 50% to roughly 710 per second. Solana claims to process about 65,000 transactions per second at full capacity.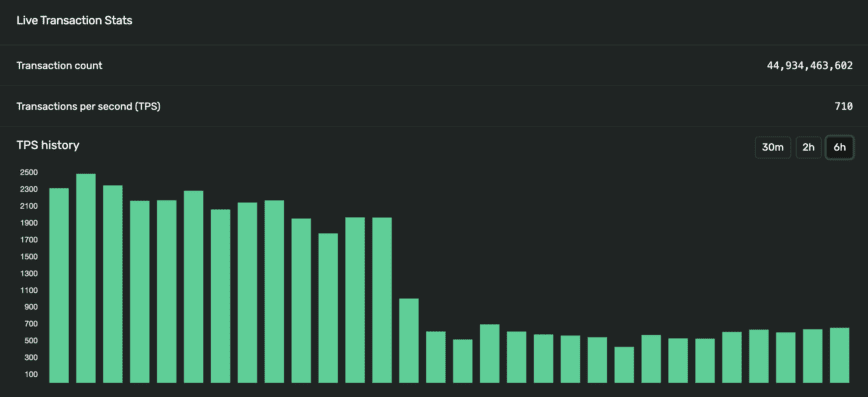 Coinbase posted an update alerting customers that Solana transactions may fail due to "network-wide degraded performance." Members of the Crypto Briefing team attempted to send SOL and had both successful and failed transactions.
Though SolChicks has reported on the issue and organized a Twitter Spaces call to discuss the incident, Solana is yet to comment. However, Solana Labs CEO Anatoly Yakovenko posted a series of tweets suggesting that the network was experiencing similar problems to the congestion issues it faced on Dec. 10. "same as friday!" he wrote in response to a post inquiring about the issues. "fixes are baking, should be ready soon."
Last week, Solana suffered from instability issues with transaction speeds slowing to under 1,000 per second for several prolonged periods. The problems arose due to another IDO on Raydium. The Metaverse project Realy launched its token, and many investors launched bots to get early access to the sale. However, as with today's incident, the network did not go offline, despite some reports to the contrary.
Though today's incident is another case of bad news for Solana, it doesn't appear to be as severe as other previous episodes. In September, Solana went down for 18 hours in similar circumstances after Grape Protocol launched its token on Raydium. Validators had to assemble and restart the network following the incident. It also went down for six hours in December 2020.
Solana's SOL token reacted badly to the news, down 8.9% at press time. Raydium's RAY token is also 7.9% in the red today.
Update 20:30 UTC: According to data from Solana Beach, a high proportion of Solana transactions are still failing to process six hours after the Raydium IDO launch. Austin Federa, Head of Communications at Solana Labs, told Crypto Briefing that the latest two issues arose as the transactions targeting the IDO launch used "an excessive amount of compute power," which hadn't been metered by the network. He added that Solana developers have been working to improve transaction metering, and that the latest upgrade featuring crucial patches would soon be live on mainnet.
"Solana's runtime is a new design. It doesn't use the EVM and a ton of innovation was done to ensure that users have the cheapest fees possible, but there's still work to be done on the runtime," he said. "A ton of the work to improve transaction metering is already in 1.9, which was just released to testnet. It usually takes eight weeks for a testnet release to bake before a mainnet upgrade. Engineers across the ecosystem are back porting the changes to 1.8, which is the mainnet release, with some of the patches already live on a small percentage of the nodes."