Five dApps That Could Lead To A Major Reversal In ICON Prices (And Yes - Karaoke!)
Here's what's coming to the ICON (ICX) blockchain ecosystem.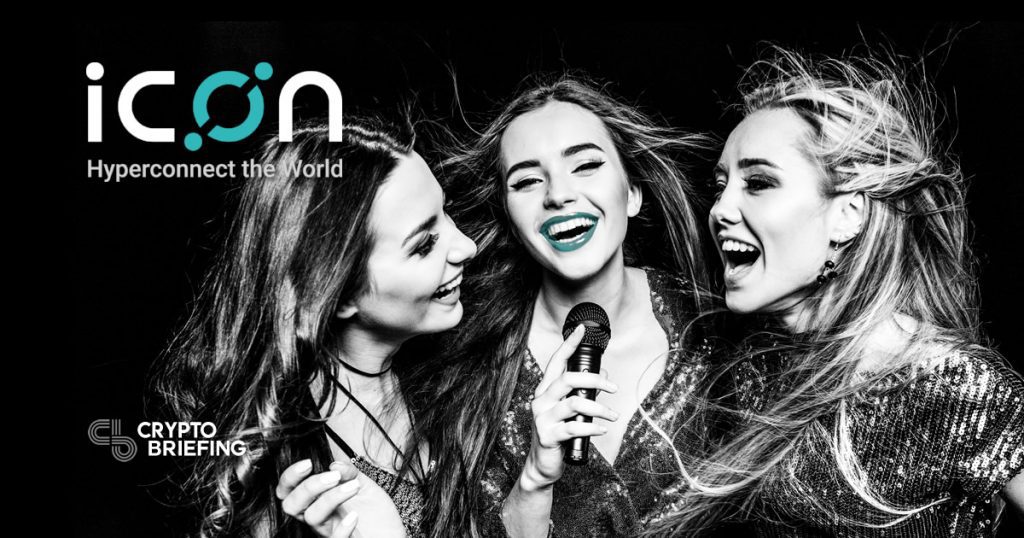 It's a big year for ICON. The Korean "blockchain of blockchains" is about to launch the first stage of its ICONSENSUS program, where its participants will vote on-chain in the election of full nodes, called P-Reps. Pre-voting will commence on August 26.
Meanwhile, the project has also recently launched a "Fee 2.0" transaction fee model. Previously, users of ICON-based dApps would have to hold ICX tokens as transaction fees. The new model removes this requirement, overcoming a significant barrier to entry and encouraging non-crypto users to adopt ICON dApps.
Another recent development is the rollout of DID and DPASS. DID stands for decentralized ID, an identity authentication system which runs on the ICON blockchain. DPASS is a mobile application for a decentralized passport. The iOS version is under review by the Apple App Store, and an Android version will be released later.
But new features aside, blockchain platforms need applications if they're to achieve widespread adoption. So, here are five dApps representing the ICON blockchain.
---
SOMESING
If you're a lover of karaoke, or even if you just enjoy brilliantly punny names, then you'll get a kick out of SOMESING. It's an ICON dApp that aims to turn your crooning into cash.
Most current karaoke services are based on users paying for content. However, SOMESING allows would-be warblers to record their songs into its dApp, and get paid in rewards from listeners who enjoy their efforts.
That might raise some eyebrows in the West, but it's worth pointing out that in South Korea, Japan, and other Asian countries, karaoke is massive. In Seoul, you can find a noraebang (private karaoke hall) on virtually every street corner, which can be rented by the hour for you and your friends to belt out the ballads to your heart's content.
So, far from being a punny gimmick, SOMESING could actually be onto something.
---
Blue Whale Foundation
The Blue Whale Foundation is a platform for freelancers that aims to overcome the challenges of current services such as Upwork, Fiverr, and even Uber.
Several blockchain projects promise to connect peers directly without skimming off the hefty commissions charged by companies in the existing gig economy. However, Blue Whale Foundation wants to go a step further.
Along with connecting freelancers and gig economy workers with prospective leads, it aims to provide workers with comparable benefits packages to employees. It does this by maintaining a Reward Bank of reserved tokens, which can be used to cover things like paid leave and pensions.
Blue Whale Foundation has already onboarded Verlocal, a SaaS solution for booking and scheduling, which will be embedded onto Blue Whale freelancers' websites. Blue Whale is also being used by the next ICON dApp – LogisticsX.
---
LogisticsX
LogisticsX aims to tackle one of the biggest challenges of the logistics sector – last-mile delivery. While the logistics sector is pretty efficient at moving goods between major distribution hubs, getting to the end consumer is the most challenging part. It's estimated to account for over 50% of the total delivery cost.
LogisticsX is developing an ICON-based network that enables local businesses and individuals to act as recipients for parcels, and then brings in "runners" to take them from the recipient to the end consumer. The company is using Blue Whale Network to manage the freelancers participating in the LogisticsX network.
Along with efficiency gains, LogisticsX aims to reduce the incidence of missed deliveries and improve the employment conditions of freelance logistics couriers.
---
ZenSports
ZenSports is a peer-to-peer sports betting marketplace aiming to level the playing field against profit-seeking bookmakers.
Whereas traditional sports betting depends on the existence of the bookmaker as a middleman, the ZenSports application enables peers to bet against one another, so anyone can put down or accept a bet. It uses its own token, called SPORTS, to enable faster payouts with lower transaction fees than existing fiat-based platforms.
ZenSports takes a mobile-first approach. While it plans to develop a web browser portal in the future, the company is taking a punt on its mobile apps appealing to Gen Z and Millenial users. ZenSports also eventually plans to extend its offering out into other sports revenue streams such as ticketing and merchandise.
---
DiscoverX
Although it sounds like a space mission, DiscoverX is on a different journey – to become a more cost-effective intermediary for the travel sector.
Over recent years, the hotel booking market has become dominated by a small group of online travel agencies (OTAs), like Booking Holdings and Expedia Group. These OTAs charge hefty fees to hotel owners. While nobody is suggesting we whip out the violins for the billionaire Hilton family, these fees can be crippling for a family-run guesthouse operating on tight margins.
Furthermore, the OTAs are notoriously tight in sharing their profits with the travel media and content creators who create referrals.
DiscoverX is an ICON dApp that aims to use the peer-to-peer connectivity of blockchain to create a whole new travel ecosystem that isn't dependent on the OTAs. Currently, the product seems to be focused on the South Korean market. However, it if it travels well, the OTA's could be due for a shake-up.
---
Ecosystem Growth Beats Price Action
Although the ICX token is currently struggling to turn around a bearish run, the ICON network appears to be growing steadily and the project is making positive headway.
It will also be interesting to see if the upcoming P-Rep elections can avoid the network suffering from the same centralization issues as the likes of EOS. Assuming ICON continues in the right direction, the ICX token may stand a chance of recovering in the long term.