Sotheby's Will Accept Bitcoin in Next Banksy Auction
The art brokerage will likely accept cryptocurrency in future auctions as well.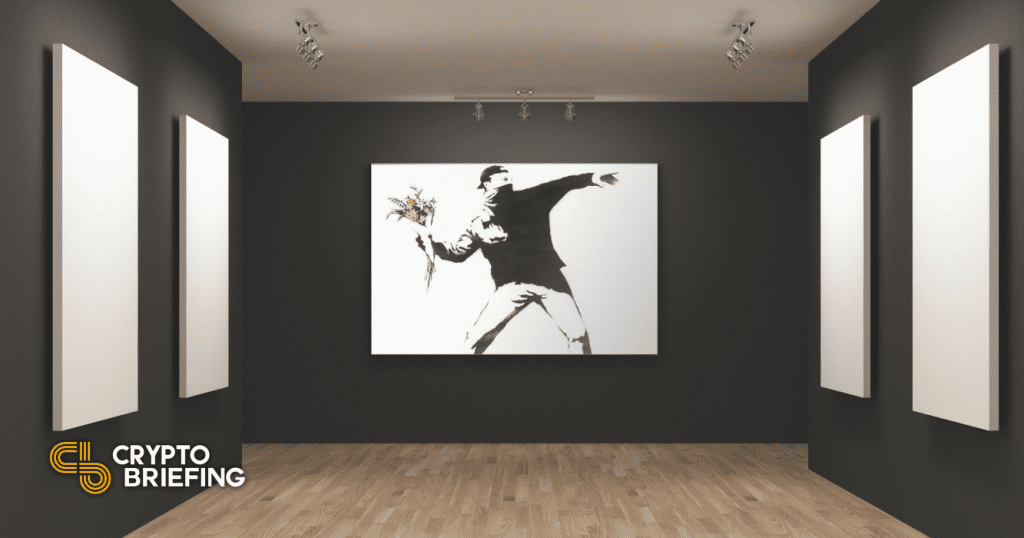 Key Takeaways
Sotheby's has announced that it will accept BTC and ETH in an upcoming auction of a Banksy artwork.
Payments will be processed through Coinbase Commerce.
The brokerage plans to accept crypto in future auctions as well.
Sotheby's will accept cryptocurrency for an upcoming Banksy art sale, according to a press release from the art brokerage.
Sale Will Accept Bitcoin and Ethereum
Sotheby's says that it will accept Bitcoin (BTC) and Ethereum (ETH) as payment for an upcoming Banksy artwork.
The artist's "Love Is In The Air" painting will be auctioned on May 12 in New York, with bidding estimated at $3 million to $5 million.
Payments will be carried out through Coinbase Commerce. Elsewhere, Coinbase has stated that in addition to supporting the payment, it will also help manage crypto price fluctuations due to the fact that bids will be valued in U.S. dollars.
Sotheby's commented on the politics of its of decision to accept cryptocurrency. In its announcement it wrote: "The pairing brings together the biggest disruptor in finance [cryptocurrency], with one of the most notable disruptors in the art world – Banksy."
It also suggested that the decision to accept cryptocurrency will pave the way for further cryptocurrency sales.
Crypto In the Art World
This is not the first time that Sotheby's has worked with cryptocurrency. In March, Sotheby's coordinated the sale of an artwork by the non-fungible token (NFT) artist Pak.
Its competitor, Christie's, has moved into crypto as well. Christie's sold Beeple's "Everydays" NFT on March, accepting Ethereum as payment. It followed up on that by managing sales for a number of Cryptopunks, a series of Ethereum-based NFT artworks.
Blockchain is seen as a promising tool for the art world because it provides a way to preserve data immutably. As such, it can be used to authenticate artwork and prevent counterfeiting.
Disclaimer: At the time of writing this author held less than $75 of Bitcoin, Ethereum, and altcoins.